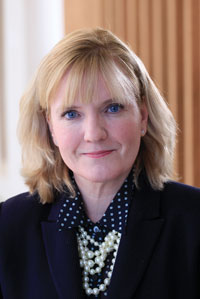 NAIOP has always felt like a community — and it just got bigger. Our membership has grown to the size of a small city; in fact, as many people now belong to NAIOP as live in Lomita, California, or Birmingham, Michigan. NAIOP's growth is a testament to the strength of our services and the enthusiasm of our volunteers. I'm pleased to welcome NAIOP's 20,000th member, Paula Marucci, and include her story in this issue.
NAIOP is leading the way on the real-estate-as-a-service trend and now offers an online education course dedicated to the subject. Flexible space arrangements are growing beyond coworking in office buildings — we now see them in industrial and retail properties. As industry analyst Antony Slumbers observes in Ron Derven's cover story, "Today, it's Uber instead of cars, Spotify instead of CDs and Netflix instead of DVDs. For the real estate industry, it's space as a service."
I'm looking forward to seeing you at one of our many industry meetings this year.
Stay informed,
Jennifer LeFurgy, Ph.D.
Editor-in-Chief
In This Issue:
Real estate as a service conjures up images of sleek coworking offices in urban settings, but the concept is evolving to include warehouse space and many other uses.
Boston has boomed during the recent cycle thanks to a strong economy and healthy population growth. Here's a look at development projects across the city.
The NAIOP Research Foundation's annual report for 2019 highlights a year of insights into trends and topics shaping the commercial real estate industry.
Construction of cold-storage facilities could be poised to heat up as consumer demand for e-commerce grocery deliveries catches fire.
Approximately 44% of active-shooter incidents in the U.S. take place at commercial properties. Owners must be proactive about developing safety plans to protect life and property.
At Prologis Labs, experimentation is front and center as the company explores cutting-edge technologies for the logistics facilities of the future.
WeWork and Airbnb represent two different ways to disrupt real estate, and they offer important lessons to landlords regardless if they succeed or fail.
Mobile parking apps are a great convenience for customers, but they can also provide garage owners with a simple, easy-to-manage tool for controlling costs.
Cummings Properties CEO Dennis Clarke reveals some of the lessons he's learned during 15 years as the leader of a Boston-area commercial real estate firm.
An office move is always disruptive, but innovations in tracking technology, along with advanced planning, can make the process go much more smoothly.
Biophilic design elements in offices such as "living walls" filled with plants can produce cleaner air and quieter spaces. That, in turn, can boost employee productivity.
Construction projects are complex undertakings, but these 10 suggestions can help ensure that they're on time, on budget and built well.
A recent report from the NAIOP Research Foundation examines how localities are planning for fully autonomous vehicles and how that could affect the commercial real estate industry.
What does a successful development and leadership program look like? The NAIOP Southern California chapter's Young Professionals Group is a strong example.
The rollout of 5G technology promises to exponentially increase the digital connectivity of buildings. However, developers must future-proof their properties to ensure a smooth transition.
Most Popular From Winter 2019/2020
"Change Accelerates in Supply Chains and Industrial Real Estate"
"A Unique Water Feature for Any Climate, Any City"
"What's on the Horizon for Commercial Real Estate?"
"Are 'Seamless' Floors a Smooth Choice for Industrial Properties?"
Future NAIOP Events
I.CON Spring 2020: The Industrial Conference, April 2-3, Huntington Beach, California (cancelled)
2020 National Forums Symposium, April 29-May 1, Boston (postponed)
I.CON Summer 2020: The Industrial Conference, June 4-5, Jersey City, New Jersey
CRE.Converge 2020, October 6-8, Las Vegas