New research indicates a healthier indoor environment can help attract and retain employees — and make properties more attractive to investors.
When the new hire arrives at Webcor's San Francisco offices, he hangs his commuter bike on the rack outside reception and ducks into the office's freshly tiled shower. Later, he passes a living green wall, heads into the light-filled kitchen for a healthy breakfast, and moves to an adjustable standing desk designed for ergonomic comfort.
His employer recently embarked on an office renovation, investing in changes that earned a WELL building certification. The wellness attributes on display speak to the company's underlying values of sustainability and health — and also to the competition among employers to lure and keep talent. In the evolving world of the wellness movement, both landlords and tenants strive to provide a healthy environment and to gain a market edge.
Measuring Success
While wellness features may create a pretty aesthetic, do they really improve worker health and productivity? Research shows that they can.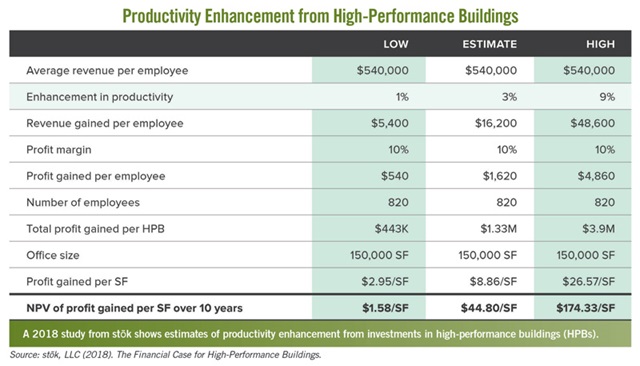 At the 5,500-square-foot Well Living Lab in Rochester, Minnesota, a collaboration between The Mayo Clinic and Delos, scientists study an array of indoor conditions and compile results into actionable items for healthier indoor environments. The lab, which can simulate open or private office spaces, monitors users via multiple sensors and wearable biometrics.
The research at the facility provides valuable information to those who design, build, pay for, occupy and manage space. For example, in one study, the lab found that temperature affects employees' ability to complete work in open environments more so than noise or lighting.
Landlords (and tenants) often wrestle with calculating the return on their wellness investments. Among wellness features, thermal comfort, air quality and design elements provide the greatest impact, according to an October 2018 report from stõk, a real estate service company that focuses on high-performance buildings (HPBs). The study, "The Financial Case for High-Performance Buildings," finds that a $20-per-square-foot HPB investment renders a conservative 3% greater profit to companies "due to productivity enhancement." The lion's share of profit derives from employee productivity related to reduced absenteeism (43%) and retention (41%), with wellness (7%) utility savings (7%) and maintenance savings (2%) making up the balance.
One might argue that absent stronger data, wellness strategies are a type of window dressing without their purported health or productivity effects. But market support for such spaces must be addressed. According to the National Green Building Adoption Index (published by CBRE in partnership with Maastricht University), 38% of U.S. urban office space now has green attributes. Chicago leads the way with 66% of its central core office space certified sustainable.

A sister to sustainability, the wellness movement focuses on the individual's experience within the indoor environment. While sustainable construction, led by the United States Green Building Council and its LEED certification program, tends to concentrate on the building envelope and systems, wellness focuses on interior space.
Another Shade of Green
"We were designed to be outside," says Phil Williams, executive vice president for building and human performance at Delos, which created the WELL Building Standard. "The environment we provide inside is a compromised environment."
In the wellness world, the International WELL Building Institute has emerged as a leader with its standards and measurable criteria. It provides certification via a rating system that addresses 10 key areas: air, water, light, nourishment, movement, sound, comfort, materials, mind and community. For example, devices can provide a modest hum of background sounds to obscure more distracting noises. And desktop monitors can track air quality so that if the quantity of oxygen drops below threshold levels, a message is sent to building management for HVAC adjustment. Best practices also include recommendations for paints that release minimal compounds and cafeterias that display fruits and vegetables.
The wellness movement is growing, both domestically and abroad. According to Delos' Williams, five years after WELL's introduction in October 2014, the standard is in use in more than 20,000 projects totaling over 340 million square feet around the world, in both new buildings and existing property portfolios.
The underlying notion is that humans thrive in environments that mimic nature. The wellness movement strives to replicate natural conditions while using metrics to assess such spaces in order to optimize human experience and performance.
Consider streaming natural light, which isn't just for the partner in the corner office anymore. For example, 13-foot-tall windows maximize daylight in Facebook's new Menlo Park, California, high-rise offices. Open configurations and narrower bay depths (the distance from window line to core) extend natural light across the entire floor plate.
Of course, too much of a good thing means that designers must account for glare with shades or tinting. And they do, easing strain on eyes and allowing the quality of light to change, depending on task and time. When Facebook employees tire of coding, they can head to an adjacent multistory fitness center.
So whether via sunlight or swimming, companies try to improve an occupant's daily life. After all, happy and healthy employees tend to stick around. The same dynamic holds true for tenants that remain with landlords who provide spaces designed for occupant comfort.
Alice Devine is the author of "Suite Deal: The Smart Landlord's Guide to Leasing Real Estate," the 2019 Bruss/Robinson Book Award winner from the National Association of Real Estate Editors.
What Defines a High-Performance Building?
Here are the attributes of high-performance buildings (HPBs) according to the stōk report "The Financial Case for High-Performance Buildings," released in October 2018:
Enhanced Occupant Experience
"Thoughtfully embedding human health, wellness, and comfort into every aspect of the design, construction, and operations of a building or space within a building."
Optimized Resource Efficiency
"Providing greater value with less input by using the Earth's finite resources without risking the future generation's ability to utilize those same resources."
Minimized Environmental Impacts
"Using strategies from design to demolition that significantly reduce or eliminate negative impacts on the natural environment without jeopardizing the intention or function of the building."
Embedded Resiliency
"Building in the capacity for spaces, buildings, landscapes, communities, and regions to adapt to changing conditions and to maintain or regain functionality and vitality in the face of stress or disturbance."
Improved Financial Performance
"Delivering a higher financial return than traditional buildings of the same use type due to thoughtful integration of sustainable design principles."