Artificial lagoons can bring white sand beaches to surprising locations.
Developers are going to extreme lengths to create unique destinations. In what some have termed an "amenities arms race," features like indoor gyms, swimming pools, movie theaters and resident lounges are no longer enough to distinguish one development from another.
Crystal Lagoons' contribution to this trend is unique: beachfront property anywhere in the world. The company's artificial lagoons are large, irregularly shaped pools offering acres of water for swimming, water sports, swim-up bars and floating stages.
The company says it has more than 600 projects in some stage of planning or development worldwide; at least 16 development projects in the U.S. have already licensed the Chilean company's proprietary technology.
Artificial lagoons are highly customizable. Designers can calibrate everything from the depth of the water to the features along the shoreline. They can create shallow inlets for playing with children, kayaking or paddle boarding; deeper areas suited for sailing; and sand-filled banks for lounging.
However, developers and designers face several important design and master-planning considerations to maximize the social, environmental and economic impact of these beaches.
These have been tested while planning and designing Crystal Lagoons around the world, including the first-ever all-season lagoon, planned for Millcraft Investment's mixed-use Esplanade project in Pittsburgh.
Design a Regional Attraction
A perfect white sand beach in a Midwestern city is almost unimaginable, but when the lagoon opens in Pittsburgh in 2023, it has the potential to be an important destination for locals and visitors alike.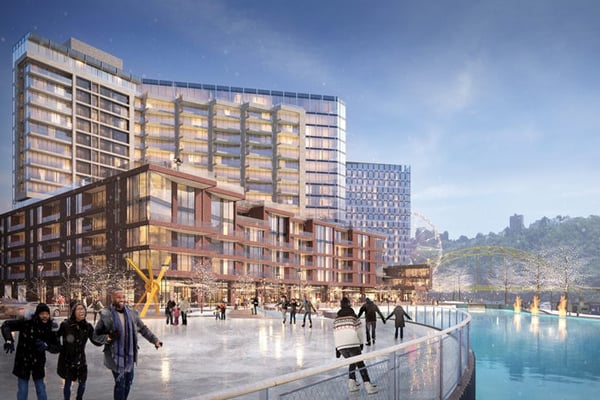 Before deciding on a lagoon for the project, the developers considered other amenities for the mixed-use site in the Chateau neighborhood on Pittsburgh's North Side. The lagoon was the one thing that jumped off the page for Millcraft's team — they were searching for something that could make the 15-acre living and recreation space stand out.
Not only will the lagoon differentiate the project, but access to it can be monetized through implementation of the Paid Access Lagoon (PAL) model.
Revenue from the lagoon can further enhance the financial feasibility of the project while providing a scaled-down version of beach life to a larger community. In Wesley Chapel, Florida, for example, the Epperson Lagoon offers day passes for $20 and provides various amenities such as cabanas and chair rentals.
Pittsburgh's Crystal Lagoon will be both the first urban and the first all-season lagoon, with a partial winter transformation into an ice rink and thermal baths for year-round enjoyment by the public. The Millcraft lagoon is part of an effort by the city of Pittsburgh and local organizations to revitalize the edge of the Ohio River, which for years was dominated by the region's heavy industries.
The project links up with the bike path that runs along the river's edge and offers tenants access to the Ohio River and a nearby marina, restoring a connection to Pittsburgh's waterfronts. While the lagoon is separated from the river, the package that the developers have proposed provides views and access to this natural body of water. That aligns the project with citywide movements to reinvigorate the riverfront.
Consider the Context
How do designers integrate a lagoon with an urban site?
Lagoons are rare features, and it is important to consider how a development containing one connects to the adjacent neighborhoods. Paramount to the development's success will be welcoming neighboring residents and workers through architecture, material selections, open space and everyday amenities.
Millcraft's development in Pittsburgh will include hundreds of residential units, a large office building, a hotel, and additional entertainment attractions such as an aquarium and spa. The 1.47-million-square-foot development with approximately 300,000 square feet of rentable office space is expected to include a mixture of boutiques and restaurants along with a variety of stores serving the community, including a small grocery store, drugstore and dry cleaner.
After collaborating with Crystal Lagoons on previous projects, AE7 was hired to situate complementary amenities around the lagoon. Achieving the right balance of scale, programmatic density and use distribution required a significant amount of interaction between the developer and design team to craft a tightly bounded site that still contains adequate public space.
Because there is no zoning code for "artificial lagoons," developers might encounter the question of interpreting what a lagoon is. If it is considered a pool, codes might require fencing, for example.
To achieve the balance of scale and programmatic density, it's important to consider a balance of density with flexible open space. In the Esplanade, the team chose to incorporate hardscape areas around the lagoon that could be multifunctional.
Transit connectivity is also key in an urban site. In Pittsburgh, AE7 worked to join the site to local transportation systems, including the bus network, the Three Rivers Heritage bike trail and a marina that facilitates water taxi connections. It is also near a future light rail extension.
In any lagoon project, developers will need to work with architects to coordinate the site constraints, along with the significant footprints of buildings that support the water activities. Most lagoons become long rather than round during the design process, and a designer will be able to guide a team through the process of shaping the malleable features with some basic guidelines in mind.
For example, the deepest portion of the lagoon will be in the center, becoming shallower toward beaches on the north and south sides. Designers can calibrate landscaped edges or buffers for a lagoon that will add more security and privacy for the site.
Lower the (Environmental) Cost
While the idea of a multiacre artificial lagoon may seem excessive, there are some surprising efficiencies built into the model that help recoup the upfront costs.
Lagoons are extremely customizable, and so are the costs. Variables that influence the construction costs include size, shape and beach entries.
"A major portion of construction cost is in the concrete used, and that is determined on the linear foot of the perimeter wall as well as the amount of beach entries planned for each lagoon," said Crystal Lagoons' Stephanie Fischmann.
In 2018, a two-acre lagoon in Balmoral, Texas, reportedly cost $3 million to build. Construction time is similarly dependent. The Balmoral lagoon near Houston reportedly took eight months to build, while a 14-acre lagoon project elsewhere took about a year.
The Crystal Lagoon can provide relatively low construction and maintenance costs, which are integral to the financial viability and success of the project. Whereas typical pool construction consists of a concrete or shotcrete basin, Crystal Lagoons use a polyurethane liner set out on compacted sand or clay. Concrete construction is reserved for the sloped approaches and side walls.
Because it requires almost 100 times less chemicals than a normal pool and uses only 2% of the energy needed for a conventional pool filtration system, a lagoon's water quality is maintained through the injection of additives. Necessary adjustments are determined electronically by sensors that calibrate all Crystal Lagoons worldwide.
Because of the stringent water-quality standards, the lagoon's characteristic clear water is safe for swimming.
Lagoons utilize fresh, salt or brackish water, all naturally abundant. In comparison to other large-scale amenities, Crystal Lagoons use up to 30 times less water than a golf course and 50% less water than a similarly sized park.
"In a pool, the water turns around four and a half times a day," said Chris Souza, a former regional manager for Crystal Lagoons. "In Crystal Lagoons, you're only turning water around two times a day."
Water conservation is further enhanced by the lagoon's closed-circuit loop and technology that allows rainwater to be captured to offset the amount lost to natural evaporation. That evaporation is further controlled by the use of control film that cuts it by up to 50%.
To keep the water warm during cold weather, Pittsburgh's lagoon will utilize heat recovered from the surrounding buildings. Similarly, placement of the lagoon in relation to wind patterns and sunlight on the site will help maximize the cooling effect of the water in the summer.
The efficient use of chemicals and energy can help contribute to low maintenance costs compared to traditional swimming pools. Operating costs vary by the size of the lagoon, programming and types of users, which would determine the amount of staff needed for daily operations.
Ready to Take the Plunge?
Souza said the average uptick in property value is 20% after installing a lagoon, which can help recoup the cost quickly. Home sales in Balmoral's aptly named Amenity Village are reportedly strong, reflecting excitement about the lagoon.
If designed well, lagoons offer a great opportunity to bring public life into a private development, particularly in urban areas. These water features can provide designers a new tool to activate a space and create a strong synergy between development goals and the community.
Alec Templeton is a senior design architect with AE7 in Pittsburgh.