How advancements in transportation, technology and construction continue to converge.
Global economic uncertainty, rapid technological advances and pressure from e-commerce are forcing radical innovation in supply chains. With transportation and the movement of goods and materials making up a significant portion of total logistics operating costs, these innovations are altering the logistics landscape. They allow supply chain and transportation managers to focus on cost efficiency, profitability and service to clients.
However, changes in individual sectors of logistics are not progressing at the same pace. Some are being deployed. Others may not live up to expectations. As trends such as faster e-commerce fulfillment, more urban deliveries, and autonomous trucking and robotics continue to converge, what will be the impact on industrial real estate?
Conceptually, these trends can be segmented into a few different categories: those affecting transportation and the movement of goods; geographic and site-selection trends; innovations in warehouse design and development; and other technological innovations that can bring greater operational efficiency to logistics operations.
Longer-term, secular shifts toward new technology adoption may change the site-selection calculus on location decisions and network optimization for tenants. Likewise, for investors seeking diversification or developers seeking new opportunities, these tectonic changes in supply chain management practices could alter many segments of the industrial real estate market in years to come.
Trends Across Transportation
Trucking will continue to be the primary means of goods movement in the U.S., says Ben Conwell, senior managing director and practice leader of the Logistics & Industrial Services Group at Cushman & Wakefield.
In 2018, trucking constituted 71.4% of all U.S. freight transportation and 80.3% of revenues, according to the American Trucking Association's "ATA Freight Transportation Forecast: 2019 to 2030," published in August 2019.
And while total freight tonnage is projected to grow 25.6% from 2019 to 2030, trucking's relative proportions of tonnage and revenue are expected to dip slightly as other modes of transport battle for market share. Intermodal rail, air and domestic waterborne transportation should see modest growth.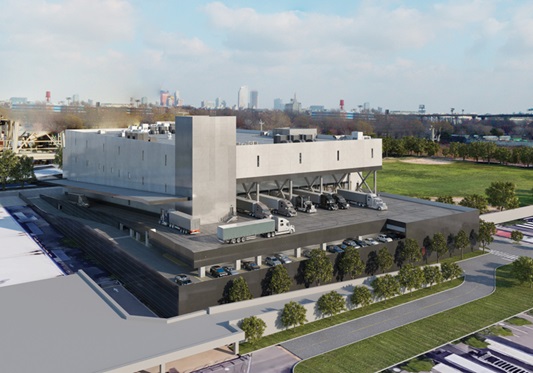 At U.S. seaports, containerized import volumes keep trending upward. The four largest port gateways (Los Angeles/Long Beach, New York/New Jersey, Savannah and Seattle/Tacoma) handled 65% of the national total in 2017. Importers increasingly use these ports in their "Four Corner" international supply chain risk management strategy, with a major seaport on the north/south ends of each coast creating connectivity throughout the country, according to Walter Kemmsies, managing director for JLL's U.S. Ports, Airports & Global Infrastructure Group.
Container imports from Asia are the dominant volume handled by U.S. ports. Los Angeles/Long Beach has the largest share, with 40% of its imports transported to the Midwest by intermodal rail, Kemmsies says. And while tariff uncertainty has created anxiety within global supply chains, it has been a boon for industrial real estate on the West Coast as companies attempt to get ahead of tariff levies, according to Jon Pharris, co-founder and president of CapRock Partners.
It takes more than 11,000 one-way truck trips to load and unload a 14,000 TEU (20-foot equivalent unit) shipping vessel, Kemmsies says. With congestion an ever-present obstacle, inland ports are viewed as a potential solution to supplement long-haul trucking while reducing container dwell times at packed marine terminals. According to Kemmsies, railroads and private developers initiate most inland port developments. Others are springing up around emerging clusters of distribution centers. Port authorities in Georgia, South Carolina, Virginia and New York/New Jersey are also investing in inland ports.
Driver shortages in trucking compound shipping dilemmas. Rising freight volumes have only made the shortage more acute. According to the American Trucking Association's "2019 Truck Driver Shortage Analysis," published in July, the industry was short roughly 60,800 drivers in 2018, up nearly 20% from 50,700 in 2017. If current trends hold, the shortage could exceed 160,000 by 2028, according to the report.
Is autonomous trucking a solution? It continues to evolve, but technological limitations persist around sensors and LIDAR (light detection and ranging), the laser technology that enables driverless vehicles to "see" the roadway and other vehicles. Regulatory and public sentiment hurdles remain significant as well, Kemmsies says.
"We won't see purely driverless long-haul trucks, but more likely drivers will use autopilot on highways and sit in the back of the cab so the HOS (hours of service) regulations are suspended," he says. "They can augment labor productivity, but not eliminate it."
Despite that, companies continue to invest in the technology. For example, UPS has funded autonomous driving company TuSimple. It will test self-driving tractor trailers on a single route in Arizona to determine if the vehicles can improve service and efficiency.
Conwell says the potential for growth in air freight is an untold story right now. Speed-to-market pressure will boost demand for this service during the next five to 10 years. Growth will come not just for cargo inbound into the U.S., but also outbound. Leading the way will be high-end goods that are in demand around the world from growing economies. Kemmsies adds that volumes may also increase for short shelf-life goods and urgent-delivery parcels such as medications.
Amazon continues to build out its Amazon Air freight fleet, leasing an additional 15 Boeing 737-800 cargo aircraft in mid-2019 from GE Capital Aviation Services (GECAS).
"By 2021, Amazon Air will have a portfolio of 70 aircraft flying in our dedicated air network," says Dave Clark, senior vice president of worldwide operations at Amazon.
Sustainability is another important trend in transportation. The IMO 2020 regulations from the International Maritime Organization, an agency of the United Nations, will limit the release of sulphur oxides to improve air quality in port cities and reduce ocean acidification. That could lead to higher fuel prices, says Kemmsies, as well as "the implication that in the future, even larger ships will be preferred to smaller ones due to economies of scale, and trains will be preferred to trucks. We are in the early stages of migrating to larger ships and trains to move a lot more of our cargo."