This Kansas City-based real estate firm 'has always been about people.'
Since its founding in 2010, Kansas City-based VanTrust Real Estate has worked to ensure that "developing with a difference" is more than just finding the right property or developing a successful project. Rather, it's making a strong commitment to its employees, communities and clients. It's "doing right by the dirt." It's developing every project as if it were a long-term hold — and so much more.
For its outstanding quality of products and services, financial stability, ability to adapt to market conditions and support of NAIOP and the communities in which it works, VanTrust Real Estate is NAIOP's 2023 Developer of the Year.
"On behalf of NAIOP, we are honored to recognize VanTrust as our 2023 Developer of the Year," said Marc Selvitelli, CAE, NAIOP's president and CEO. "The company has achieved remarkable success by effectively navigating challenges and leading with an entrepreneurial and nimble approach. Its commitment to employees, clients and communities is impressive."
"We at VanTrust are extremely proud to be recognized by NAIOP as the Developer of the Year, and we would like to thank NAIOP for this honor," said Dave Harrison, president of VanTrust. "This award is a testament to the work ethic and conviction of our employees and the commitment of the Van Tuyl family capital. These two things, combined with the valued relationships we have in the brokerage, banking, construction and customer/client communities, is what we believe distinguishes VanTrust and enables us to develop with a difference."
The Early Days
VanTrust Real Estate started with a meeting in 2010 between Cecil Van Tuyl and Harrison, who was leading a regional office for a national development company. Both Cecil and his son Larry experienced exceptional success in the automotive industry. Cecil started with a single used-car dealership in the 1950s, then Larry joined the business in 1971. Together, they grew the Van Tuyl Group into the largest privately owned auto group in the U.S. with more than 100 dealerships. In addition to owning the car dealerships and the land on which they were located, Cecil had exceptional business acumen in investing in various classes of real estate.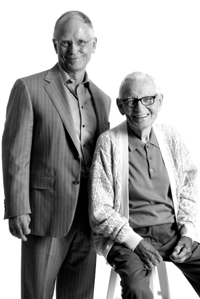 During a meeting in early 2010, Dave was assisting Cecil with a challenging real estate project. Aware that Dave and his group were embarking on a future "to be defined" endeavor, Cecil proposed a go-forward partnership. Caymus Real Estate was formed six weeks later.
"Cecil wanted to invest between $40 million to $60 million a year in commercial real estate," Harrison said. "Fast-forward a couple of years, and Caymus was saying grace over more than $700 million in projects. In 2012, I went to Cecil with three options for the go-forward business, as our business model did not match up with our in-place work product: Keep the original partnership model, create a hybrid company or become a regional/national developer. Cecil then suggested that I meet with his son, Larry, because he said 'you'll only have me for another 16 years' as he had planned on retiring at 100.
"After a brief meeting with Larry, the decision was made to be a regional/national real estate development company. Considering mutual objectives, the go-forward would become a fiduciary-based organization, owned by the Van Tuyl family. The name of the company changed from Caymus to VanTrust Real Estate as an ode to Cecil, as he was known as Van by his friends."
Sadly, "Van" passed away in 2012, but his legacy continues as part of the fabric of the company.
The Business Model
VanTrust Real Estate, LLC has grown into a full-service real estate development company, offering a broad range of real estate services including acquisition, disposition, development, development services and asset management. Product types include office, industrial, multifamily, retail, hospitality, science and technology, and recreational. VanTrust operates nationally with regional offices in Columbus, Dallas, Phoenix and Jacksonville and its headquarters in Kansas City, Missouri.
"We have what we call a collective-success model," Harrison said. "That is, everyone in the company participates in its success. We are not judged at the project level or at the regional level. We are judged as a team."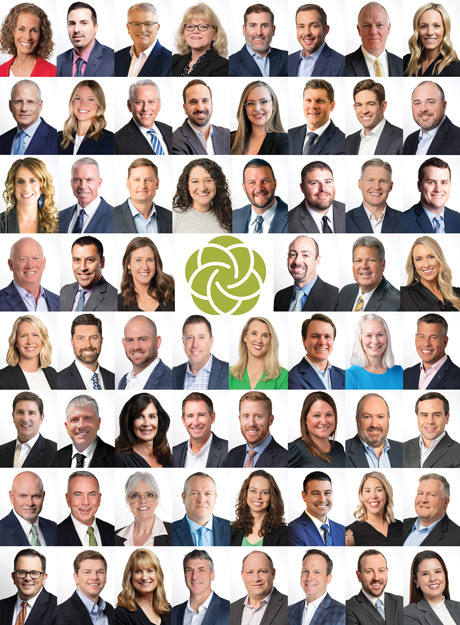 Using a baseball analogy, Harrison noted that one approach in the industry is to swing for the fences — to hit home runs.
"We are 'small ball' players," he said. "We want to consistently hit a lot of singles and doubles. Then, if we're lucky, they turn into triples and even home runs. I would argue that when you look at it from a team approach rather than an individual star approach, you will win more ballgames. We want to consistently develop good real estate."
"Cecil and Larry have always been about people," Harrison said. "Their mantra — whether it was the car business or the real estate business — is develop and grow people."
VanTrust has become one of the nation's larger privately held commercial real estate companies by following a pragmatic, disciplined approach. The firm uses a straightforward yield-to-cost analysis and an estimated exit value at stabilization. In simple terms, a project must be worth more at completion than it costs. Each project is developed as if it will be a long-term hold for the Van Tuyl family.
VanTrust's underwriting strategy emphasizes conservatism to allow for unforeseen circumstances, according to Harrison.
"We are selective about the projects we undertake and prioritize quality over quantity," Harrison said.
'We Do What is Right for the Dirt'
However, VanTrust is about more than transactions, Harrison said. The company's goal is not only to deliver developments that become a part of a community's fabric, but also to strengthen that community in the process.
"When we touch a piece of ground, whatever we do to it probably encumbers that property for the next 100 years," he said. "You must be good stewards of that piece of dirt and the community where the dirt resides. Being a good steward of dirt never gets you in trouble. Bottom line, we do what is right by the dirt, and we are tasked by Larry Van Tuyl with three simple fundamentals; Do good real estate, do it with people you like, and have fun doing it."
While VanTrust has focused on quality at all its developments, three projects that really stand out are Meadowbrook Park in Prairie Village, Kansas; Northgate Distribution Center in North Las Vegas, Nevada; and Frisco Station in Frisco, Texas.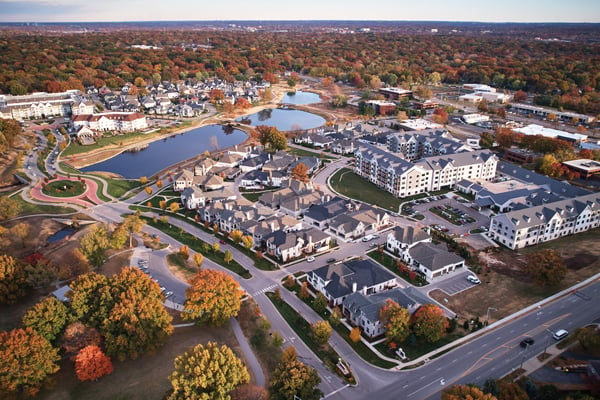 The 136-acre Meadowbrook Park project, formerly home to the Meadowbrook Golf and Country Club, was acquired by VanTrust in 2010. The company continued to operate the club until 2014. During that time, VanTrust worked with the city and local stakeholders to establish what it termed a "community vision" for the site. The company wanted buy-in to create a redevelopment project that would be a win-win for all.
When the golf club closed, VanTrust, along with Johnson County Parks & Recreation, designed and executed a community engagement program that solicited input from more than 800 residents over a two-day open house. According to the company, this high level of public participation helped create support and buy-in from the community that was reflected throughout the entitlement process.
Recognizing how important green space is to communities, VanTrust dedicated 80 acres of the 136-acre site to be a county-owned regional park, which opened in 2019. The balance of the private development focused on the integration of 48 single-family homes, 70 twin villa units, 225 senior housing units, a 54-room boutique hotel including 5,000 square feet of restaurant and retail space, and The Kessler at Meadowbrook, a 282-unit luxury apartment community with a mix of studio, one-, two- and three-bedroom units.
The $300 million redevelopment effort, which wrapped up in 2022, included stormwater filtration systems; lake restoration to improve the local watershed, control flooding (15 homes were taken out of the downstream floodplain) and enhance the aquatic habitat; and strategic tree preservation throughout the project that saved more than 500 trees.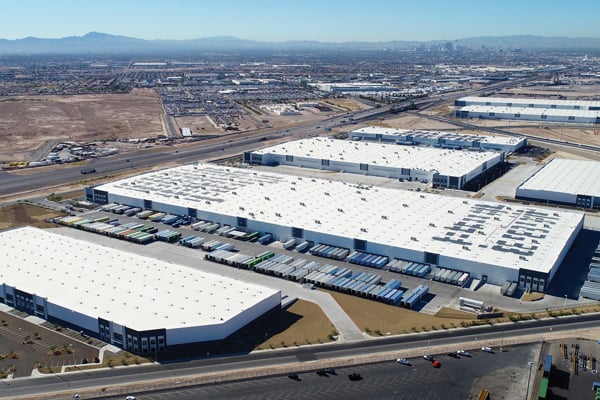 In North Las Vegas, the Northgate Distribution Center features eight Class A industrial buildings on 196 acres. The 3.6 million-square-foot park has about a mile of frontage on Interstate 15 and provides state-of-the-art distribution space for Amazon, Fanatics, Honest Co. and other major companies. The buildings range from 191,000 square feet to 813,000 square feet.
The main difficulty encountered during the $175 million project, which opened in 2021, was the lack of infrastructure at the site. VanTrust needed to add 3.5 miles of sewer lines, 2.5 miles of power lines and four miles of gas lines. The site was also constrained by its location, with I-15 to the south and a Union Pacific Railroad line to the north. As the first buildings within the Northgate Distribution Center progressed through design and construction, VanTrust experienced surging demand for the space. The success of those speculative buildings made a strong business case for the development of future buildings within the park.
VanTrust met the infrastructure challenges and completed the development in just four years, a year less than initial projections, and the company went on to develop another 1.8 million square feet across I-15 at the Tropical Distribution Center.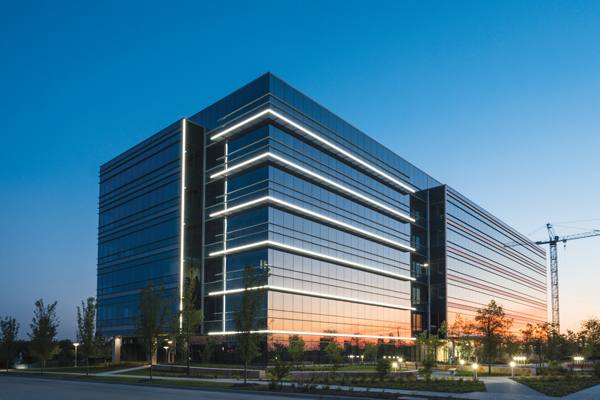 Frisco Station is an award-winning 242-acre mixed-use development in Frisco, Texas, one of the fastest-growing communities in the U.S. Located along Frisco's highly desired North Platinum Corridor, Frisco Station features fully amenitized office, residential and hotel properties surrounding the Dallas Cowboys World Headquarters, The Star. Built upon the pillars of smart, creative and healthy, the project is being developed by the Frisco Station Partnership, which is composed of The Rudman Partnership, Hillwood and VanTrust Real Estate. Upon completion, Frisco Station will include 2,400 units of urban living residential, a 30-acre programmed park system, a 55-acre corporate campus, a dining, shopping and entertainment district, three million square feet of mid- and high-rise office space, and 34 acres of health, wellness and medical facilities. VanTrust is the exclusive office developer within Frisco Station and has already completed more than 650,000 square feet of Class A office within the park consisting of The Offices One, Two and Three.
Sustainability
VanTrust seeks to reduce environmental impacts in its developments. According to the company, its project teams include numerous LEED-accredited professionals from a variety of disciplines. The project teams evaluate opportunities to incorporate sustainable strategies into every project. In 2022, they completed the $125 million, LEED Platinum-certified SkyCenter One at Tampa International Airport.
This 275,000-square-foot office building connects to the airport via a skywalk and is the first platinum-level LEED-certified new-construction project in Tampa. It reached that level by implementing practical and measurable solutions in areas including sustainable site development, water savings, energy efficiency, materials selection and indoor environmental quality.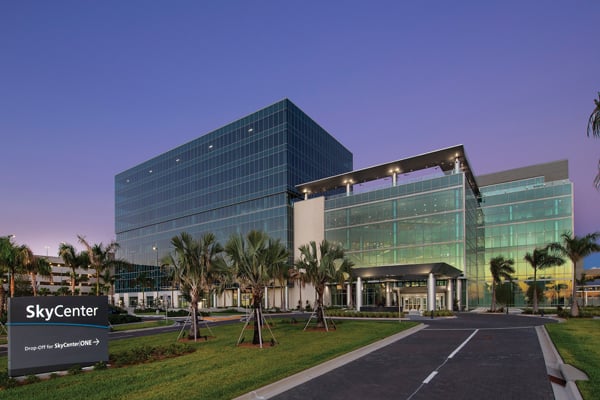 Built with low-emitting materials, SkyCenter One uses 34% less energy than the industry baseline and saves an estimated 1.1 million gallons of water annually. More than 63% of the materials used in construction were extracted and manufactured regionally, supporting the local economy during the pandemic. Additionally, 45% of materials were sourced from recycled content, and more than 1,118 tons of construction waste was diverted from landfills, representing an 84% total diversion rate. The parking garage includes 66 charging stations for electric vehicles, as well as a large and secure room for bike storage.
Active Within NAIOP
VanTrust is a major supporter of NAIOP. Of its 66 employees, 30 belong to the association. They are active across several chapters, including NAIOP Arizona, NAIOP Central Ohio, NAIOP Northeast Florida, NAIOP North Texas and NAIOP Southern Nevada.
VanTrust takes full advantage of the association's networking, education and public-policy support. Further, it gives back by encouraging employees to be available for functions including multiple chairmanships, committee leadership, educational offerings, mentoring, and speaking at local and national NAIOP events.
VanTrust's involvement with NAIOP includes employees who have served as local chapter presidents, including Keith Earnest with NAIOP Arizona, and Andy Weeks, Bill Baumgardner, Phil Rasey and Raif Webster with NAIOP Central Ohio. (Baumgardner also currently serves on the board for NAIOP North Texas.) Earnest also serves on the NAIOP National Board. Members of the VanTrust team have also held positions on the board of directors for several local chapters, including Jenna Borcherding, currently serving on the board for NAIOP Arizona, Ryan Lidke, currently serving on the board for NAIOP Central Ohio and Marc Munago with NAIOP Northeast Florida. Borcherding also served on the NAIOP I.CON conference planning committees in 2022 and 2023.
Support of Local Communities
At VanTrust, the core mission is to be responsible stewards to the communities it serves. In the past three years, the company has made contributions to more than 172 charitable organizations.
"We strive to build stronger, healthier communities and put our energy into the relationships with those communities," Van Tuyl said. "For VanTrust, it's about more than transactions. Our goal is to deliver developments that become ingrained into the fabric of the community."
VanTrust wants its employees to be leaders in the community, and that involves taking part in both charitable and civic causes.
"Each year, our employees earmark a charity that they would like to become involved with," Harrison said. "All employees get to take a check to a charity of their choice annually, but it's not just writing a check — we want them involved. The community benefits, the specific causes benefit and the employee benefits."
Last year, the company helped nurses who worked through COVID in underserved areas of the community by providing signing bonuses and scholarships to help recruit and retain low-income and diverse professionals in the field. This year, VanTrust is focusing on contributions to help children in underserved areas who have experienced learning loss because of COVID.
2023 and Beyond
What's ahead for VanTrust Real Estate?
The company recently launched Science + Technology, a new national division that is designed to match its real estate expertise and capital resources with both public- and private-sector clients in the life sciences, R&D, institutional, governmental, biotech, pharmaceutical and technology industries.
"We had not done many medical, life science or tech projects, preferring instead to stick with what we knew best — industrial, office and multifamily," Harrison said. "Now we are creating an additional silo for deploying capital and utilizing our human resources in this exciting sector."
VanTrust is also poised to expand its geographical footprint in 2024 by opening a regional office in Salt Lake City. It will be the company's sixth regional office.
As for civic involvement, VanTrust currently includes the creation of a scalable affordable-housing model that can deliver homes and ultimately home ownership in their local underserved communities. This endeavor, which launches in the coming months, includes collaboration with many of VanTrust's existing business partners.
These new ideas, and others that will emanate from the partnership of the VanTrust team and the Van Tuyl family, will undoubtedly lead to even more pioneering national development opportunities. But through it all, the company will remain true to its legacy — "developing with a difference."
Ron Derven is a contributing editor for Development magazine.
By the Numbers
A quick look at VanTrust Real Estate:
Years in existence: 13
Employees: 66
Offices: Five (headquarters in Kansas City, plus regional offices in Dallas; Phoenix; Columbus, Ohio; and Jacksonville, Florida, along with Salt Lake City, Utah, coming in 2024.)
Geographic reach: Projects in more than 50 municipalities across the U.S.
Space developed: More than 65 million square feet of office, industrial, multifamily, mixed-used, science and technology, and hospitality projects
Project starts in 2022: More than $1.3 billion
How VanTrust Develops a Project
The majority of VanTrust's development opportunities come from the brokerage community and trusted partners (such as lenders, architects, general contractors, etc). The company has no in-house brokerage, so it never competes with its outside brokerage partners.
"When a project comes to us, we like to do what we call 'cowboy math,'" said VanTrust President Dave Harrison. "We are not a big spreadsheet company. We put every opportunity up on a whiteboard and keep it general and simple to begin with."
Some of the questions that Harrison and his team ask at this initial phase are: Does the project match up with our objectives? Does it match up with market opportunities? Does it hit our return thresholds?
"If we are looking at eight opportunities, two of them might make it past this triage stage," he said. "If an opportunity isn't a good fit, we often suggest who it might be a fit for. We want to stay in our lane, and we want to do what we know we can do well."
If an opportunity does appear promising, VanTrust will then pull all disciplines together to do the initial underwriting and due diligence because its style is to "get about there real quick" This underwriting brings to the table its valued partners associated with the development process and identifies any "gotchas."
"We will look at all the components and distill the project down to a one-page document," Harrison said. "We focus on four levers: Can we build it for no more than W? Can we lease it for at least X? Will it be worth at least Y at completion? And can we finish the project in no more than Z amount of time?"
The bottom line for VanTrust Real Estate is this: a project must be worth more the day it is completed than what it costs to build or buy.
"This simplistic approach in taking calculated risks has proven to be successful for VanTrust," Harrison said.