The NAIOP Industrial Space Demand Forecast sees few changes from 2018.
By all accounts, the industrial development sector remains robust. E-commerce is spurring demand for sortation hubs, distribution centers and cold storage facilities, and vacancy rates hover at all-time lows.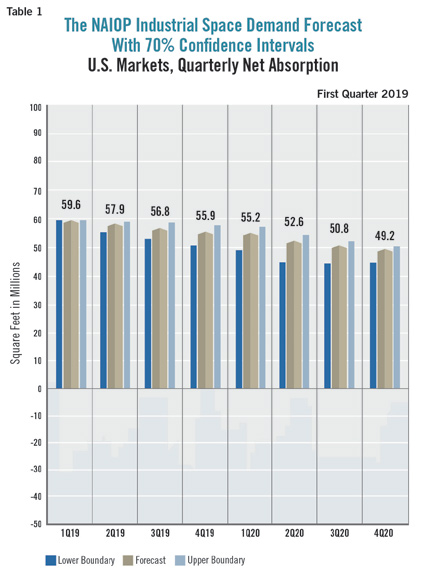 Findings by researchers Dr. Hany Guirguis of Manhattan College and Dr. Joshua Harris of New York University predict demand will remain at approximately 57 million square feet per quarter for 2019. That is unchanged from the average actual 2018 quarterly absorption of 57 million square feet. Industrial absorption in the final half of 2018 came in slightly above expectations due to higher consumer spending and retail sales, which were buoyed by a strong job market.
Industrial demand will be off to a strong start in 2019 with a potential tapering off into 2020 as rising interest rates moderate the economy's growth rate. At present, the risk of a downturn in the industrial space market appears slim as the nationwide vacancy rate sits at a historically low 7.0 percent. Further, gross and net asking rents are at all-time highs, indicating that the market supply continues to tighten at a steady rate.
A Strong Economy
While data are somewhat suppressed due to the U.S. government shutdown that took place from December 22, 2018, until January 25, 2019, economic indicators point to moderate growth. The Federal Reserve Bank of Atlanta's most recent GDPNow estimate of fourth quarter 2018 GDP growth is 2.7 percent, a decline from the robust 3.4 percent growth experienced in the third quarter.
Overall U.S. economic activity will remain steady in 2019, with annualized rates of GDP growth in the mid-2 percent range. Steady growth is the biggest factor keeping the industrial demand forecast stable. The labor market and overall consumer confidence are also expected to grow for the year, with industrial space demand increasingly influenced by consumer spending. However, there is concern about declining business sector investment, which the Federal Reserve Bank of Atlanta cites as a key explanation for the lower fourth-quarter GDP growth expectation.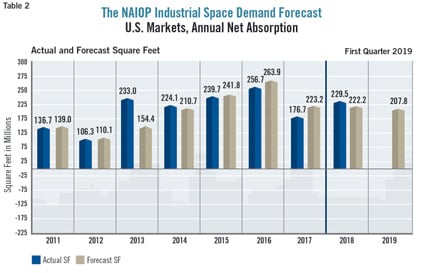 The Conference Board's Measure of CEO Confidence™ fell 13 points in the fourth quarter of 2018 to a level of 42, indicating more pessimism than optimism (any reading above 50 indicates growth). However, the Purchasing Managers' Index (PMI), shown to be far more indicative of future industrial space demand, rose in January to 56.6 percent. That indicates improving and growing conditions.
'Healthy and Stable'
Overall, the U.S. industrial real estate markets appear to be healthy and stable. It is the asset class that is potentially in the best position to weather any macroeconomic downturn that may come in the next several years. The areas of instability, which in recent months have driven stock market volatility and the decline in CEO confidence, are due to international market concerns. In the U.S., manufacturing activity and employment appear to be poised to continue growing in 2019 and beyond due to structural factors such as new technology and willingness to reshore foreign manufacturing operations. Similarly, online shopping activity set records this past holiday season, which only fuels the need for more warehouses and distribution centers in additional markets.
Although it got off to a slow start during the first half of 2018, the industrial market ended 2018 by performing closely with the previous forecast of net absorption. In 2018, 229.5 million square feet of industrial space was absorbed, in line with the forecast of 222.2 million square feet.