This efficient, environmentally friendly way to build could increase quality while reducing labor costs.
The shortage of construction workers in America has continued to intensify and building material costs are rising, leaving architects with the difficult task of completing projects that can meet demanding budgets. To remain profitable and meet project deadlines, architects and the industry at large must find creative methods to improve processes, increase return on investment (ROI) and introduce more efficient ways to source construction materials.
The University of Arkansas, in partnership with Leers Weinzapfel Associates, found an innovative solution to these challenges. The university used prefabricated wood construction to build the nation's first large-scale mass timber residence hall project and living/learning setting, the Stadium Drive Residence Halls. The 202,027-square-foot project — envisioned as a creative learning environment within a relaxed, informal, tree-lined landscape — is being built from prefabricated wood, which has reduced on-site construction time and labor.
Prefabrication Explained
In the prefabrication (prefab) process, building materials are created off-site, typically using three-dimensional digital modeling technologies along with computer numeric control (CNC) machines that allow for complete precision. There are two types of industrialized approaches to prefabricated buildings: building kits and finished modules.
Building kits include prefabricated elements or sections that are delivered and assembled on-site. Typically, the construction of prefab midrise wood buildings is characterized by panelization, in which walls that have been prebuilt in sections are delivered to a jobsite ready to be lifted into place.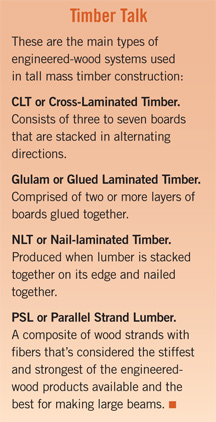 Finished modules are built in a factory, transported to the construction site and assembled into a single building. The modules can be placed side by side, end to end or stacked, allowing a wide variety of configurations and styles in the building layout.
Why Prefab?
Prefab is used in multifamily and commercial construction for a variety of reasons, including:
Efficiency. Prefabricated wood panels have precut openings for doors, windows, stairs, service channels and ducts. This allows them to be quickly and efficiently lifted into place, which can shave weeks and even months off of the construction schedule. In an industry with aggressive deadlines, this is a key benefit for developers and builders. This process also improves construction sequencing and scheduling, since materials are sorted and loaded onto trucks in a project-specific order to minimize on-site handling.
Safety and Productivity. The efficiency of prefabrication also improves worker safety and productivity. Construction time is shorter; that means crews spend less time on site, fewer workers are needed to climb high on scaffolding, and projects are less likely to experience weather conditions that can delay construction or make it more dangerous.
Quality and Precision. Prefabricated components are created in advance using sophisticated technology, which improves the quality and precision of materials.
ROI. Prefabrication means less time spent on construction, fewer redundancies and less waste — all of which reduce project costs. Using wood can further reduce costs since lumber is sourced locally and is often not as costly as competing building materials.
Environmental Impact. Creating building material sizes and dimensions in advance results in lower environmental impact by minimizing waste on- and off-site. Additionally, using wood in prefab projects helps to improve the building's environmental impact. Wood is a sustainable resource that, along with a smaller embodied energy, sequesters carbon. That means it captures and stores atmospheric carbon dioxide through photosynthesis. Additionally, global life-cycle assessment studies have proven that wood can offer lower greenhouse gas emissions, less air and water pollution, lower volumes of solid waste and less ecological resource use than other materials. What's more, wood's strength and durability help it withstand high winds and seismic activities.
Prefab in U.S. Universities
Prefab, and particularly wood prefab, has the potential to transform many American institutions of higher learning because it can be a good choice for their time frames and budgets.
In addition to the University of Arkansas' Stadium Drive Residence Halls, which will be completed in the summer of 2019, the University of Massachusetts Amherst's four-story, 87,000-square-foot John W. Olver Design Building, completed in 2017, is one of the first cross-laminated timber (CLT) academic buildings in the United States.
During construction, mobile cranes dropped four 60-foot vertical cross-laminated timber panels into place, anchoring them into the foundation of the building to create lateral bracing at each core to withstand wind and seismic loads. The result is a beautiful, and highly visible, sustainably designed structure. It includes radiant flooring and chilled beams for energy savings; a central courtyard roof garden to provide maximum daylight to the building's interior; and a native bioswale landscape with small timber dams, which help mitigate site water runoff and naturally filters it before it ultimately leads back to the Connecticut River.
The Future of Prefab is Bright
In December 2018, the International Code Council (ICC) announced that its members had voted to approve 14 code change proposals related to tall mass timber. The proposals set fire safety requirements, as well as allowable heights, areas and number of stories, for tall mass timber buildings. The new provisions will be included in the 2021 International Building Code (IBC).
"The addition of tall mass timber to the International Building Code provides a comprehensive set of safety standards for these new types of construction," said Kenneth Bland, the vice-president of codes and regulations with the American Wood Council. "This vote caps off several years of scientific research and testing, and verifies that mass timber meets the robust performance standards called for by our nation's building codes."
The recognition of tall mass timber in the ICC shows that prefabricated wood can provide a strong, creative solution to the construction labor shortage, allowing architects to meet budgets and timelines while producing beautiful projects. Designers, builders, contractors or architects should consider prefab wood construction for upcoming projects.