As industrial users consolidate operations under one roof, "creative industrial" is becoming the future of industrial space.
THE CONCEPT OF "creative office" space is making headlines as office users increasingly seek environments that foster innovation and collaboration. According to a 2016 Gensler Workplace Survey, today's most innovative companies are providing well-designed creative workspaces rather than simply traditional office environments. The survey reports that innovators are twice as likely to offer access to on-site lifestyle amenities, indoor-outdoor gathering spaces and more flexibility regarding when and where people work.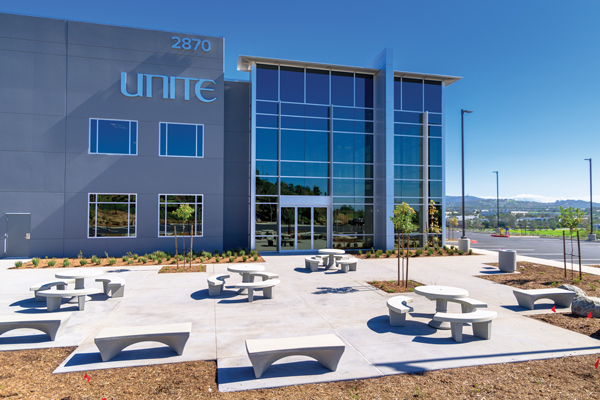 Recently, the elements of creative office environments began to spill over into the industrial realm. Recognizing this, RAF Pacifica Group designed and developed a new product type that the company trademarked as "creative industrial." These properties integrate a creative office, corporate headquarters aesthetic into state-of-the-art new industrial buildings to accommodate users from numerous industries.
What Makes an Industrial Project Creative?
"Creative industrial" projects combine the best characteristics of creative office and industrial space to deliver a better user experience. Creative industrial developments feature office amenities such as indoor-outdoor gathering areas, extensive glass for natural lighting, bifold vertical glass rollup doors and open floor plans for a collaborative work experience. Additional outdoor amenities might include fire pits, water features, a bocce ball court or a movie wall.
The industrial elements involve modern early suppression fast response (ESFR) sprinkler systems, higher clear heights (from 27 to 32 feet) and multiple true dock-high loading doors (where the height of the slab at the bottom of the door is about four feet above ground level, with limited use of wells).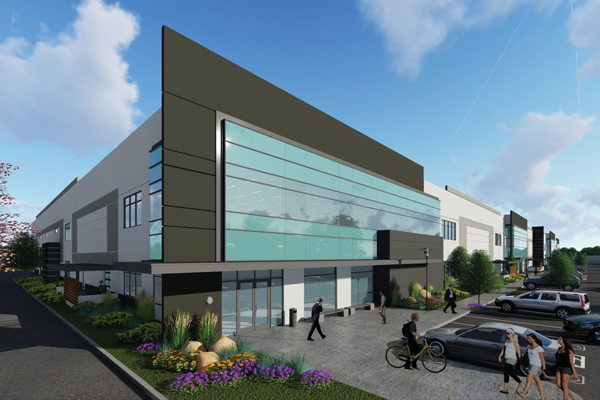 By integrating creative office design elements and on-site amenities into high-quality, state-of-the-art industrial buildings, creative industrial development is poised to deliver what the next generation of industrial space users needs to bolster their corporate images and drive their businesses forward.
Growing Demand for Creative Industrial
Today's millennial workers place a high value on a company's work culture, and are seeking environments that cultivate a "live, work, play" lifestyle. A 2016 CBRE survey found that 78 percent of millennials value workplace quality when choosing an employer, meaning that the physical workplace environment can have a tremendous impact on employee recruitment and retention.
Industrial developers understand that employees in the technology, biotech, life sciences and even manufacturing industries are beginning to select employers based on workplace amenities. Companies in these sectors are seeking workplaces that are conducive to innovation, in order to deliver brand value and retain the best employees.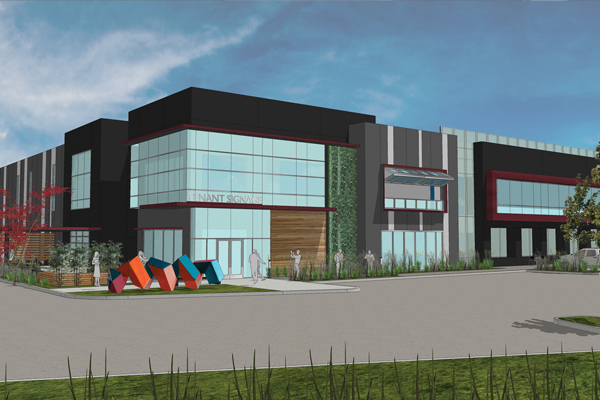 This concept led to significant preleasing in San Diego, where RAF Pacifica Group preleased more than half of its first creative industrial project, el·e·vate, a 157,000-square-foot, two-building industrial property in Carlsbad, months before its completion in the first quarter of 2017. Tenants will include Unite Eurotherapy, a global supplier of premium hair care products; B&D Nutritional Ingredients, a distributor of dietary supplements; and Hydrogenics, a Canadian developer and manufacturer of clean energy technology specializing in hydrogen generation and fuel cell products.
What's Driving Demand?
Much of the demand for this creative industrial space is being driven by business innovation and industrial consolidation. In the San Diego region, for example, demand is being fueled by the innovation economy of the Carlsbad submarket. According to the Carlsbad Center for Economic Development, more than 650 patents were issued to local businesses in 2015, a rate that significantly outpaces other innovation hubs, including the Bay Area. Creative industrial development is designed to foster a culture of collaboration and innovation that will allow creative startups to grow their businesses.
Beyond Southern California, demand for creative industrial space is likely to climb throughout North America as industrial users seek to consolidate their engineering, R&D and corporate operations under one roof for maximum efficiency. In the New Jersey market, for instance, life sciences companies have begun to consolidate their operations to reduce operating costs, according to an August 2015 report in Real Estate Weekly. Many of these industrial users are demanding modern, corporate headquarters-type facilities that will reinforce their brand image and serve them in all facets of their business.
On the heels of the e-commerce boom, the concept of creative industrial space could well be the next big thing for the industrial sector.
Adam Robinson, founder and principal, RAF Pacifica Group