A great location plus smart design result in fast lease-up of a last-mile distribution facility on Chicago's South Side
E-COMMERCE AND urban infill are buzzwords that have quickly become the focus of industrial real estate investors and developers throughout North America. In an environment that is rapidly evolving, how can developers target properties that will become attractive for this new and growing type of tenant, which is increasingly demanding facilities in metropolitan areas?
By definition, these projects are located within major cities, in densely populated, land-constrained areas, making it difficult to find appropriately priced sites with the correct amenities and the proper zoning. As such, no two urban infill projects will look alike.
Tenants seeking these infill locations will likely need to sacrifice some of the functionality that a modern, greenfield development can provide. However, successful urban infill development or redevelopment projects will share many of the following qualities:
• Quick access to a major population center.
• Extra land for van, car and truck parking.
• Access to labor and public transportation.
• A modern (enough) warehouse able to accommodate product storage and distribution.
Located in the city of Chicago, 2801 S. Western Ave. is one example of an urban redevelopment project that has resulted in a fully leased modern distribution facility that meets the needs of today's e-commerce retailers and food distributors.
A Promising Property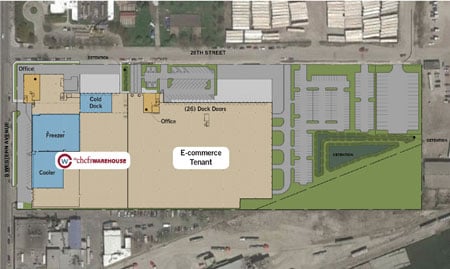 In 2012, Venture One Real Estate, along with its capital partner, DRA Advisors LLC, identified an infill industrial redevelopment opportunity on the Near South Side of Chicago. The 312,000-square-foot structure on a 13.2-acre parcel at 2801 S. Western Ave. was just over three miles southwest of Chicago's central business district, less than one-half mile from a four-way interchange at Interstate 55 and Damen Avenue.
At first glance, the property appeared to be a typical older, obsolete inner-city industrial building with interior loading, run-down metal siding and a lack of modern amenities. The building's offices were wood paneled and enclosed; the warehouse was dimly lit, without ESFR sprinklers; and its 90-foot interior loading court was not designed to accommodate today's 53-foot trailers.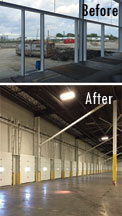 Yet Venture One identified several qualities that made this property an ideal candidate for redevelopment as an urban infill, last-mile industrial facility. The warehouse had a 28- to 30-foot clear height ceiling, 50-by-60-foot bay spacing and 5 acres of extra land that could be used for car or truck parking. The building contained food storage and distribution infrastructure, including a 15,000-square-foot high-bay cooler, a 10,000-square-foot high-bay freezer, three dedicated cold docks and floor drains. Most importantly, the West 28th Street and Western Avenue property was located in Chicago's up-and-coming Pilsen neighborhood, which has excellent access to a deep labor pool, highways, public transportation and immediate access to Chicago's central business district.
Venture One closed on the property in 2013 with a plan to immediately undertake significant speculative improvements to modernize the facility. The developer worked closely with the city of Chicago's Department of Planning and Development and the property tax firm Liston & Tsantilis to secure a class 6(b) tax incentive, which is designed to encourage developers to invest capital into older buildings and provides a 60 percent property tax reduction for 12 years.
Redevelopment
Demolition began in 2013.The 90-foot interior truck court was demolished to create 28 exterior docks with new dock equipment. The original dock wall was underpinned for structural support and reused in place for the new loading docks. The cavernous, wood paneled offices were cleared out to create an open, loft office plan with views of the Chicago skyline.
Venture One installed an ESFR sprinkler system to allow tenants to take advantage of the clear height. It also installed energy-efficient, high bay T5 lighting. Exterior aesthetic improvements include a new parking lot, upgraded facade, landscaping enhancements, new lighting and upgraded signage on Western Avenue. In addition, a new HVAC system and a new roof were installed.
After demolition and redevelopment, the building was reintroduced to the market in 2014 as a modern 277,000-square-foot urban industrial building. It was the only building of its kind available within the city of Chicago at that time.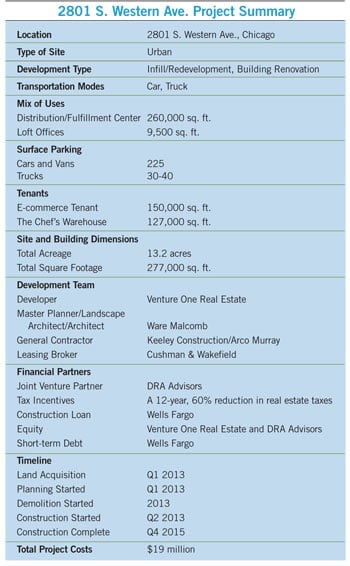 Almost immediately, Venture One secured a 127,000-square-foot long-term lease with The Chef's Warehouse, a national food production and distribution company that distributes high-end food products directly to local restaurants. Venture One upgraded and expanded the building's existing food storage infrastructure for this tenant. The loft offices were completed and converted into the company's local headquarters and sales offices. Ten new cold docks were added, as well as an additional 18,000-square-foot freezer and 10,000 square feet of air-conditioned storage. A portion of the 5-acre land parcel was paved to store the firm's food trucks, which are used for local deliveries to Chicago-area restaurants.
Shortly thereafter, Venture One secured a 150,000-square-foot lease with a well-known international e-commerce tenant for a last-mile distribution facility. This tenant took advantage of the remainder of the additional land for car and van parking. It chose to use the exterior docks for delivery of product via semitruck. The remainder of the truck court was converted for extra car and van parking, accommodating roughly 225 vehicles.
Access to the metropolitan area was critical to the operations of both tenants. Modern loading courts and docks were necessary to facilitate the delivery of product to the facility. Because most product leaves the facility to be distributed within the city limits, the extra land was necessary to store vans and city delivery trucks on site.
In November 2016, NAIOP Chicago named 2801 S. Western Ave. its 2016 Industrial Redevelopment of the Year.
Looking Ahead
As consumer demand for fast and inexpensive home delivery of e-commerce purchases continues to grow by double digits annually, retailers and distribution companies are continuing to expand their urban infill warehouse footprints. Currently, e-commerce makes up only 8 percent of total retail sales, which means that there is still a lot of room for growth.
This growth will result in opportunities for creative industrial developers to target infill locations like this one for urban infill warehouses and last-mile distribution facilities.