This sector of industrial was booming even before the pandemic, and future demand is expected to soar even higher.
In the age of one-hour package shipments, the infrastructure needed to serve a growing on-demand culture is scrambling to keep up. This has taken on even greater significance amid the COVID-19 pandemic, which forced millions to stay home for months.
According to Coresight Research's U.S. Online Grocery Survey 2020, online grocery sales are expected to increase by about 40% this year due to the pandemic. That's after a 22% increase in 2019.
The strong growth in e-commerce is a main reason that the industrial real estate sector is a bright spot in the U.S. economy, as developers and tenants continue to construct millions of square feet of warehouses and logistics centers.
Within the industrial sector is a unique class of buildings that maintain the continuity of the "cold chain," which is crucial for the integrity of U.S. food and pharmaceutical logistics. While market factors are driving rising demand for cold buildings, there are also practical reasons behind the need for this asset class. The existing cold building stock in the U.S. is becoming antiquated, with an average age of 34 years, according to CBRE research.
In the past, cold storage buildings were built to suit, but due to the surge in demand and the need to upgrade these facilities, the era of the speculative cold building could be upon us.
Cold Demand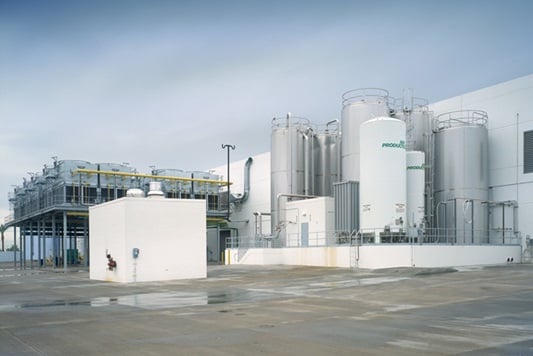 Recent research by CBRE estimates that demand for cold storage will increase by 100 million square feet in the next five years. However, there is less than 5 million square feet of cold storage currently being built across the U.S.
"In our view, there is the potential for an enormous amount of new climate-controlled space," David Egan, former global head of industrial and logistics research at CBRE, told attendees at NAIOP's CRE.Converge 2019 in Los Angeles.
These cold buildings take various forms. Food processing facilities are located near farms and ports, which have specialized requirements to meet the needs of tenants and comply with food safety protocols. Processing facilities are supported by gateway cold storage buildings, which feed regional distribution facilities. Finally, there are the local last-mile facilities, which provide service to grocery stores, restaurants and, increasingly, directly to consumers.
Cold buildings have traditionally been purpose-built for a specific end user with a particular set of needs. These can range from high-bay, fully automated cooler and freezer buildings to lower-clear-height processing facilities. While unique to the end user's needs, these buildings share many common design features: refrigerated space (often well below zero degrees Fahrenheit), enhanced thermal and vapor envelopes, areas of insulated freezer slabs, space on site and within the building for refrigeration equipment, and a number of other requirements.
Using these common building attributes, Ware Malcomb recently developed a "cold ready" speculative prototype building that can be adapted for a number of uses requiring refrigeration and freezer areas. Finding a solution for a cost-effective and highly flexible speculative cold building has long been an issue, and this new prototype could help accomplish that.
Cold-Ready Strategies
There are two primary strategies that can be implemented for the cold ready speculative building. The first uses insulated metal panels as the primary exterior building skin. This requires columns at the building perimeter and increased roof insulation as part of the thermal envelope. This building offers a stable thermal and vapor envelope. However, it can be more challenging to place internal walls between temperature zones because the insulated metal panel walls will not be able to penetrate the metal roof deck if not planned as part of the initial building construction.
The second option for the cold ready speculative building is commonly referred to as the "box in a box." This building utilizes a precast or tilt-up concrete exterior wall panel, which can be load bearing and avoids the need for perimeter steel columns. The building's thermal and vapor envelope uses insulated metal panels to line the exterior walls, as well as insulated metal panels suspended from the roof structure to create a ceiling. This design offers more flexibility to add future walls as the thermal and vapor envelope can be accomplished by the suspended insulated metal ceiling panels. The "box in a box" design also allows the majority of the cost for the building thermal and vapor envelope to be deferred to the tenant improvement and can help keep the first cost of the building lower.
Both options share many unique design traits that make them suitable for cold building users. More space on the site is dedicated for refrigeration equipment and generators that are required for cold buildings, as well as sufficient queuing area for trucks and ample parking for refrigerated trailers. Office pods are located adjacent to the building cold dock for better separation from primary freezer and cooler areas as well as easy access to the cold dock. The dock doors are spaced slightly wider than a typical dry warehouse building to allow for the increased dock equipment and enhanced dock seals. The dock doors themselves are insulated and are designed be at a 50-inch height above grade. This allows for better accommodation of refrigerated trailers that have a higher bed height.