Surging demand for e-commerce grocery deliveries could spark more construction of refrigerated facilities.
In October 2019, Amazon announced that it will begin offering free two-hour grocery delivery to Amazon Prime members. The move could have a dramatic impact on demand for cold storage facilities, which were already poised for strong growth amid changing consumer preferences.
CBRE's "2019 U.S. Food on Demand Series," which focuses on research about cold storage, notes that owners and operators of U.S. cold-storage warehouses should see annual growth of 4% from now to 2022. Evolving consumer behavior is driving this change. The Food Marketing Institute and Nielsen predict that groceries ordered online will account for 13% of total grocery sales by 2022, up from 3% in 2018. Additionally, the Food Marketing Institute predicts that within the next 10 years, 70% of American households will regularly do some grocery shopping online.
"The real interesting question is what's going on with consumers and how are they changing," said David Egan, senior director and global head of research for CBRE, during a session at NAIOP's CRE.Converge 2019 in Los Angeles in October. "E-Commerce is obviously a huge component of everything we talk about in this business, and it's beginning to find its way through to food."
Huge Growth Potential
Egan noted that food in the U.S. is a category worth approximately $2.5 trillion, with grocery sales representing almost $1 trillion of that number. He said that right now, with just 3% of grocery shopping in the U.S. occurring online, grocery e-commerce has little impact on logistics real estate.
"It's basically an Instacart type of model where customers place orders online that are filled in a grocery store by a personal shopper," he said.
However, as online grocery shopping grows, a greater percentage of fulfillment would have to come from warehouses to keep up with demand. CBRE predicts that more grocers will shift cold-storage operations from their stores to free-standing refrigerated facilities to save money.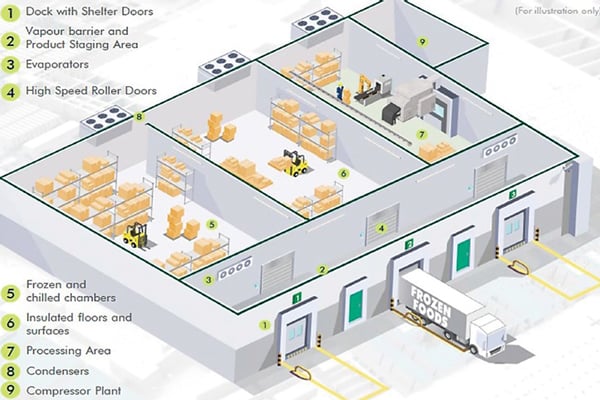 "If you look at the economics of a grocery store, it's a low-margin business," Egan said. "To accommodate e-commerce, grocers would have to add more inventory, more overhead and more people working in the stores. Those margins would start to get squeezed. So there's going to be a desire to move out of that store into a more efficient, cost-controlled warehouse. They're very capital-intensive for sure, but in the end the costs would be more manageable."
CBRE estimates that demand for cold storage space will rise by 100 million square feet during the next five years. That's an increase of roughly 47% from the current level of 214 million square feet.
"If e-commerce grocery sales grow to 15% penetration, that's about $150 billion in sales that would shift from an in-store model to an online model," Egan said. "To put that in perspective, all e-commerce in the U.S. is about $500 billion. This has the potential to dramatically change the way food moves through the supply chain."
It could also revolutionize logistics-based real estate. According to Egan, at least 1.25 million feet of new distribution space is needed to support every $1 billion of sales that shifts from a brick-and-mortar model to an online model.
"So if we get $150 billion in sales shifting from an in-store model to a fulfillment-out-of-a-warehouse model, you can see the impact that's going to have on the amount of space that's needed for cold storage and food logistics," he said. "And that's not even taking into consideration restaurants. In our view, there is the potential for an enormous amount of new climate-controlled space."
A lot of that new space will take the form of last-mile cold storage in infill areas. Egan believes that redevelopment will probably be the most likely path forward there. Fewer grocery stores will be needed if e-commerce food delivery takes off, and those buildings will already have refrigeration equipment.
"A repurposing of existing grocery stores is really going to be the sweet spot," he said. "They're already designed to handle food, they've got good site coverage, they've got good circulation, and they're usually pretty close to where people are. I think these facilities are probably going to skew toward the smaller side."
CBRE says much of the cold-storage sector's growth is likely to occur in gateway markets like Los Angeles and the New York area, as well as in top food-producing states such as California, Texas, Wisconsin, Florida and Washington state. However, Egan said there's not a lot of evidence that it's happening yet. He estimates that there is less than 5 million square feet of cold storage currently under construction across the country.
"We think it's coming and we think the opportunity is enormous, but it's just over the horizon right now," he said.
Costly Facilities to Build, Operate
While there should be strong future growth in the cold-storage market, several factors have limited construction of new facilities in recent years.
Research from JLL shows that cold-storage facilities can cost between $250 to $350 per square foot to build. That's about two to three times more expensive per square foot than traditional warehouses. Because of that, "investors look for opportunities with approximately 15 or more years of lease term to mitigate risk and provide a steady cash flow stream to buy down their basis," according to JLL's 2018 report "Cold Storage: A Real Estate Perspective."
In addition to the extensive refrigeration equipment, these structures require specialized building envelopes, including insulated metal panels and concrete slabs with under-floor insulation and heating. Because of these factors, they can take four to five months longer to build than standard warehouses.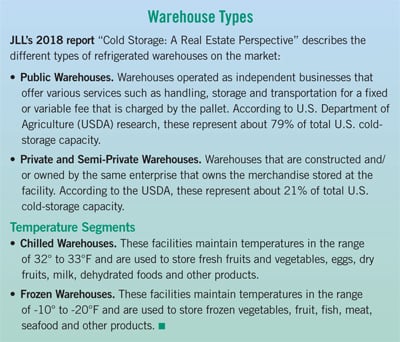 They're also much more expensive to operate than traditional warehouses because of the electricity required to run the refrigeration equipment. According to statistics from E-Source, a research company that works with major utilities across North America, refrigerated warehouses consume an average of 24.9 kilowatt-hours (kWh) of electricity per square foot each year. By comparison, traditional warehouses use an average of 6.1 kWh of electricity per square foot each year.
CBRE's research shows that the challenges related to constructing and modernizing cold-storage facilities have led to consolidation in the industry. Just four companies currently control 73.4% of all refrigerated warehouse space in North America.
"Few sectors of commercial real estate will undergo as much transformation in the coming years as the cold-storage industry due to e-commerce's impact on this previously underpenetrated market," said Matthew Walaszek, CBRE Associate Director of Industrial & Logistics Research, Americas, in a release. "We will see robust demand, further innovation in delivery and automation, and possibly more consolidation among major players."
Trey Barrineau is the managing editor of Development magazine.
Learn More About Cold Storage
The NAIOP Center for Education is currently offering an online course, "Understanding the Temperature-Controlled Environment." It examines trends and the current market landscape for cold storage facilities. It also details how these environments differ from traditional industrial projects, the specialized building features required and the challenges associated with these facilities.
To sign up for the course or to learn more, visit: Understanding the Temperature-controlled Environment Individual Course Module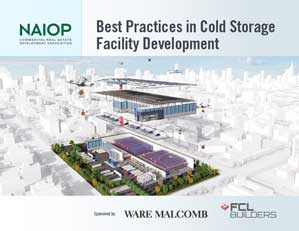 NAIOP's Newest E-Book: Best Practices in Cold Storage Facility Development
Cold storage development is not for the faint of heart — it is complex, expensive and requires high-level expertise. This niche property type has been getting more attention due to the increasing demand for temperature-sensitive goods including online grocery orders, meal kits and pharmaceuticals. The growth in cold storage has become so great that speculative cold projects, unheard of five years ago, have become increasingly popular. To serve as an introductory guide to the topic, NAIOP has released a new e-book, "Best Practices in Cold Storage Facility Development."
Industry experts from Ware Malcomb, FCL Builders and Cold Summit Development offer their latest insights along with specific design and construction considerations for build-to-suit and speculative projects, including Ware Malcomb's new Cold Ready prototype. This 40-page e-book features over a dozen illustrations and covers topics such as predevelopment, site planning, building envelopes, insulated mental panel walls, roofs and racking.
To purchase a copy, visit www.naiop.org/coldstorage