The Latest Research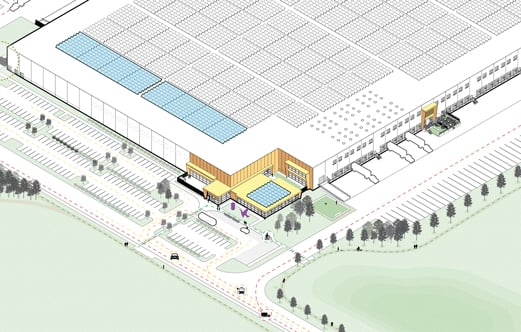 Designing for Wellness in Distribution Centers
Growing competition for workers and increased awareness about workplace wellness have generated interest in design interventions that can make these centers healthier and more attractive work environments. Wellness features in industrial properties can contribute to market differentiation, increase employee retention, impact productivity and help meet environmental, social and governance (ESG) goals.
The NAIOP Research Foundation commissioned this report to offer design recommendations that improve occupant well-being. The authors conducted secondary research, observed conditions in existing distribution centers and interviewed occupants to collect information on key wellness concerns. They then drew from these findings to design a prototype distribution center with elements and features that contribute to a healthier and safer work environment.
Read more and join us for a webinar (free for members) on Aug. 8 with the author of the report.
Examining Development Approvals Across North America
The NAIOP Research Foundation has published a new research brief that examines development approvals processes across 100 jurisdictions from 30 U.S. states and the Canadian province of Ontario. The Index provides a systematic method to objectively evaluate and compare approvals processes in different jurisdictions by focusing on site and building plan reviews, permitting and inspections.
Office Absorption to Remain Negative Through 2023
The national office market experienced total negative net absorption of 21.3 million square feet through the fourth quarter of 2022 and the first quarter of 2023, bringing the vacancy rate to 17.8 percent, the highest level since the second quarter of 1993, according to the latest NAIOP Office Space Demand Forecast.