The three-year makeover of Climate Pledge Arena involved complex planning and breathtaking engineering.
Constructing sports venues — some of the largest structures anywhere — is challenging even when starting with a clean slate. It's an entirely different level of difficulty when the project all has to happen under an existing historic roof that can't be altered.
This was the challenge Oakview Group and their architects Populous faced in building Seattle's Climate Pledge Arena, a 740,000-square-foot stadium burrowed out of space beneath the landmarked shell of the 1962 Seattle Coliseum. It is now home to the Seattle Kraken of the National Hockey League and the Seattle Storm of the Women's National Basketball Association, as well as concerts and other events, but the task of getting there was anything but simple.
The adaptive reuse work at Climate Pledge Arena, which began in December 2018 and wrapped up in late 2021, was enormously difficult from a technical perspective. It involved doubling the venue's underground space, which was only possible by adding temporary supports for its 44-million-pound roof until a new foundation could be built. The result is a fully modern $1.2 billion arena in a historic shell that has garnered many honors and awards for sustainability and energy performance. True to its name, it's the first net-zero-certified arena in the world.
A Facility Full of History
American sports facilities are often mothballed or demolished when they're past their brief prime, and historic preservation is rarely a thought. The only professional sports stadiums older than what is now called Climate Pledge Arena are baseball's Fenway Park in Boston (1912) and Wrigley Field in Chicago (1914), along with football's Lambeau Field in Green Bay, Wisconsin (1957), and Soldier Field in Chicago (1924).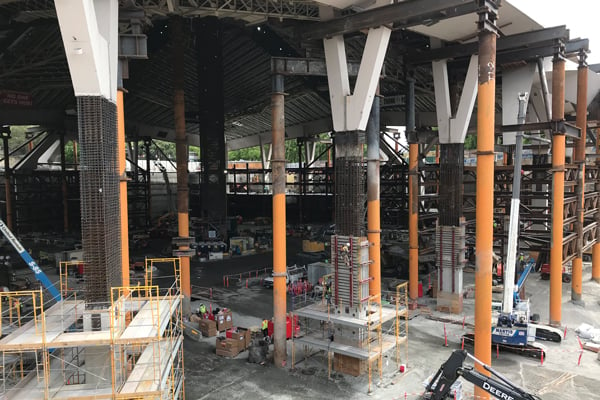 The building opened in 1962 as the Washington State Pavilion, part of the Seattle World's Fair. Local architect Paul Thiry designed it, along with the surrounding exhibition grounds and several other nearby structures. In 1964, renovations made it suitable for sports and concert use, and it was renamed the Seattle Coliseum. It hosted two Beatles concerts and much else over the following decades. The NBA's Seattle SuperSonics arrived in 1967 and won the league championship in 1979. However, the roof was prone to water leaks, which led to the only rain-delayed game in NBA history in 1986.
The structure morphed into KeyArena in 1995 after extensive renovations, including a round of excavation to add seating and to avoid displacing the roof. This increased the venue's capacity from 12,300 to 17,000. While its seating was comparable to other NBA arenas at that time, it lacked many amenities such as wide concourses and extensive concession areas. However, by the mid-2000s, KeyArena was the smallest venue in the NBA. The stadium's shortcomings led the SuperSonics to move to Oklahoma City in 2008 after unsuccessful attempts to persuade the city to renovate the facility or construct a new one.
Efforts to lure another sports tenant picked up in the next decade, with a call for redevelopment proposals in 2017. But complications arose when Seattle's Landmarks Preservation Board and the National Park Service's National Register of Historic Places designated the arena as a landmark. Its concrete hyperbolic paraboloid roof, with two main trusses each supported by tripod concrete buttresses, is a technical and engineering marvel, enabling a column-free main span. The National Register of Historic Places extols its use of "innovative construction techniques to create a prominent showcase for the fair."
Complex Plans Materialize
Two proposals were submitted for the reuse of the arena. Oakview Group and Populous proposed a plan that was less disruptive yet more difficult. The city's Landmarks Preservation Board approved their proposal because it maintained "the architectural integrity of the original roofline" and most of its glass façade. (A new entrance was the lone deviation.) Their plan also included restoring the surrounding plaza.
Steve Collins, president of global venue development and special projects at Oakview Group, acknowledges that his team's proposal "was a little crazy."
"Most people when they looked at this said 'it's got to come down,' " he said. "'There's no way to fit this program in without razing the entire building.' "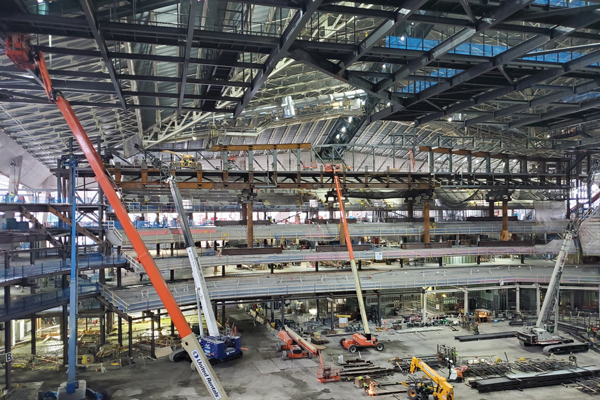 At 380,000 square feet, the facility was closer in size to a minor-league hockey arena — the typical NHL venue is more than 700,000 square feet. Oakview assured the city, "we'll figure out a way to keep that iconic roof and that structure and that façade, and we'll still deliver a building that is a first-class, state-of-the-art NHL facility," Collins said.
"This project has been spoken of as a renovation, but it is truly a rebuild of a new arena," said Geoff Cheong, senior principal at Populous. "None of the KeyArena elements — the seating bowl, the subterranean program, the building itself — were preserved. It was all demolished."
That sounds easy enough, but there was no way to excavate without disturbing the roof's foundation. The project required temporary steel supports for the roof while reconstruction went on underneath. Thornton Tomasetti, the structural engineer for the project, faced the fiendishly complicated task of installing roof supports and demolishing the original foundation.
"That was a career-defining project for me," Thornton Tomasetti Principal Shawn Leary said. "Thirty-one years in the industry, and nothing I've done comes close to that. That roof weighs 44 million pounds — about the total weight of the population of Tacoma, Washington."
Once the temporary supports were in place, the work grew even more complex, according to Leary. Thornton Tomasetti's plan had to ensure that those temporary supports didn't interfere with the excavation of almost 68,000 cubic yards of soil, which weighed more than two million tons.
"We continued to excavate down until we reached the bottom, putting in bracing as we went," Leary said. "Once we got down to the bottom, we started putting in the new concrete bowl for the stadium seating, worked back up again, and reattached the new structure to the original structure. At that point we could take out all the shoring and support. Imagine all the coordination required to install all this, and understand where it's going to go so you don't hit anything critical at that time. It was an engineering feat, but it really was more of a coordination feat."
The support of three of the building's four buttresses was relatively straightforward, but a new underground parking garage was slated for the space under the fourth. This required temporary lateral 44-inch beams to reach a wall more than 150 feet away to support about three million pounds of weight (which then required a permanent eight-foot concrete wall to shore it up).
All Eyes on the Roof and Facade
The primary fear throughout was that the roof — the focus of so much effort — might crack or slide off center, either when supported on the temporary frame or when it settled after it was reattached. These load transfers were not done all at once but gingerly, one at a time, with jacks slowly shifting the weight. Most of this process occurred during COVID-19, which slowed but did not stop the work.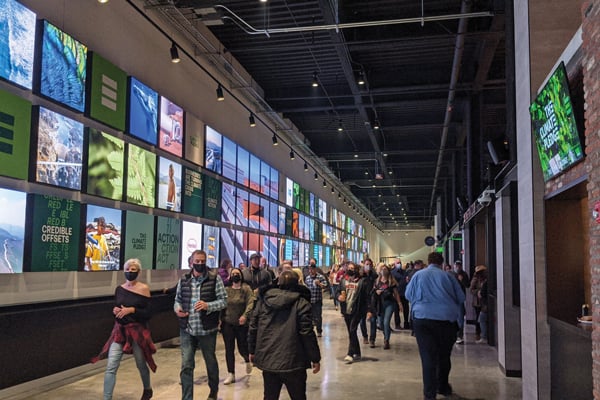 They didn't merely have to support the roof to 1962 standards; they had to substantially improve on those, for good reason — the arena is only three miles from an active fault line.
"The seismic codes have changed significantly since 1962," said Thornton Tomasetti Senior Principal Matt Farber. "We were designing for seismic forces on the roof and structure that were double what were required over 50 years ago."
In the end, everything wrapped up without a hitch, and Leary regards the project — which involved keeping the roof up on temporary supports for about a year while building in a new foundation — as a career pinnacle.
"We do a lot of load transfer in our business, but never on this order of magnitude," he said. "Each one of these tasks in and of themselves would have been noteworthy, but when you combine three or four of them, it was just unprecedented."
Beyond keeping the roof up, the proposal sought to retain the building's exterior appearance as much as possible.
"A lot of the themes of design were about paying homage to that historic piece of architecture, maintaining its character, its defining elements from when it originally opened in 1962," said Cheong. "Our goal was really to restore that and bring it back to Paul Thiry's original vision."
One of the most unusual restored features is natural light, which is rare for a venue that hosts indoor sports.
"There are these impressive sort of cathedral windows on the north side that are unique to an arena of this scale," Cheong said. "There are spots on the mid-side of the building on the east and west where you can see clear across the seating bowl to the other sides."
You can't see into most arenas from street level at all, let alone through them.
Cheong stressed that this did not entail any compromise in designing a cutting-edge facility.
"The roof was preserved, the exterior curtainwall was preserved," he said. "The curtainwall was entirely disassembled during construction, taken off site and fully cataloged. It was taken apart into pieces almost like a Lego or Erector Set and put back into place later in construction."
A Lot Going on Beneath the Surface
However, that was merely "the tip of the iceberg," Cheong explained. What happened beneath was all new — 80% of the arena's square footage is now below grade.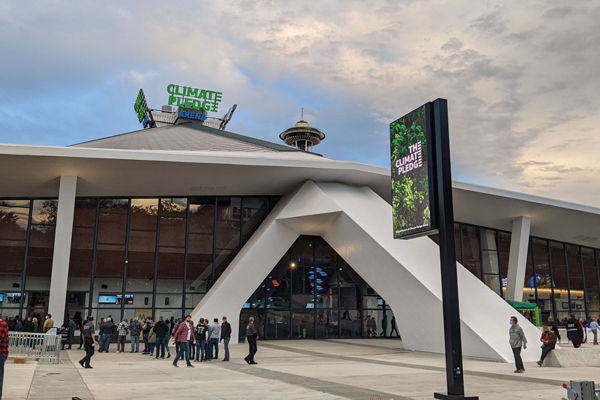 Building underground involved many more planning challenges beyond roof support. For example, most arenas can put air-circulation elements on the roof; that was not possible here. They snaked these services underground to various spots around the plaza. Air handlers and related equipment are on the second-lowest level of the arena, Cheong said, served by a series of underground passageways and air plenums nicknamed "snorkels" to allow the building to "breathe" — intake air and emit exhaust.
Another issue was figuring out a means to move guests throughout the venue. At most stadiums, fans enter at the bottom and ascend. Here, they enter at the upper concourse and go down. The problem was largely solved by the construction of a new 30,000-foot atrium on the venue's south side. It contains principal circulatory elements, along with the placement of many features underground to each side under the arena's plaza, including a below-grade parking garage.
The development team added in a much greater range of seating options, including premium suites, as well as numerous amenities.
"We moved away from concession stands in the direction of markets and grab-and-gos and self-checkout environments," Cheong said.
These offerings have a definite Seattle flavor, with craft beers, an Impossible Foods meatless test kitchen and pork buns joining typical arena fare. The facility is also 100% cashless; it even has reverse ATMs that allow patrons to deposit cash and receive a debit card, as well as Amazon's just-walk-out payment technology at some concessions areas.
Many of the additions aren't visible to patrons. This includes locker rooms and training areas, along with a range of facilities to serve musicians such as green rooms, dressing rooms and a recording studio.
Supplying the arena was another challenge: Collins explained that touring concerts can feature as many as 22 trucks.
"KeyArena was quite lacking in that regard," Cheong said. "They had a single loading dock, a really challenging ramp to get down to that dock, and their load-in/load-out situation for shows was one of the major flaws of that arena. We understand that is one of the reasons touring acts were not eager to return."
Musical acts also required a loading dock at a level lower than what had been available at KeyArena, but the development team didn't want to mangle the plaza with winding ramps. The solution involved tunneling under a landmarked garage to build a new two-way semi-truck ramp from another entrance 750 feet away.
Unprecedented Pledge for Sustainability
Construction had already begun when another task arrived: Amazon negotiated naming rights for the complex in June of 2020. However, the Seattle-based e-commerce giant chose not their own name but a concept, Climate Pledge, which entailed the first-ever effort to create a net-zero arena. The team had already designed a considerably sustainable facility, but this required redoubling of efforts.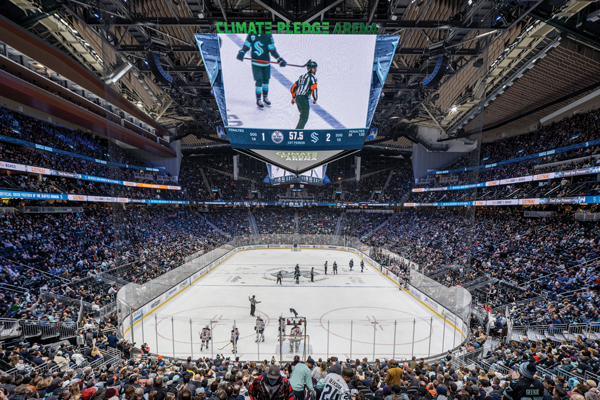 Collins said the team took a granular approach to the challenge.
"Instead of figuring out how many LEED points we could collect, it was more about how we could make a real difference and reduce carbon used in the day-to-day operations of the building," he said. "There's a solar component to it, there's an elimination-of-fossil-fuels component to it, there's a transportation component to it. Honestly, when we first started, we didn't know if we could get there."
Converting the building to all-electric utilities and eliminating all gas uses was a critical step.
"Buildings are heavy electrical users to begin with," Collins said. "You've got these peaks and valleys, and to add to that electrical load in order avoid using gas required a tremendous upsizing of equipment."
This forced changes to the design of the kitchens and cooking spaces to accommodate appliances, but the design and construction teams made them fit within the footprint.
Because Seattle does not lack for rain, the team also added a "rain to rink" system to collect water from one quadrant of the roof and route it into a 15,000-gallon underground cistern, where it is purified through reverse osmosis and used on the hockey rink.
Thoughtful Touches Outside
A central part of the project was improving the arena's plaza as a space for fans on game days and the general public when no events are scheduled. Cheong recalled that the prior landscape was highly inaccessible.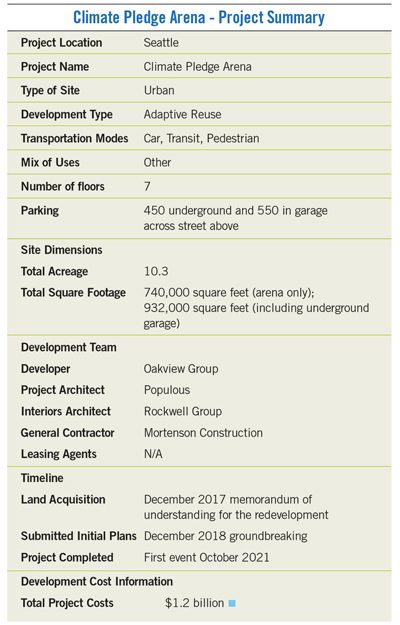 "It was difficult to navigate around the building and to access entries," he said. "The entrances to the former arena were actually sunken into the plaza below the sidewalk, which required stairs, and then there were some circuitous ramps off to the corners that provided accessible pathways to those entries."
Populous' aim, Cheong explained, was to "design an urban arena in a park," a rarity in the sporting world. The roofline is only 13 feet off the ground at the lowest point. Views go directly into the arena on its north side when the curtains are retracted, a nearly unthinkable vista at most venues.
"We love the fact that when you walk around this building, no matter where you are on the perimeter, you can see glass," he said.
They also sought to provide seamless transitions across the plaza, with ramps whose slope is not obvious.
Swift Company, which designed the plaza's open space and landscape, sought to balance many factors. They had to consider arena circulation, outdoor events and daily neighborhood use while planning around substantial elements buried underground and a 17-foot grade shift across the site — all while taking event security into account.
"There needs to be a very rigid secure perimeter, so we used a combination of bollards, site walls and landforms to create those edges," said Gareth Loveridge, principal at Swift. "We tried to make it feel less like a fence, but it's always pretty difficult with these kinds of projects where you need to provide the security, but you want to make it feel less like inside vs. outside."
Their prime aim was to keep what was already there. Swift removed only three of 70 London Plane trees dating from 1962 and retained many of the other existing trees on the site. In all, 170 other trees were added. They calculated these additions and came up with a mix that includes Katsuras, Stewartia and Parrotia, as well as Paperbark and Red Maples.
"The trees are 100% deciduous," Loveridge said. "In the summertime, we want as much shade as possible. In the wintertime, we want to get the light through."
In contrast, the shrubs they planted were mainly evergreen to ensure a presence of green on the plaza year-round. Environmental calculations also informed both decisions to maximize carbon sequestration.
"From a carbon-sequestration standpoint, evergreen shrubs generally take in the most carbon and deciduous trees generally take in more carbon than coniferous trees, so there are many benefits," Loveridge said.
In the end, Swift doubled the plaza's greenspace. Despite practical requirements for heavy pedestrian use, the design team sought to derive inspiration from the modernist 1962 layout.
"When it's not full of people, it can look really empty," Loveridge said. "Some people think there should be a lot more greenery and other people said 'there's too much green space, you're not respecting Paul Thiry.' So it was definitely a dance."
The building's geometry provided inspiration for curving paths and for seating around the plaza.
Climate Pledge Arena opened in October 2021. It's been a proven success that will influence sustainable building practices into the future.
"The legacy of this building is that it changed the industry mindset. We can get an arena to net zero carbon," Collins said.
Anthony Paletta is a freelance writer based in New York.