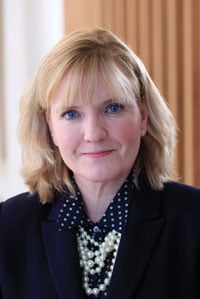 The gradual transition of COVID from pandemic to endemic has frustrated all of us. Return to the workplace for some has been delayed, yet the office sector continues to rebound, with absorption inching toward the positive. Industrial demand continues unabated despite supply chain and labor issues.
What is now top of mind for many in CRE is the specter of "entrenched" inflation. This will mean even higher labor, materials and borrowing costs for developers, and in some instances, the delay or cancellation of planned projects. What happens with inflation will largely be determined by Fed policy and if they will be able to slow its growth without triggering a recession.
NAIOP will be watching this topic closely over the next year. But as we have learned repeatedly, the CRE industry is remarkably resilient, and with adaptation comes innovation.
Stay informed,
Jennifer LeFurgy, Ph.D.
Editor-in-Chief
In the Virginia suburbs of Washington, D.C., an adaptive reuse project demonstrates the potential of converting old office space into new apartments that appeal to millennials.
The arrival of a large tire-storage facility in a small Indiana town offers lessons for developers on how to work with communities for the betterment of both.
Large-format multilevel industrial buildings are starting to crop up across North America after several years of strong growth for this product type in Asia.
The NAIOP Research Foundation's annual report for 2022 highlights a busy year filled with practical research for professionals in the commercial real estate industry.
Development magazine chats with Adrian G. Washington, the founder and CEO of the Neighborhood Development Co. in Washington, D.C.
An adaptive-reuse project in Pittsburgh transforms a historically significant automobile manufacturing facility into high-tech lab space.
Real estate crowdfunding has seen strong growth in recent years, and that should continue. However, it could be tempered by unrealistic expectations and the possibility of an economic downturn.
A new transit-oriented development in the Boston area will provide easy access to commuter rail. It's part of an effort in Massachusetts to provide multifamily housing near mass transit.
Zero-waste efforts in the construction industry are starting to attract greater attention. A new certification program, TRUE, is applying metrics to this growing trend.
Stormwater management in densely built-up areas can be a complex task for developers, especially since the standard design practices for these systems can clash with conditions encountered at urban sites.
Population shifts noted in the 2020 U.S. Census could hold major implications for the commercial real estate industry. (Second of a two-part series.)
Amid uncertain times in the construction industry, it's important to remember that adhering to the basics can solve many problems before they appear.
NAIOP's Chapter Merit Awards honored outstanding work by its chapters, volunteers and leaders in 2021. Read about all the winners.
Jeff Milanaik, partner, Northeast Region with Bridge Industrial, is NAIOP's chair for 2022. Development magazine asked him to share his thoughts on the industry and the association.
---
Future NAIOP Events
I.CON West 2022: The Industrial Conference, March 23-24, Long Beach, California
National Forums Symposium 2022, May 10-12, Houston
I.CON East 2022: The Industrial Conference, June 8-9, Jersey City, New Jersey
CRE.Converge 2022, October 9-12, Chicago
For the most current information on upcoming NAIOP events, both virtual and in-person, visit naiop.org/Events-and-Sponsorship
---
Most Popular From Winter 2021-2022
1. "Brownfields Redevelopment Requires a Cautious Approach"
2. "The Benefits of Real-Time Cost Estimating"
3. "CEO on Leadership: Molly McShane, CEO, The McShane Companies"
4. "All Eyes on the Global Supply Chain"
5. "The Challenges of Building for Sustainability"