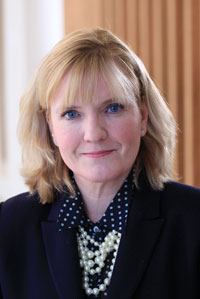 As 2021 comes to an end, CRE is back on an upswing. The industrial sector continues to perform strongly while the office market is experiencing a gradual increase in net absorption. According to Kastle data, over one-third of U.S. workers are back in the office.
Not only has how we do business changed over the past year but who we do business with is evolving as well. Supply chain adjustments, technology advancements and new construction materials have certainly changed the landscape, but commercial real estate firms are broadening their diversity and inclusion efforts. At the corporate and chapter levels, NAIOP is a longtime supporter of diversity, equity and inclusion (DEI) programs and believes the industry should reflect the communities it serves. Recently, NAIOP Raleigh Durham partnered with the North Carolina Central University (NCCU) School of Business to increase diversity in the real estate industry by supporting NCCU's new MBA concentration in real estate.
These changes will drive the industry to become more resilient and profitable while, most importantly, building better relationships.
Wishing you happy holidays,
Jennifer LeFurgy, Ph.D.
Editor-in-Chief
Brownfield remediation can be an important tool to carve out space for industrial properties, especially in areas where the supply of available land is constrained.
Supply chain issues are causing shortages for many industrial and consumer products, and there are no easy answers to fixing this complex problem.
Diversity initiatives within commercial real estate programs at colleges and universities could play a crucial role in expanding the pipeline for under-represented groups in the industry.
In September, industry researchers gathered to discuss the near-term and long-term outlook for the office sector.
The soaring costs of construction that have dogged contractors for the past year could begin hitting developers in the wallet very soon.
For design, construction and commercial development firms focused on sustainability, getting buy-in for those principles at every stage of the process is critical.
Cultural venues such as theaters can help elevate mixed-use developments by providing plenty of foot traffic, which can boost property values.
Molly McShane, the leader of The McShane Companies in the Chicago area, discusses taking over a family-owned business and focusing on smart, sustainable growth.
Real-time estimating is a technique for examining costs on construction projects that involves frequent updates at every step of the process.
"Last mile" industrial has been the main focus of investment in recent years, but "first-mile" facilities are starting to attract attention as well.
Modular construction is gaining market share across many sectors, but it's important to keep an eye on the potential legal risks that can arise from this technology.
Real estate tokenization involves selling fractional shares of equity in individual properties, which allows for a wider pool of investors to own a stake in a building.
To design tall buildings for human interaction, it's vital to consider findings from neuroscience that show the factors that make people embrace some environments more than others.
---
Future NAIOP Events
Chapter Leadership and Legislative Retreat, January 31-February 2, 2022, Washington, D.C.
I.CON West 2022: The Industrial Conference, March 23-24, 2022, Long Beach, California
National Forums Symposium 2022, May 10-12, 2022, Houston, Texas
I.CON East 2022: The Industrial Conference, June 8-9, 2022, Jersey City, New Jersey
CRE.Converge 2022, October 9-12, 2022, Chicago
For the most current information on upcoming NAIOP events, both virtual and in-person, visit naiop.org/Events-and-Sponsorship
---
Most Popular From Fall 2021
1. "Hudson Pacific Properties: At the Epicenter of Tech and Media"
2. "Second-Tier Cities Thrive in the Post-Pandemic World"
3. "The Senior Living Sector is Poised for Growth"
4. "Suburbs, Edge Cities and Santa Fe: A Conversation with Joel Garreau"