This West Coast office REIT finds success by investing in creative office and studio properties.
In 2006, Victor Coleman launched Hudson Capital, which would soon become Hudson Pacific Properties, a Los Angeles-based office REIT focused on Class A creative office and studio properties at the heart of the tech and media worlds — Los Angeles and San Francisco. Silicon Valley, Seattle and Vancouver were added later.
Today, Hudson Pacific's creative office space is home to some of tech and media's biggest players — Google, Netflix, Square, Uber, Amazon, Riot Games and others. Hudson Pacific's Hollywood media portfolio, which it jointly owns with Blackstone and which includes Sunset Studios, totals 3.5 million square feet, including 35 active sound stages and on-site creative office buildings, as well as development rights. It's flourishing in the post-pandemic upsurge in streaming media. Netflix is planning to spend $17 billion on streaming content in 2021 vs. $12 billion last year, according to Variety.com, and all streaming companies are projected to spend $112 billion on content and software this year.
NAIOP has named Hudson Pacific its 2021 Developer of the Year for its innovative and sustainable approach to development, the outstanding quality of its products and services, its active support of NAIOP, its financial stability and adaptability, and its contributions to the communities in which it works.
"It is a tremendous honor for me and the whole company," Coleman, Hudson Pacific's chief executive officer, said. "It is an interesting award, because it is non-specific to an asset and rather reflects what we have done more broadly as a company. It acknowledges not just the construction team, the leadership team or the leasing team, but the totality of the company. We will cherish this award because it represents a company-wide effort and each of our employees' dedication to innovation, adaptability and leadership."
Navigating COVID-19 was probably the biggest challenge to date for Hudson Pacific, but its 2020 performance shows that it succeeded:
At the height of the pandemic, Hudson Pacific delivered two world-class developments in Hollywood collectively totaling over 400,000 square feet — Harlow and EPIC — which will create more than $166 million of value for the company. EPIC was delivered 100% pre-leased to Netflix.
At a planned development project in Seattle called Washington 1000, a 538,000-square-foot office building, Hudson Pacific quickly altered plans and added innovative products and strategies that take into account the latest health and safety concerns.
Hudson Pacific, in partnership with Macerich, is redeveloping a former Los Angeles shopping mall into a 584,000-square-foot creative office campus, which is already 100% leased to Google.
In a joint venture partnership with Blackstone, Hudson Pacific will expand upon and unlock the huge potential of its media portfolio.
Real Estate in Family's Roots
Victor Coleman was born and raised in Vancouver, British Columbia. His father and uncle were business partners in the early 1970s. They worked together in the furniture manufacturing business and eventually sold it to a Canadian company. However, they continued to own the real estate facilities, and they launched a real estate company and began investing in properties.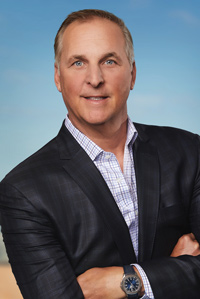 "At a young age, I had exposure to commercial real estate, particularly industrial real estate," Coleman said. "Real estate is in my family's roots, and I started in real estate after graduate school; one of my younger brothers is in real estate; and my older brother is in the business as well."
Prior to forming Hudson Pacific, Coleman co-founded and led Arden Realty. He sold it in 2006 and then launched Hudson Pacific.
"When I sold my previous company, I handpicked about half a dozen people to join my next venture, which was Hudson Pacific," he said. "We wanted to create a company initially on the West Coast that was tenant and geographically focused on markets that we were very comfortable with."
Dramatic growth came quickly to Hudson Pacific.
"Between 2008 and 2012, we grew the size of the company significantly every year," Coleman said. "We started with one asset, then three, then seven. We recapitalized the company in 2010 when we went public on the New York Stock Exchange. From there, we grew the company from a market cap of approximately $500 million to around $8 billion."
Outstanding Quality of Products and Services
Coleman said his firm is the largest publicly traded owner of office space in Silicon Valley and one of the largest independent owner/operators of studios in the U.S.
"Our portfolio totals over 20 million square feet, including nearly four million square feet of ongoing or potential future development," he said. "Throughout our history, Hudson Pacific has invested over $2 billion in development and redevelopment projects. The quality of our projects is evident in both the rental rates we achieve and the top-tier tenants we attract. The studio business is an interesting one. Studios are very popular, and they are very much front-of-mind for many real estate and investment entities throughout the world. There is a voracious appetite for streaming content, and the dollars that are being spent on that content are phenomenal."
Hudson Pacific bought its first studio space in 2007 in Hollywood.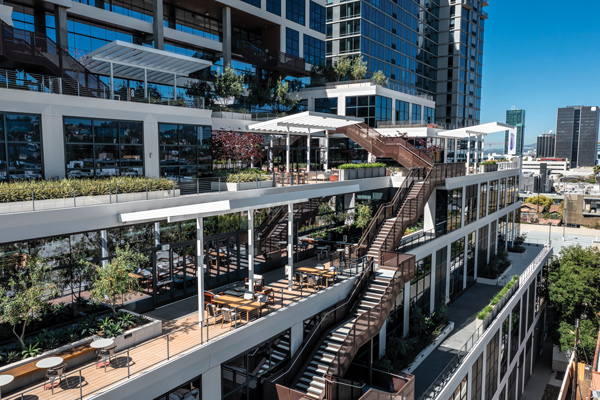 "When you think about people who own studios, they just don't own the real estate, they also own all the operating businesses associated with it," he said. "It is akin to the hotel business where everything is a la carte. A hotel guest rents a room, then you charge for other things. It is the same thing in the studio business. You charge for lighting, grip, transportation services, security and lots of ancillary services. You have all of that in one facility. So we pursued that, built an enterprise around it, built a company around it. Now we're looking to expand our platform in other key developing markets, which include London, New York and Vancouver."
Hudson Pacific's environmental, social and governance (ESG) platform, Better Blueprint™, has enhanced the quality of its products and services. According to its website, Better Blueprint "brings to life our vision of vibrant, thriving urban spaces and places built for the long-term. This 'blueprint' is integral to our business model and articulates principles and practices that form the foundation of our success and guide our work with tenants, employees, investors and partners."
Fully Carbon-Neutral Portfolio
One of Hudson Pacific's proudest achievements has been making its portfolio carbon neutral across operations. According to Coleman, the company's goal before the pandemic was to achieve net-zero carbon across all operations by 2025. However, COVID-19 demonstrated that operational changes to keep buildings safe and healthy (such as increased ventilation and air filtration) would have a major impact on its energy needs. Because of that, the company decided to dramatically expedite its carbon-neutrality efforts. By September 2020, Hudson Pacific achieved 100% net-zero carbon across all operations through a multifaceted strategy that includes energy efficiency, on-site renewables, off-site renewables, renewable energy certificates and verified emissions-reduction credits.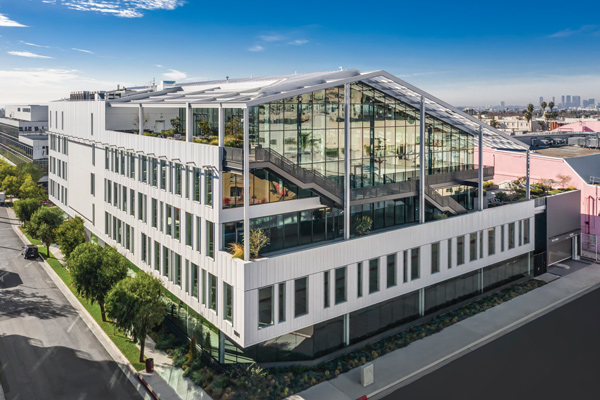 "While we are proud to be one of the first major North American landlords to go fully carbon neutral, this is just the beginning of our fight against climate change," Coleman said. "We are also doubling down on our use of sustainable technologies in areas such as water recycling, leak detection, window film, indoor-air-quality monitoring and improvement, and on-site renewables."
Adapting to Market Conditions
Hudson Pacific demonstrated its ability to adapt to market conditions throughout the pandemic and its aftermath. As the nation was hit with changing economic conditions, Hudson Pacific's team worked to negotiate more than 170 rent relief and abatement deals to help tenants large and small stay afloat during these uncertain times.
At its iconic Ferry Building in San Francisco, which the company purchased in 2018 in a joint venture with Allianz, it took notable steps to assure that the independently owned retail tenants could survive COVID-19. It quickly upgraded the air filtration systems in the building and enhanced cleaning procedures so that visitors would feel safer. It took bold steps to drive traffic to its merchants in COVID-safe ways. It created the largest outdoor dining venue in San Francisco with socially distanced seating for 200 people. For those who did not want to venture out, it launched a comprehensive food delivery service. Further, it added new and diverse offerings in vacant spaces. One exciting deal brought a non-profit community radio station, BFF.fm, to the building.
At its planned 538,000-square-foot office project in Seattle called Washington 1000, Hudson Pacific adapted the design to take into account the latest health and safety guidelines. It changed its plans and added large Juliet balcony openings on every floor to let in fresh air, placed antimicrobial finishes at key touchpoints, and included flexible options for touchless facilities such as restrooms with airport-style doorless entries. Like many of Hudson Pacific's other developments, Washington 1000 will feature nearly 13,000 square feet of outdoor space off the main lobby and a rooftop amenity with outdoor meeting space equipped with the latest health and safety technology.
Despite worries about the pandemic, the company forged ahead in 2020 with significant repositioning projects. At the Bentall Centre in Vancouver, it began renovating the 1.5-million-square-foot office and retail campus to create a more vibrant destination in the city's central business district. The first phase of enhancements included the revitalization of outdoor plazas, a new tenant fitness center, a publicly available YMCA and a rooftop dog park.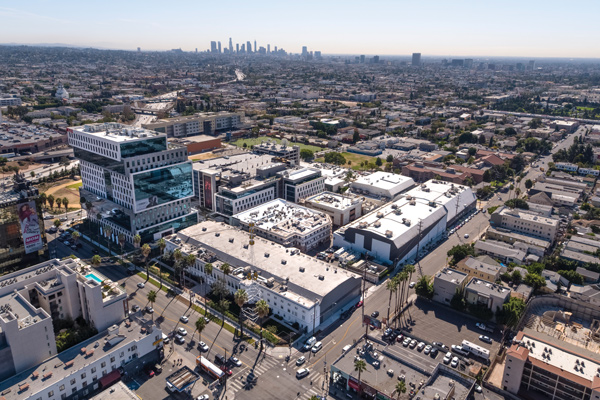 Adapting to market conditions begins with empowering employees, according to the company. Hudson Pacific offers an interactive, instructor-led program titled Foundations of Leadership to provide employees with an overview of leadership skills and deeper insights into the company's business. It helps employees achieve all that they can at the company.
After violent examples of racial inequality across the U.S. during the summer of 2020, the company accelerated and enhanced its diversity, equity and inclusion (DEI) program to train Hudson Pacific's teams about confronting and dismantling racism and building an organizational culture of trust, respect and belonging. A robust 10-hour DEI program, completed in five two-hour sessions, was rolled out. To date, 185 employees have completed the training. The company says all employees will finish the program by the end of the year.
Financial Consistency and Sustainability
Hudson Pacific tackles complex, innovative projects in urban environments.
"We undertake a lot of adaptive reuse where we can effectively put our capital to work," Coleman said. "Our portfolio is in high-barrier markets with established industry networks poised for outsized growth that are more resilient through cycles. Most of our tenants are mature, blue-chip and growth companies focused on the tech, media and entertainment sectors."
An outstanding recent example of this strategy is a Los Angeles project known as One Westside. Hudson Pacific is transforming the former Westside Pavilion mall into a 584,000-square-foot Class A urban creative office campus. The company has already pre-leased the entire property to Google. Construction is underway, and Hudson Pacific is expected to deliver the project to Google in the first quarter of 2022.
Designed by the architecture firm Gensler, the project repurposes high ceilings and a multi-level atrium and skylight, allowing for natural light-filled interiors. Floorplates up to 150,000 square feet provide hyper-flexible open layouts, while 45,000 square feet of expansive exterior terraces and patios with 15-foot-wide folding glass walls create a seamless indoor-outdoor environment. The property also features a rooftop amenity space with a garden deck and nearby restaurants and in-line retail shops.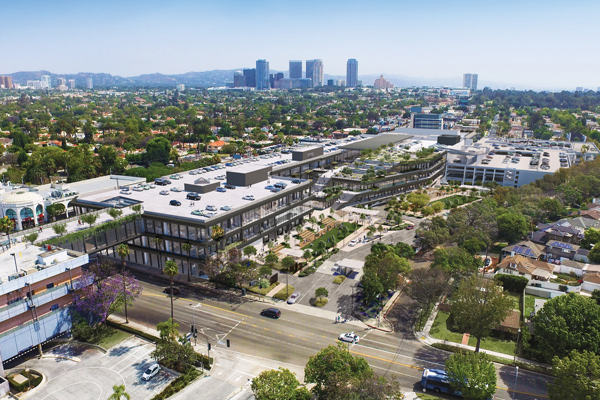 During a tough year, Hudson Pacific continued to focus on long-term growth. In June 2020, it announced its largest joint venture to date with Blackstone, which purchased a 49% stake in its Hollywood media portfolio. This includes rights to build another 1.1 million square feet of office and production space at Sunset Gower and Sunset Las Palmas, unlocking value and capital to grow Hudson Pacific's platform in Los Angeles and other key markets.
In addition, Hudson Pacific and the Canada Pension Plan Investment Board purchased 1918 Eighth in Seattle in December 2020. It represents a significant expansion of its Seattle portfolio and investment in the city's Denny Triangle neighborhood. In the process, it makes Amazon one of the company's largest tenants.
Despite the pandemic and its challenges, Hudson Pacific performed among the top office REITs on multiple key metrics in 2020, according to analysis from the company. For example, full-year adjusted funds from operations, a measure that estimates the value of a REIT, grew 40%. The company signed more than 800,000 square feet of leases with robust GAAP and cash rent spreads of 22% and 14%, respectively, and collected 98% of its rents, including 99% of office and 100% of studio rents, during the three quarters impacted by the pandemic.
"We also maintained strong stabilized and in-service office portfolio leased percentages of 94.5% and 93.5%, respectively," Coleman said.
Active Support of Industry through NAIOP
With offices in Southern California, Northern California, the Pacific Northwest and Western Canada, Hudson Pacific employees are active NAIOP members across several association chapters, including NAIOP SoCal, NAIOP San Francisco Bay Area, NAIOP Silicon Valley, NAIOP Washington State and NAIOP Vancouver.
The company is a major participant in each of those chapters.
The company is a Silver Sponsor of NAIOP SoCal, and six of its employees are active in the chapter.
In Northern California, it is a Silver Sponsor of both the Silicon Valley and San Francisco chapters. Several employees are actively engaged as members of the San Francisco NAIOP Chapter, and three of its Northern California employees have participated in NAIOP's Young Professionals Group.
In Seattle, Hudson Pacific is active in NAIOP Washington.
Since the launch of Hudson Pacific's Vancouver office in 2019, its team has supported NAIOP Vancouver as a Platinum Sponsor. A total of 25% of its Vancouver employees are registered as members of NAIOP Vancouver.
"NAIOP is the pre-eminent organization in our industry, and our employees at every level of the organization in every region are actively involved in their respective chapters," Coleman said. "NAIOP provides valuable opportunities for our professionals to network and to share best practices. We are glad to be part of it."
Active Support for Community
Coleman said that giving back to the communities where it operates is part of the firm's DNA.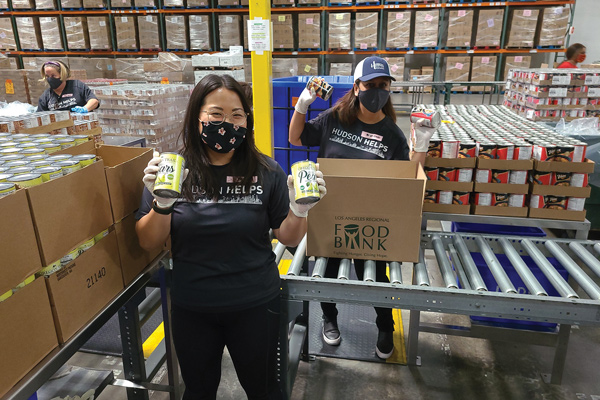 "It is important to our employees and stakeholders that we do not just commit on a general level, but also on a specific level, donating as a company," Coleman said. "We donate at least 1% of our net earnings to charitable causes annually. We specifically focus on causes that are aligned with our Better Blueprint priorities."
Recently it launched Vibrant Cities Arts Grants, which contributed $650,000 to Los Angeles artists who were impacted by COVID-19.
It gave special consideration to artists of color, female artists and LGBTQ+ artists.
In February, Hudson Pacific pledged $20 million over the next five years to address homelessness in its core markets.
Employees are encouraged to donate money and time to eligible non-profits through three company programs:
Employee Matching. The company doubles an employee's cash donation to a worthy cause up to $1,000 a year;
Dollars for Doers. Hudson Pacific gives a $250 grant, up to $1,000 a year, to a non-profit where an employee donates at least 20 hours of his or her time;
Volunteer Hours. This gives employees 32 paid volunteer hours annually to volunteer with an eligible non-profit. This program may be used at a company-sponsored event or independently at an eligible non-profit.
In 2020, Hudson Pacific developed its My HPP Office app, and this enabled the company to pivot charity events involving tenants to a mobile platform during times of social distancing. This included its annual Coat Drive, which encouraged tenants to donate more than 630 coats from Los Angeles to Vancouver. In addition, employees across its regions volunteered at socially distanced and COVID-safe events. The app has also been critical in communicating safety protocols and building-access updates directly to tenants across Hudson Pacific's portfolio without needing to go through a single-tenant contact.
The Future
Looking ahead several years, what are Coleman's plans for Hudson Pacific?
"Our growth will be in areas where we are already present," he said. "We will add additional markets like New York and London for our studios going forward, but between Vancouver down to Los Angeles, there are great opportunities in office and studio development and redevelopment for us."
Ron Derven is a contributing editor for Development magazine.
---
Health and Wellness in Buildings
Hudson Pacific Properties has a long history of providing state-of-the-art buildings that drive wellness and well-being. Virtually all its buildings offer abundant natural light, healthy food, fitness amenities and functional outdoor space.
In 2020, Hudson Pacific joined the Fitwel Champions Program, the world's leading certification system for optimizing building design and operations to support human health and well-being. By the end of 2020, the company had increased its square footage that was Fitwel-certified from 2% to 23%.
As the pandemic surged, Hudson Pacific prioritized health and safety above all else. It implemented new standard operating procedures that touched on everything from enhanced cleaning to indoor air quality. It deployed new signage, implemented hundreds of safety-focused capital improvements and upgraded HVAC air filters to MERV-13 or higher at 99% of its properties. These filters can capture about 90% of pathogens. (MERV stands for Minimum Efficiency Reporting Value. A higher MERV number means that the filters can capture smaller particles.)
By the end of the year, Hudson Pacific had achieved Fitwel Viral Response (VR) Certification over this portfolio-wide approach. The VR module establishes minimum standards to protect building occupants from an infectious disease outbreak.