Investors target these markets as demand for e-commerce continues to surge.
Industrial remains the darling of commercial real estate during the current cycle. Investor enthusiasm has remained strong, with total returns as measured by the National Council of Real Estate Investment Fiduciaries (NCREIF) in double-digit territory over the past cycle and demand showing no signs of slowing, especially as supply chain issues remain a crucial consideration for businesses and real estate developers. While last mile industrial has been the focus of much of this investment, first-mile industrial is starting to attract attention.
What is the First Mile?
According to academics such as Jean-Paul Rodrigue of Hofstra University, a first-mile node is a terminal that offers an intermodal interface between a local or regional distribution system and a national or international one. Freight is assembled and/or consolidated at first-mile nodes, then transported via road, rail, air and/or water to last-mile population clusters. There, goods are disassembled for final delivery and consumption. Figure 1 illustrates the supply chain framework and its corresponding real estate footprint.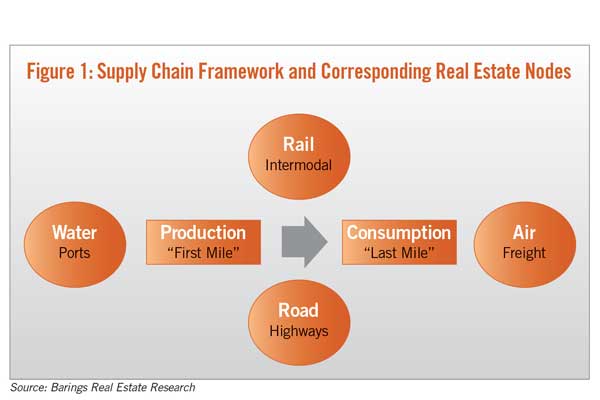 "Production" and "consumption" nodes occasionally overlap, as they do in major industrial markets such as Chicago, Inland Empire, Dallas and New York. However, production and consumption often remain separate in other first mile markets such as Indianapolis, Memphis and Kansas City, as well as in emerging East Coast port markets.
Investors have gravitated to last-mile industrial markets for most of the latest cycle. However, the search for yield has also pushed some institutional investors to add first mile markets to their target universe. This trend should continue to strengthen.
First, omnichannel customer distribution modes, and specifically e-commerce, are here to stay. The pandemic increased e-commerce adoption and elevated its share of total retail sales by an additional 2.2% in 2020, according to the U.S. Census Bureau. Several forecasts indicate high single-digit growth in e-commerce sales
over the next five years.
Second, freight distribution has evolved to meet enhanced "speed-to-delivery" customer expectations and to fulfill demands for a seamless shopping experience. This is pushing retailers, manufacturers and third-party logistics providers to boost both their first mile and last mile footprints.
Furthermore, in many infill submarkets with rising land costs and restrictive zoning regulations, it is critical to diversify supply chain footprints beyond the last mile to meet customer expectations for same-day or next-day delivery. This has increased the importance of first mile industrial nodes.
First Mile Hot Spots
Given these structural factors, examining first mile markets in the context of both space and capital markets can reveal why they offer compelling investment opportunities in the current cycle.
Table 1 on illustrates the 10-year annualized NCREIF returns as of the first quarter of 2021 for a set of first mile markets, along with several key space market metrics.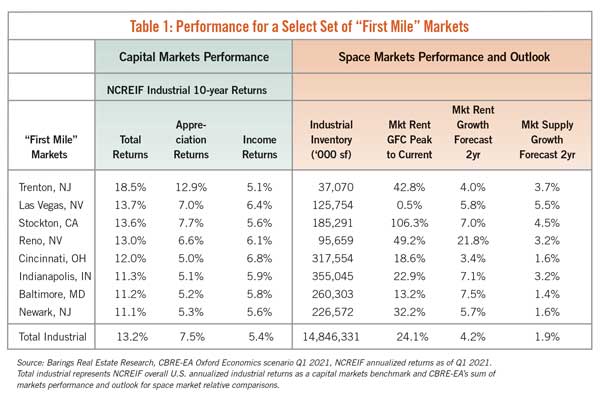 Many first mile markets reported strong income returns and strong appreciation during the last cycle. While some low-barrier first mile markets such as Indianapolis and Baltimore had underperformed the national average rent growth benchmark over the 10-year period, rent growth in these markets has firmed up during the past year. These areas also have above-average performance forecasts for the next two years, according to CBRE-EA. Finally, current and future supply conditions across markets show conditions that support the fundamentals.
While this small sample set is not comprehensive and is not indicative of the broader first mile opportunity set, it illustrates structural shifts in some first mile markets that support the case for institutional investment. For example, Las Vegas, traditionally a first mile node, has emerged as a regional distribution center for Southern California and several Western states during the latest cycle. This is due to its location, superior transport infrastructure, access to a qualified labor pool and favorable zoning regulations. Similar conditions make the case for investment in other first mile nodes on the West Coast such as Reno, Nevada, and Stockton, California, as well as in key distribution nodes in the Midwest and on the East Coast.
In conclusion, first mile markets allow distributors to build and maintain a responsive supply chain for their end users. This demand will continue to create potentially attractive opportunities for institutional investors seeking to increase their allocation of a sought-after property type that is supported by strong structural tailwinds.
TJ Parker, CFA, CAIA, is the managing director of Barings Real Estate Research.