Remote work and an exodus from cities are two of the biggest trends to emerge so far.
First of a two-part series.

Data from the most recent U.S. census is starting to be released. Findings from it will have significant implications for how investors value property, in which projects capital will be deployed, and how communities respond to zoning and development incentives.
While COVID-19 and its fallout have dominated headlines for more than a year, the census captures trends that are substantially more long-lived. The past decade has produced much change, including a foreclosure crisis, millennial maturation, immigration and trade policy shifts, cloud computing, the rise of the gig economy and many other innovations. These phenomena impact how and where people live, which in turn shapes commercial real estate fundamentals.
Population Growth Slows
In April, the Census Bureau released its initial findings. The headline —overall U.S. population expanded only 7.4% between 2010 and 2020. This represents the second-lowest decade-long recorded growth rate in American history, and it may partially explain why so many employers are scrambling for workers today. Only from 1930 to 1940, when many people lacked resources to form families because of the Great Depression, and the years following passage of the Immigration Act of 1924, saw softer population growth.
Though comparisons between the Great Depression and Great Recession are often overdone, there are some similarities. Millennials, many of whom are now in their 30s, came of age in large numbers during the global financial crisis. They graduated into a weak labor market. Then, a bit more than a decade later, as many had re-established their upward career trajectories, a global pandemic ripped through the economy. This is also the most educated generation in American history. Because of that, many wrestle with student debt.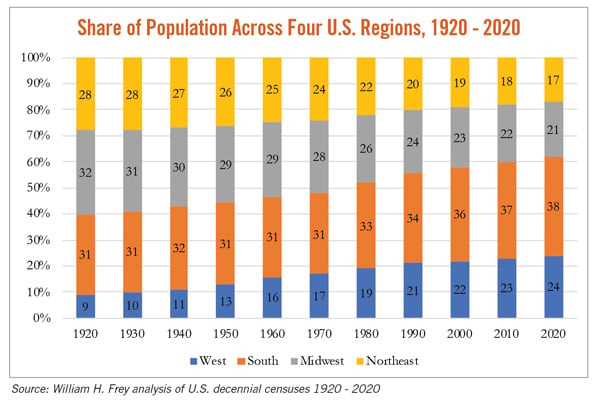 What this translates into is slower family formation and fewer children. This, along with other economic and demographic factors, has slowed the growth of homeownership. That, in turn, slows migration into suburban communities, though the pandemic served to accelerate movement out of large cities. Ten years ago, the average age of first-time homebuyers was 30. It is now 33, in part because low inventories of unsold homes have helped drive home prices higher. Some of this is reflected in the decennial census data released to date, some of this is not.
Still, the April release offers statistical detail regarding some interesting trends. For instance, half a century ago, slightly less than half the nation's population resided either in the South or West. By 2020, the southern/western population share was up to 62%, and with cities like Austin, Nashville, Orlando, Tampa, Dallas, Denver, Boise and Phoenix continuing to boom, that proportion stands to expand going forward.
Meanwhile, deindustrialization has hammered the industrial Midwest, eroding its relative share of national economic activity. In 1920, the Northeast and Midwest represented 60% of America's population. That share had declined to 38% by last year. At the same time, the western share of the population rose from 9% to 24% over the course of a century. The rise of the West has been dramatic, and that continued during the previous decade.
Three states (Illinois, Mississippi and West Virginia) experienced negative growth over the past decade, the highest number of states to do so since the census began. By contrast, only one state registered negative population growth between 2000 and 2010 (Michigan), and no states lost population during the final decade of the 20th century.
Which states grew the fastest? Utah's population expanded by 18.4% over the past decade. Idaho expanded 17.3%. Already massively populated Texas won the bronze, registering 15.9% growth.
A lot has been made of the fact that California lost a congressional seat for the first time. Undoubtedly, much of that had to do with the pandemic and the exodus from some of the state's major cities during a period of social distancing mandates and large-scale churn in the labor market, as well as affordability issues for the working and middle classes. That said, many left California in previous years, even as others arrived to start some of the world's most influential technology companies. That has diffused the population in the West to cities as diverse as Reno and Tucson. More will be said on this going forward as the Census Bureau releases city-level data.
Adapting to New Norms
Perhaps nothing has captured the imagination of households as much as the possibility of remote work. Coming into the pandemic, the conventional wisdom was that employers could allow more of their staff to work from home, reducing real estate costs in the process. But those savings would come at the expense of productivity and responsiveness to clients.
There is a new conventional wisdom today, one that will fundamentally alter office market dynamics whether commercial brokers realize it or not. A recent working paper from the National Bureau of Economic Research titled "Why Working from Home Will Stick" indicates that work-from-home can translate into a 5% productivity boost. This understates potential productivity gains, however, since conventional productivity measures fail to capture the time savings and benefits of reduced commuting.
In June 2020, Cushman & Wakefield released a report stating that its proprietary Experience per SF tool indicated that workers were just as productive at home as they were in the office. They note that some companies are considering abandoning the traditional office and implementing a "hub and spoke" model. This would produce a "higher quantity of smaller offices in suburban locations."
Other behaviors catalyzed by the pandemic will also translate into greater population diffusion. Millennials are leaving for the suburbs in larger numbers, in part because of where they are in their life cycle, but also because they have been empowered to leave urban life behind by a growing volume of flexible working arrangements, including an ever-expanding gig economy. Online shopping continues to gobble market share from brick-and-mortar retail. At the same time, Netflix, Hulu, Amazon Prime, Disney+, HBO Max, esports and virtual reality gaming systems have created more opportunities to stay indoors during the evening, at least potentially diminishing the value of the leisure amenities that urban environments offer.
Importantly, many of these patterns preceded the pandemic. Richard Florida, an economist and urban studies theorist, notes that the pandemic likely accelerated migration away from principal cities that would have probably happened anyway. A recent Bloomberg article indicates that 84% of those who relocated over the past year moved to a place within their metropolitan area, frequently the suburbs.
Looking Ahead
The decline of cities has been predicted before. The advent of automobiles, occasional bouts of violence, fiscal crises, deindustrialization, the Internet and the great migration of baby boomers to the suburbs all threatened urban cores. Nonetheless, for much of the past decade, cities attracted millennials and young families in large numbers, helping to prompt an apartment construction boom. College graduates and other young people still tend to move to cities in large numbers, in part because the Internet isn't a substitute for active social lives.
The census data yet to come will provide additional insight into how and where people are choosing to live, supplying critical insight for developers and other commercial real estate stakeholders in the process.
Anirban Basu is the chair and CEO of the Sage Policy Group in Baltimore.