A "second wave" of pandemic-related trouble looms on the horizon.
After a rapid but partial rebound from the pandemic-induced shutdown of many construction projects last spring, nonresidential construction appears headed for its own "second wave" of project cancellations, layoffs, and probably permanent closures of some firms. Meanwhile, single-family construction is growing strongly, and multifamily work is highly variable by location.
Steep Decreases in Employment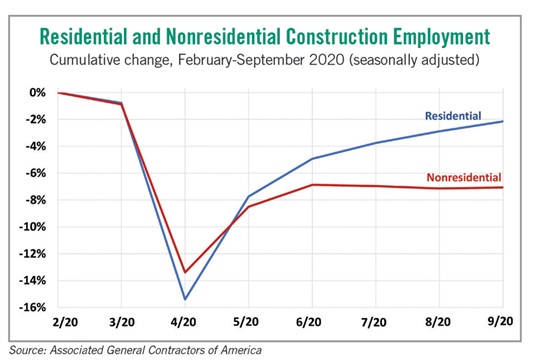 From February to April, construction employment tumbled by a record-setting 1.1 million jobs, seasonally adjusted, or 14%, with similarly steep declines for residential construction firms (homebuilders, general contractors that concentrate on multifamily projects and residential specialty trade contractors) and nonresidential firms (general and specialty trade contractors, plus firms focused on heavy construction and civil engineering construction). Employment bounced back in May and to a lesser extent in June. But from June to September, residential and nonresidential employment diverged.
By September, residential employment was growing faster than total nonfarm employment and had recovered 86% of the jobs lost in March and April. In contrast, fewer than half of the lost nonresidential jobs returned, and employment on that side actually slipped 0.2% in the third quarter of 2020.
This dichotomy is likely to widen. While measures such as single-family housing starts, building permits and sales remain generally positive, leading indicators for nonresidential construction have all been pointing downward.
For instance, in a survey that the Associated General Contractors of America conducted October 7-19, 81% of building contractors reported that an owner had postponed or canceled a scheduled project. That share rose from 66% in a survey taken in August and 32% in June.
More Measures of Distress
Two firms that collect data on project starts reported dismal results for September compared to year-earlier levels. ConstructConnect said that spending on nonresidential building projects tumbled 41%, with commercial starts down 53%. Dodge Data & Analytics reported a 24% drop in nonresidential building starts over the same period, with commercial starts down 27%.
Looking a bit further ahead, two other indicators offer mixed signals. The American Institute of Architects' Architecture Billings Index, which the institute says leads nonresidential construction spending by 9-12 months, was unchanged from June through August at a level that indicated far more architecture firms were experiencing declining rather than expanding revenues. The reading for firms with predominantly commercial/industrial practices remained even lower.
Dodge's Momentum Index, a monthly measure of the initial report for projects in planning, which the firm says has been "shown to lead construction spending for nonresidential buildings by a full year," edged up 2.2% from the second quarter of 2020 to the third quarter. That came on the heels of a 13% plunge in the previous three months.
"The commercial side of the Momentum Index gained 7.4% in the third quarter, led by a large number of warehouse projects," Dodge reported. "Somewhat surprising is that office projects entering planning also posted a tepid gain despite concerns that office work is shifting to remote settings."
Warehouse construction does seem like a sure bet. Amazon alone "plans to open 1,000 small delivery hubs in cities and suburbs all over the U.S.," Bloomberg reported in September. "The facilities…will eventually number about 1,500."
But the gain in office planning may be deceptive. Dodge, as well as the U.S. Census Bureau in its monthly report on construction spending put in place, includes data centers in the office category and does not break out this fast-growing niche of facilities that only house servers from buildings where people work.
In other words, nearly all indicators for nonresidential building activity appear negative for at least another year. The only exceptions are likely to be distribution facilities, data centers, a limited number of manufacturing plants, and remodeling or repurposing of existing structures.
Ken Simonson is the chief economist with the Associated General Contractors of America. He can be reached at ken.simonson@agc.org.