An open, collaborative mindset is important in these unprecedented times.
The COVID-19 pandemic has radically impacted how development and construction firms operate. The industry is currently navigating rapidly changing governmental orders concerning business closures, many of which vary state by state, as well as major disruptions of ongoing projects. Now is the time for these business to think ahead about how they will deal with delay claims and claims for additional compensation once the full extent of the pandemic is known.
During a recent NAIOP webinar, Duane Morris LLP attorneys Meghan DiPerna and Kenneth Lazaruk, along with Brian Perlberg, senior counsel for construction law and contracts with Associated General Contractors (AGC) of America, discussed contractual force majeure provisions and other challenges arising from the pandemic.
A Force Majeure Event?
"We are in unprecedented times," said Perlberg. "The first question we have is, 'Is this a force majeure event?' "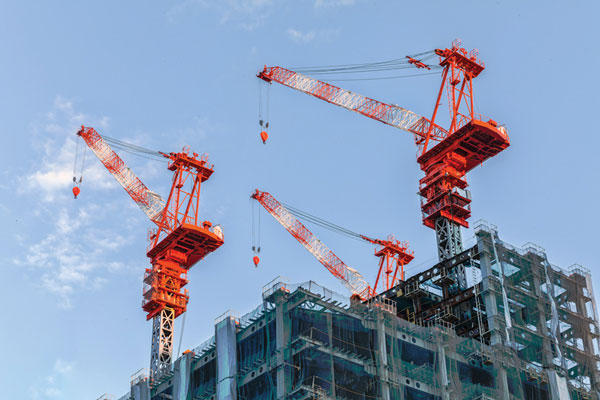 Perlberg explained that force majeure (which literally means "superior force") is a risk-allocation principle that is best interpreted as "It's nobody's fault; how are we going to handle this?"
While not every contract calls it "force majeure," most contracts do feature a force majeure clause, Perlberg said, which usually provides an extension of time for performance. The pivotal questions to consider are: How are you going to deal with the added costs, and what insurance products might you have?
Notably, Perlberg said, contracts with force majeure clauses require prompt written notice, and the clause doesn't take effect automatically — you have to show causation. It's important to consider increased costs for construction as well as liquidated damages.
Notice of Delay Letters
When building owners receive a notice letter, their responses can vary, said Lazaruk. Some letters might have language that refers to force majeure or contemplated delay clauses. Others might refer to circumstances, such as the contractor reserving their rights under the contract because the state has shut down the job.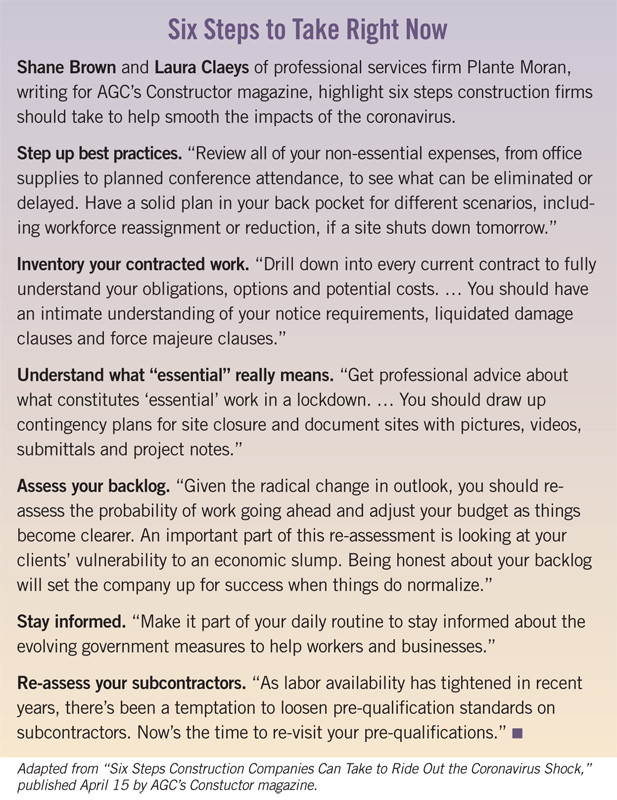 That's exactly what happened in New York, both the state and the city. Lazaruk said his law firm has responded to some of these letters by saying, "Yes, we acknowledge that there is a stoppage and we ask that you reduce your forces on the job to what is necessary and close down the job according to the New York Department of Buildings regulations. You keep it secure, and you reduce your manpower down to what is necessary to keep that job secure."
DiPerna said construction contracts usually include strict time frames that the contractor has to comply with to submit a claim. However, there is usually no mandatory time frame for the owner to respond or risk waiving the right to object to the claim. Every contract is different, she said, but from an owner's perspective it's very difficult to assess these claims given that we don't yet know the full impact of the pandemic or duration of these job stoppages.
"What owners have to be thinking about right now — if you're located in a state where your job is shut down — is that you need to be communicating to your contractors what has to be done in terms of wrapping up the project and securing the site," DiPerna said.
For jobs that are allowed to continue, it's essential to make sure the contractor has a plan in place for complying with any requirements such as ongoing safety inspections or required reports, DiPerna said. In some states, projects related to health care or other critical infrastructure can continue; however, a COVID registration number is required.
"If you're going to continue operations, which is essentially a permission slip from the government, you have to do it right," Perlberg said.
Managing Ongoing Operations
The coronavirus pandemic is raising questions about the roles owners can play with regard to safety. Should they be able to tell contractors how to operate safely? Do owners have a role in scheduling and ongoing construction operations?
"As an owner, you still want to act responsibly, especially in these times," Lazaruk said. "You don't want to be someone who is pushing a job that will incur problems," citing the example of a project that would have to shut down for containment and cleaning if a worker tested positive for coronavirus. "I don't think the owner is going to create a job site that is going to encourage an unhealthy place to work."
Marie Ruff is communications senior manager at NAIOP.
---
COVID-19 Clouds Construction's Crystal Ball
By Ken Simonson
Contractors had been looking forward to 2020 as a year with plenty of work, not plenty of woe.
An annual survey by AGC of America released in mid-December found that respondents, on balance, expected there would be an increase in the dollar value of projects available to bid on in each of 13 market segments, including multifamily, office, and a combined retail/warehouse/lodging category.
Census Bureau figures on construction spending on projects underway in the first two months of 2020 ("value put in place") were more mixed. Private office construction inched up just 0.4%, following a full-year increase of 6% in 2019. And lodging construction slumped 8%, compared to a 2019 gain of 7%.
In contrast, warehouse construction, which had eked out a 0.5% gain in 2019, jumped 15% in January and February compared to the same months of 2019. Perhaps even more surprising was that spending on retail structures slipped only 1% in January and February compared to the first two months of the previous year. That dip compared favorably with the 23% plunge in retail construction spending in 2019.
Coronavirus Hits Hard
Then the pandemic upended the entire economy, with specific impacts on construction.
Most projects that broke ground in those first two months of the year are likely to be completed. However, contractors have been encountering numerous impediments, even in locations where most construction was deemed exempted from stay-at-home orders. Items ranging from terrazzo flooring to elevator components that come from Italy and other hard-hit countries in Europe may be delayed indefinitely. There may be shortages of key personnel, including not just craft workers but also government inspectors and permitting officials. Limits on proximity and numbers of people in a space may stretch out construction times.
For the remainder of 2020, it appears likely that new construction will decline sharply as projects finish up. Some previously funded infrastructure and public building contracts may be awarded. But few private owners are going to have the inclination, funding or permission to start new buildings, unless they can demonstrate an urgent connection between their projects and fighting the pandemic — or preparing for the next one.
No Easy Recovery
As the economy begins to regain its footing, construction will probably lag — just as it did in the first years after the 2007-09 recession. However, a couple of segments are likely to revive more quickly.
First, there will be an even greater demand than previously for distribution centers, particularly "last-mile" or "last-hour" facilities serving nearby customers. Demand will also strengthen still more for data centers and other telecommunications structures. These hot spots are a result of the needs and habits that homebound workers and families are quickly acquiring.
On the flip side, many brick-and-mortar retail businesses will not reopen, following the double blow of lost sales during the shutdown and an accelerated shift to online purchases. There will be enough vacant retail space to keep retail construction depressed for years.
In addition, many employers will have learned to get by without as many onsite workers in expensive office towers. Some long-term spaces may be converted to coworking or surge-employment offices, but not enough to remove the downward pressure on rents and new projects.
Demand for lodging is harder to predict. While many individual hotel operators will not recover from the near-total shutdown of their properties, it remains to be seen if overall demand for rooms resumes. Once businesses get back on their feet — and the road — and families are willing to start taking vacations, lodging demand could return to the robust levels of the past few years.
In sum, the outlook for commercial construction has gone from sunny to very dark. The sun will come out, but not necessarily tomorrow, and not to the same extent for all sectors.
Ken Simonson is the chief economist for the Associated General Contractors of America. He may be reached at ken.simonson@agc.org or simonsonk@agc.org.