The face behind the association's latest milestone is an American-born Canadian citizen who is involved in Vancouver's retail market.
If there is strength in numbers, then NAIOP today is stronger than it's ever been.After 52 years of consistent growth, the association reached a notable landmark in December 2019 when it welcomed its 20,000th member, Paula Marucci, a shopping center manager with Bosa Development in Vancouver, Canada. It was the capstone on a year that saw NAIOP add 4,115 members, a record for the association.
"NAIOP is pleased to welcome Paula as our 20,000th member," said Thomas Bisacquino, NAIOP president and CEO. "This is a significant membership milestone for our organization, and it reflects both the power of our industry and the value of our association. Throughout North America, our members come together for education and advocacy, but above all, they are making the deals that drive our industry. 2019 was a record year for new members, and achieving this level of growth during such a prosperous time for our industry is thrilling."
Marucci will receive many valuable perks as NAIOP's 20,000th member. These include a free lifetime membership in the association and complimentary registration to two NAIOP conferences in 2020.
"I was surprised and enthusiastic to hear that I was the 20,000th member," she said. "I am honored and grateful to have this opportunity to be a part of NAIOP."
Always Aiming High
Marucci followed a unique career path into the industry.
After graduating from high school in Pennsylvania, she joined the U.S. Air Force, where she worked as a medical technician in an OB/GYN ward. Following her four-year tour of duty, she decided that she didn't want to pursue a career in medicine, so she took a job as a bankruptcy administrator for a U.S.-based savings and loan company. Eventually she migrated to Canada after marrying a Canadian she had met while living in California. She became a citizen and started her career in property administration in the Vancouver area.
While Marucci is fairly new to Bosa — she joined the firm in October 2019 — she's not new to the industry. Her commercial real estate experience stretches back to 1998 and includes stints with Bentall Kennedy, Colliers, Serracan Properties and Warrington PCI Management.
"I've always had a fascination for building designs and how buildings are commissioned," Marucci said. "For the past 20 years, I've worked for some of the most prestigious property management companies in Vancouver as a property management assistant and a property manager, all while continuing with my education. I've obtained numerous management certifications that ultimately led me to my current position."
At Bosa, Marucci manages the Lynn Valley Shopping Center in North Vancouver. The property features more than 50 stores covering 170,000 square feet, plus a second-floor professional level.
"We're excited having her on board with us," said Maria Wood, director of property management with Bosa. "She's at a property that we're in the process of redeveloping, so she's going to go through exciting times."
Founded in 1980, Bosa is a major commercial and residential developer in Western Canada, the Northwestern U.S. and California. The company owns and manages a diverse portfolio of 3.5 million square feet made up of shopping centers, office buildings, industrial properties and film studios.
A NAIOP Fan
Marucci said she first encountered NAIOP through publications such as Development magazine and its research reports.
"They always have the most current information and research analysis," she said, adding that she especially liked the January 2019 report, "Economic Impact of Commercial Real Estate in Canada."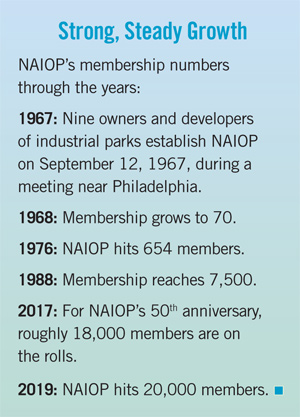 Marucci also said she enjoys NAIOP's educational programs and events, and she plans to take advantage of the opportunities presented to her as the association's 20,000th member.
"I find the NAIOP online education to be of value, especially to anyone in the industry wanting to further their career or build leadership skills," she said. "They present informative events with first-class guest speakers. I expect to obtain information that will support sound decisions on leasing and property management. I am looking to possibly furthering my knowledge through conferences and chapter events."
As for her personal philosophy of success in life, Marucci said when times get tough, dare to be tougher.
"Anyone can run away, but facing problems and working through them makes you stronger," she said. "Instead of thinking of all the things that can go wrong, I became someone who looks on how they go right. Your mind is powerful, and when you fill it with positivity your life naturally becomes positive. When you think positive thoughts, positive things will happen. The quality of who I am is reflected in the standards I set for myself. I positioned myself to live up to the rise of my own expectations. It is not only about making a living, it is about making a difference."
Trey Barrineau is the managing editor of publications for NAIOP.