However, surging demand could lead to greater investment in the near future.
When people hear the term "cold storage," many envision a large freezer building, said Corey Singer, vice president of business development with FCL Builders. In truth, the universe of cold storage goes far beyond that, Singer said during a session on refrigerated storage facilities at NAIOP's I.CON Virtual 2020, which was held in late June. It can include grocery and food service firms, import/export companies, manufacturers and agricultural storage businesses.
"It's a broad spectrum, and there is a lot of nuance within the different segments," said David Sours, a senior vice president with CBRE.
Kate Lyle, a senior project architect with Ware Malcomb, agreed.
"'Cold' doesn't necessarily mean food," she said.
Lyle pointed out that cold and freezer space can be used in many ways. This includes everything from airline parts to medical supplies and biopharmaceuticals. The latter is a major growth area in cold storage.
Lyle added that demand for cold storage had been rising even before the COVID-19 pandemic. This is largely due to changes in the ways that Americans are eating. High-pressure pasteurization has allowed for more fresh foods, meal kits like Blue Apron and Hello Fresh have gained popularity, and companies like Impossible Meat, which creates meat substitutes made from plants, have been gaining in popularity and require refrigeration. This trend will most likely continue; a recent CBRE report suggested that an additional 75 million to 100 million square feet of industrial freezer/cooler space will be needed to meet the demand generated by online grocery sales in the next five years.
"I think the next wave of that will come with the changes in the agricultural supply chain," Lyle said. "We've seen a lot more international products come in. However, we may see some more onshoring for foods that were previously imported now moving to domestic production."
Expensive Proposition
Cold-storage facilities can be capital-intensive projects to build and operate. While supply-chain drivers such as automation have helped bring down costs, the outlay is still significant.
"We spend a lot of time educating investors about the costs behind cold and freezer facilities," said Scott Pertel, president and CEO of Cold Summit Development.
For example, Carmen Dodaro, executive vice president and CEO of FCL Builders, noted that high-speed doors used in these facilities can cost as much as $25,000 each. (These are doors that open and close rapidly to keep the cold air in.)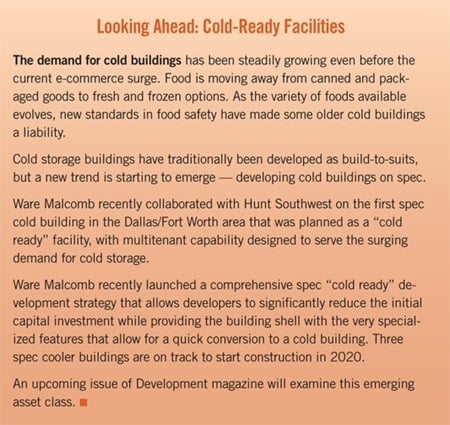 "Embarking on a cold-storage project is not for the faint of heart," Dodaro said of investing in cold storage. "It's not a $200,000 investment. It's a tens of millions of dollars investment, and you have to know it's in the right spot. You have to know how it's being built, and you have to know what's being built."
Lyle said a rule of thumb is that a cold building is going to cost three times as much as a dry facility.
"I like to say that's your starting point," she said. "I do $300-plus per square foot on processing buildings. But the more complex the building is, those numbers just skyrocket."
And while converting an existing dry building to a cold-storage building might seem like an appealing option, Pertel warned that conversions can be no more cost-effective than starting from scratch because of the complexity involved.
"It's really difficult to take an average, vanilla dry building and say, 'boom, I'm going to make it cold,' " he said. "It's not that simple."
According to Pertel, there are many considerations and renovations required to pull it off. These include flooring changes, additional power requirements, and structural steel support and insulation for refrigeration systems.
"You have to commit early in the design process whether you want to build a chilled, a frozen or a dry," he said. (Chilled facilities maintain temperatures between 32° to 33° Fahrenheit, while frozen facilities range from -10° to -20° Fahrenheit.) "There is no defined break point in deciding to go dry and then converting to cold as you're going through that process. The way that we approach every assignment is actually building a facility or designing a facility around the racking plan with the end user in mind, whether that be a freezer user or cooler user."
However, Pertel said that conversions can usually be completed faster than new construction.
"We typically look to a conversion process of six to nine months for a dry warehouse," he said. "If we're building a new building, it could be anywhere from nine to 15 months, depending on the complexity of that build."
An online course from the NAIOP Center for Education, "Understanding the Temperature-Controlled Environment," notes that existing facilities can be expanded or retrofitted for about 40% of the cost of building a new facility.
Going Up
According to "Understanding the Temperature-Controlled Environment," cubic feet can be a more important metric than square feet for many developers and operators of cold-storage facilities. That's why many of them are getting taller. While the average height for cold buildings ranges from about 36 to 40 feet, Pertel said he's seen a few facilities with 140-foot clear heights. Automation and robotics play major roles in those warehouses, particularly automated storage and retrieval systems (AS/RS).
Fire can be a danger in refrigerated buildings. These facilities use a lot of polyurethane insulation, which can burn easily. They also rely on ammonia-based refrigeration equipment, and the chemical can accelerate combustion at concentrations between 15% and 28%, according to a 2019 article from the NFPA (National Fire Protection Association) Journal.
Lyle noted that when refrigerated buildings exceed 45 feet in height, they will start to require cutting-edge, specialized fire-suppression systems that will not freeze the water supply in the cold environment. These include Tyco's Quell system, which uses a "surround and drown" method to encircle and douse the fire area with large volumes of water.
However, she said there are still some jurisdictions that have hesitations about Quell systems because the product hasn't completed NFPA certification.
"We think it's going to be another two years before we really start to see Quell be universally accepted once it gets through the NFPA process," she said.
Despite that, Lyle said that taller warehouses can be more cost-effective to operate.
"What drives a lot of the desire for verticality is that you can bring down your refrigeration costs per pallet," she said. "You can get more pallets stacked vertically rather than side to side."
Having an early conversation with the design team and bringing in the right people to do due diligence can make the difference in a successful cold storage project, she said.
"If I'm coming in late, there have already been some missed opportunities, and there will be some surprises with utilities and design changes," Lyle said.
Getting it right takes research and study, Dodaro said.
"Speed to market is very important; however, refrigeration equipment is not an off-the-shelf product, and it can take six to 12 months to be delivered and installed," he said.
He added that these facilities are often major power users and can require significant water treatment and sanitation capabilities. For example, Dodaro said cold facilities that process food can require 60,000 to 100,000 gallons of water a day.
As for power usage, an article in the Spring 2020 issue of Development magazine pointed out that refrigerated warehouses consume an average of 24.9 kilowatt-hours (kWh) of electricity per square foot each year. By comparison, dry warehouses use an average of 6.1 kWh of electricity per square foot each year.
But these buildings can last. Dodaro has seen facilities that are 40 to 50 years old with upgraded systems.
"I think you'll see an increase in value for second-generation cold space," said Sours.
Finally, Lyle said the technology in these buildings will keep on evolving.
"If you think about a refrigerator in your house that was built in the 1980s vs. a refrigerator you get now, it's significantly more energy efficient," she said. "It's the same in cold storage."
Brielle Scott is senior communications manager at NAIOP. Managing Editor Trey Barrineau contributed to this report.
---
Learn More About Cold Storage
The NAIOP Center for Education is currently offering an online course, "Understanding the Temperature-Controlled Environment." It examines trends and the current market landscape for cold storage facilities. It also details how these environments differ from traditional industrial projects, the specialized building features required and the challenges associated with these facilities.
To sign up for the course or to learn more, visit: learn.naiop.org/products