Awash in granular digital information, companies are diving headfirst into high-tech solutions so they can make more deeply informed business decisions.
The technological advances shaking up nearly every aspect of modern life are starting to have significant impacts on commercial real estate.
"The biggest trend we're seeing is this whole digital disruption in our industry, from ubiquitous linked sensors to the technology that's going into smart buildings," said Dale Dekker, AIA, AICP, principal with Dekker/Perich/Sabatini, during a recent NAIOP event. "It's truly driving commercial real estate in a whole new way."
How fast is technology changing the industry? Dekker said in 2014, there were just 12 apps focused on commercial real estate. Today, there are more than 3,000. Additionally, research from CRETech, a media company that covers digital advances in commercial real estate, estimates that there are 4,000 startups working on high-tech products and services for the industry.
"Technology and data are changing more rapidly than ever before, transforming the commercial real estate practice at every iteration," writes CCIM Institute Chief Economist K.C. Conway in the institute's Commercial Real Estate Insights Report for the first quarter of 2019. "Far removed are the days of fold-out discounted cash flow analysis reports, maps plastered with rub-off decals and microfilm-powered due diligence."
Among the biggest challenges facing CRE professionals is figuring out how to turn the massive amounts of data coming from a variety of sources into usable information that can guide decision-making.
"There is a lot of data available, but to enhance our ability to use that data to make better decisions, it needs to be put into solutions that provide better visualization and are easy to navigate, rather than working with multiple dashboards that aren't very user-friendly," said Sara Shank, managing director for Beacon Capital Partners in Boston, where she oversees portfolio management, including technology initiatives to improve the tenant experience. "As an industry, we need to continue increasing awareness among various constituents of the types of new technological solutions that are available and showcase how they can benefit the business."
While there are issues around awareness and adoption, data visualization and other technologies such as blockchain and augmented reality are starting to gain traction, and it seems likely that the commercial real estate industry will look radically different much sooner than most people can imagine.
What is 'Big Data' and How Is It Used?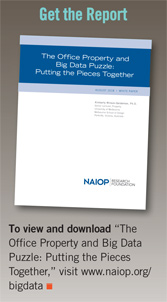 Big data spans everything from leasing, financial and demographic statistics, to building systems information, to tenant movements inside of buildings. It can also include things such as social media and news feed monitoring. Much of this information is being gathered by sensors and cameras connected to the internet of things (IoT), which is the embedding of internet connectivity into devices and objects. It's a technology that Dekker said will soon be inescapable.
"If you think the internet has changed your life, IoT is about to change it all over again," he said. "We'll soon be living in a world of sensors. They have sensing elements plus processing capabilities, so they're essentially little computers."
By 2035, there will be 45 trillion connected sensors in operation in the built environment, Dekker said. That's 5,000 sensors for every
human being on Earth.
"We're getting inundated with information," he said.
However, that data deluge is also providing a deep reservoir of actionable knowledge for those who know how to use it.
During a recent NAIOP event, Donna Salvatore, the CEO of Megalytics, Inc., a Chicago-based data and analytics firm that focuses on the commercial real estate industry, gave examples of practical applications for analyzing data from non-traditional sources.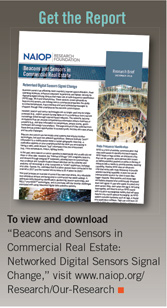 Salvatore said one of her clients was looking to acquire a retail shopping center. Basic demographic research, which was focused on a five-mile radius of the location, showed that the median household income in the area wasn't as high as the client would have liked. However, after Megalytics used data gathered by geofencing, a virtual geographic boundary line, to ping cellphones and track vehicular and pedestrian traffic at the shopping center, it turned out that the actual income of people going to the mall was almost $60,000 a year higher.
"That gave the clients a whole different viewpoint, and they realized that it would make a good acquisition," she said.
According to the Pew Research Center, more than 95 percent of Americans now own cellphones. That means geofenced data can be mined almost anywhere. While Salvatore said the results are anonymized to ease privacy concerns, the demographic information is still extremely detailed.
"It can be very granular," Salvatore said. "The data goes down to the ZIP code and Census block."
It can also scale up impressively. She said geofenced data could cost-effectively monitor up to 50 potential shopping center acquisitions over a four-month period or longer to determine trends, and it can be done simultaneously to compare market data.
In another case study, Salvatore showed how traffic can be tracked with artificial intelligence and facial recognition technology. A client wanted to measure pedestrian movement along a specific section of State Street in Chicago, a busy retail corridor in the city's downtown area. In one week, the technology tracked 2 million people who walked along that stretch of the street. Megalytics plans to compare this information to satellite-based GPS data to develop a model for this area, then use scaling factors to model the pedestrian traffic for 300 shopping corridors in Chicago in order to determine where the foot traffic is and which way it is going.
Adoption Rates are Improving — Slowly
Recent studies and surveys show that while adoption of new technologies is accelerating, companies and investors could be doing more.
"It's still early stages," said Shank. "Commercial real estate had lagged other industries in developing new technology, and for a long time venture capital didn't signal much interest in investing to develop the technology the industry would embrace."
For example, KPMG's 2018 Global PropTech Survey found that 66 percent of real estate decision-makers say they have not implemented a digital and technological innovation vision or strategy at their firms.
One reason for this relatively slow pace of change might be the speed at which technological advances are coming. The National Association of Realtors' 2019 Profile of Real Estate Firms found that 44 percent of commercial real estate companies said keeping up with technology was one of the biggest challenges they will face in the next two years. The only factor that ranked higher was local or regional economic conditions (46 percent).
"In some ways, we're being bombarded with new ideas and offerings, experiencing piloting overload, all of which can be overwhelming," said Shank. "Companies should be judicious about when to pilot new technologies so as not to overwhelm their employees with too many pilots at one time."
A January 2019 report from the Altus Group found that commercial real estate firms around the world have dramatically accelerated their use of technology during the past two years. However, the report also noted that the industry could be doing more in areas such as automation, artificial intelligence and machine learning. Additionally, the survey found that 60 percent of executives said their firms still use spreadsheets instead of software as their primary tool for reporting.
Challenges around the adoption of technology can affect commercial real estate companies regardless
of size.
Kevin Danehy, the global head of corporate development and executive vice president with Brookfield Properties, which manages more than $188 billion in assets across five continents, said his company's technology infrastructure was once like many others in the industry — decentralized and fragmented.
"Although we have massive amounts of data, a lot of it has been captured in Excel spreadsheets and different accounting systems all over the world," he said, adding that Brookfield's North American office building portfolio alone had 22 different accounting systems in place in 2018. "I'm guessing that we're not alone in real estate companies around the world that have that level of fragmentation in their data."
However, he said Brookfield began work to improve operations in 2017 by implementing Yardi, an enterprise resource planning (ERP) system for the commercial real estate industry. (Software maker Oracle defines ERP as "the systems and software packages used by organizations to manage day-to-day business activities, such as accounting, procurement, project management and manufacturing.")
"What we're really seeking to do is operate in improved ways so we have better control over data that's both proprietary and publicly available," Danehy said. "The best companies and best people have great imaginations to anticipate where growth is going to happen, and then invest in tangible assets so they can take advantage of that growth. That's what we're in the process of doing."
The long-term goal for Brookfield is to integrate Yardi with two other systems the company relies on — Honest Buildings, a capital planning and project management platform designed for real estate owners, and VTS, a leasing and asset-management platform.
"We're going to have a larger data-set than we've ever had of our own financial information relative to running a portfolio," he said. "We'll be able to access real-time data about sheetrock costs or the costs of engineering and different trades."
What About Blockchain?
Blockchain has been a hot topic in commercial real estate in recent years, even if many in the industry aren't yet rushing to adopt it.
For example, a January 2019 survey from the Altus Group found that respondents ranked blockchain lowest on a list of technologies for both future impact and adoption, with nearly 56 percent of executives saying it will have minimal to no impact on the industry. Adoption of blockchain was also the lowest; more than 21 percent of firms say they have no plans to use it.
"Blockchain sounds great in theory, but there are a fair amount of structural changes necessary in how the industry operates before it can be fully implemented," said Shank. "In the longer term, it should be able to help with a variety of transactions, including sales, contracts and leases."
According to Greg Ceton, director of strategic initiatives and special projects for the Construction Specifications Institute, blockchain enables witnessed, verified transactions via two technologies — peer-to-peer sharing and encryption. In a blockchain, peer-to-peer sharing provides the "witnesses," called nodes. Encryption provides the digital thumbprint that confirms data hasn't changed, and it makes the details of any transaction or record as confidential as needed. Each block is linked together in a chain. The structure is relatively simple, Ceton said; there are only a few elements to each block.
Ceton said real estate is perfect for blockchain because it's all about sharing information (MLS data, title records, etc.) quickly and efficiently.
"In its most basic form, blockchain makes it possible for people and companies to conduct transactions without going through an intermediary," said Dustin C. Jones, the NAIOP Research Foundation's Boyd Stofer Distinguished Fellow and the director of the Baker Program in Real Estate in the SC Johnson College of Business at Cornell University. "In real estate transactions, intermediaries like brokers, law firms, title companies, banks, escrow officers and governments can make transactions expensive, slow and illiquid — at the same time that investors are demanding greater speed and transparency."
Ceton thinks MLS and transactions will provide the first widespread uses of blockchain in CRE.
"Those two seem like easy problems to solve compared to title," he said during a recent industry event.
However, Ceton said title record will be the "big win" for blockchain — if administrative obstacles can be overcome.
"It will require concerted efforts with authorities who have jurisdiction — state or county governments, for example," he said. "It's more of a policy discussion than the other two."
Despite slow adoption, there have been a few notable uses of blockchain in commercial real estate.
The office of the Recorder of Deeds in Cook County, Illinois, one of the largest land records offices in the U.S., recently launched a blockchain pilot program. In March 2018, the town of South Burlington, Vermont, announced that it had completed the nation's first completely blockchain-based real estate deed transaction.
Augmented Reality
Another technology that is starting to affect commercial real estate, especially for showing properties, is augmented reality.
According to Augment, a company that specializes in augmented-reality solutions for customers in many industries, augmented reality (AR) is "a technology that layers computer-generated enhancements atop an existing reality to make it more meaningful through the ability to interact with it. AR is developed into apps and used on mobile devices to blend digital components into the real world."
Karson Kopecky, the cofounder and project manager at Cviker Corporation in Reston, Virginia, said AR can allow potential tenants to see what their specific space will look like when it's finished.
"There is a strong need to visualize large buildings, bridges or changes to the landscape before construction starts," he said. "This is not the kind of visualization experience that the printed renderings or clever physical models can provide. It is an experience that lets you walk through the project in its real size and in its actual location, as if it were already built, using nothing but a phone or tablet. With this literal visualization, developers can make informed design decisions based on the real size of the project, reducing the need for physical mockups."
Kopecky said Cviker recently put AR technology to use for a high-profile project — the huge Amazon HQ2 development that's coming to Arlington, Virginia, directly across the Potomac River from Washington, D.C. The company visualized the entire development to show how it will affect the region and its citizens. In January, Cviker's 3-D model of HQ2 was featured at CES 2019 in Las Vegas.
However, Shank doesn't believe AR and related technologies will fully replace in-person property visits.
"People still want to actually walk the space," she said. "So no matter how good the technology is, it won't replace the desire to conduct physical tours. That's more of a mind-shift, and we're not quite there yet."
Trey Barrineau is the managing editor of Development magazine.
Questions for CRE Leaders
Deloitte's 2019 Commercial Real Estate Outlook, titled "Agility is Key to Winning in the Digital Era," offers several key questions that commercial real estate leaders need to be asking inside their organizations.
If You Don't Have a Digital Strategy …
"Are you able to prioritize relevant technologies?"
"How are you thinking of strengthening the core IT infrastructure and its compatibility with the latest technologies?"
If You Do Have a Digital Strategy …
"Which technologies and applications do you plan to adopt to enable better information management and advanced analytics?"
"Which external and alternative data sources are you planning to leverage to unearth newer insights?
"How could better information and new insights drive value?"
Why Visualization Matters with Big Data
During NAIOP's CRE.Converge, held in October 2018 in Washington, D.C., Charles Rath, the CEO of management consultancy RS21 in Albuquerque, New Mexico, said there are four factors that prevent organizations from making the best use of big data:
A lack of expertise about using big data.
Bad data-processing tools.
Bad data or data that is poorly formatted.
The inability to create intuitive visualizations to make data available to those who need it.
According to Rath, a 10-percent increase in data use can result in an increase of more than $65 million in net income for a typical Fortune 1000 company. Additionally, retailers who leverage the full potential of big-data analytics can optimize their operating margins by approximately 60 percent. (See Data Drives Decision-Making in Retail Real Estate.)
"You could have the best data in the world, but most decision-makers want to be able to dive into that information, understand it inside and out, and interact with it in a meaningful way," Rath said. "So you really need to be able to pair the data science with the data visualization to be able to drive meaningful outcomes."
Note: Some information in this article is from sessions at NAIOP's CRE.Converge, held in October 2018 in Washington, D.C.