Partially automated cars are already here, and will soon begin to have major impacts on commercial real estate, particularly parking infrastructure.
WELCOME TO THE world of autonomous vehicles (AVs). The world's leading auto manufacturers are already testing a wide range of artificial intelligence (AI) features, with the goal of eventually replacing human drivers altogether. Carmakers are also competing with upstarts like Silicon Valley's Zoox and Google's Waymo subsidiary, which aim to get completely hands-free, robotic cars capable of parking independently as well as maneuvering through jammed highways and crowded city streets into consumers' hands within the next decade.
Today, some 320 companies worldwide – from automakers and their suppliers to ride-sharing car services, software developers, and sensor and mapping firms – are racing to develop commercially viable, completely driverless cars. (For more on this, see "The Evolving Automotive Industry" on page 64.)
The terms "self-driving, "autonomous" and "driverless" are often used interchangeably to describe a vehicle that can drive itself with zero human intervention. But a truly driverless car won't be on the market for some time.
SAE International – a global association of 128,000 automotive and aerospace engineers, scientists and technical experts – defines vehicle automation in six steps, from Level 0 (no automation) to Level 5 (full automation). The levels differentiate the extent to which a car takes over tasks and responsibilities from its human driver, and how the car and driver interact.
SAE's 700 standards development committees and 17,000 technical volunteers worldwide devise standards and recommended best practices for every aspect of the automotive industry, from vehicle design and manufacturing to operation and maintenance. SAE's standards have been widely adopted by the U.S. Department of Transportation's National Highway Traffic Safety Administration (NHTSA) and the global car industry. SAE also addresses related issues, such as fuel efficiency, engine power and energy mandates.
Five Levels of Automated Driving Systems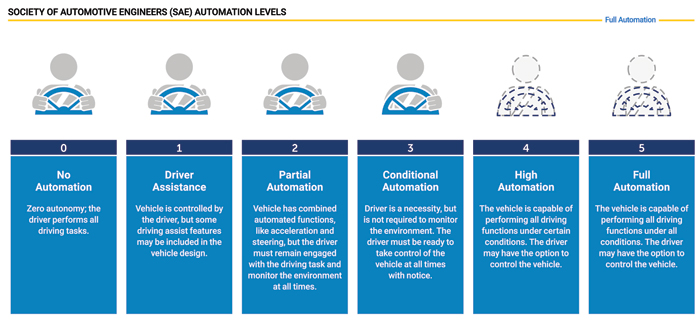 At Level 0, a car relies on a human for everything. Many cars on the road today, including those equipped with cruise control, are at this level.
A driver in a Level 1 vehicle still needs to maintain full control of the car, although some functions, such as parking and acceleration, are supported by an adaptive driver assistance system. Anti-lock brakes, back-up and blind-spot sensors, radar-based cruise control and warnings that help drivers avoid unsafe lane changes are now common Level 1 car features. Newer cars on the road today incorporate at least one of these systems.
Level 2 describes a vehicle in which "one or more driver assistance systems" control steering and speed but a human remains responsible for continually monitoring the "driving environment" – from traffic jams to making turns, changing lanes and exiting freeways – and must always be ready to take full control of the car at any time. This is the highest level of autonomous passenger car available for sale today.
Tesla's autopilot system meets Level 2 requirements, as does General Motors' Cadillac Super Cruise driver assist system. Yet both cars have limitations. Tesla's "Model S Owner's Manual" outlines a number of circumstances where its system might fail: if parking sensors are dirty, for example, or when the car approaches a stationary object. Cadillac's CT6 Super Cruise works only on divided highways and can't sense when to change lanes. It also doesn't function in snowstorms or at speeds above 85 mph.
At Level 3, monitoring the driving environment becomes more of the car's responsibility rather than the driver's. While human attention in Level 3 cars is still critical, and drivers must be ready to intervene if anything goes wrong, they can shift "safety-critical functions" to the car's automated system, allow it to monitor the environment and simultaneously control acceleration, braking and steering. If, for example, a Level 3 car "sees" a slower-moving vehicle in front of it, the car can "decide" to change lanes and overtake the slower car.
Audi claims its A8 concept car, being readied for sale by late 2018, has achieved Level 3, hands-free auton-omy, but only under certain driving conditions. The car's AI software will be able to take over in a traffic jam at speeds below 37 mph. A person, however, must be prepared to respond to the car's request to switch to driver control if Level 3 autonomous conditions no longer exist: when a traffic jam clears, for instance, and speeds climb back over 37 mph.
At Level 4, a human driver will be able to put a car into autonomous mode only after the car's monitors determine that conditions are safe. In autonomous mode, the driver will be able to nap while traveling long distances on highways. The car will control steering, braking and acceleration. It will decide when to change lanes, turn and use signals. But it won't be able to decipher more dynamic driving situations, such as traffic jams or merging onto a highway, and will need to transfer control to the driver within a few seconds in certain other instances, such as road construction. BMW, Ford and Volvo predict they'll have Level 4 cars ready for sale to consumers by 2021.
Level 5 is the point at which a car reaches full automation, driving without any human interaction. At this level, everyone in the car will become a passenger; no one in it will need a driver's license or have to be fit enough to drive. With true Level 5 automation, a car will be able to do everything a human driver can, presumably much more safely.Many industry observers think a full-blown Level 5 car is at least 10 years away.
Growing concerns over AV risks to humans may slow that timeline even further as fatal accidents mount, beginning with the 2016 death of a Florida Tesla owner whose autopilot system failed to detect a truck crossing in front of it. In March 2018, a pedestrian was struck and killed by an Uber self-driving test car in Arizona. That same month, a Tesla Model X with its autopilot engaged crashed into a concrete highway divider south of San Francisco, killing the driver.
The Future
Experts predict that when these futuristic cars finally do arrive, they won't just revolutionize how people get around. They'll also upend entire industries, including commercial real estate. Parking infrastructure will be particularly impacted.

"Cars today spend 96 percent of their time parked in a garage or surface lot," says architect Dale Dekker, principal and founder of Albuquerque-based Dekker/Perich/Sabatini. "Once AVs go mainstream, privately owned cars will give way to more efficient shared vehicles and subscription-based fleets that will move in and out of 'nesting' areas to transport people 24/7 instead of staying stationary.
"Because passengers will no longer be opening car doors in parking spaces, garages will only need 4 inches of space on either side, reducing parking by as much as 60 square feet per space. Eventually, I foresee a zero parking ratio that will free up entire floors of garages for other uses."
Dekker says planning for fewer private cars in the future, repurposing parking for AV drop-off points and adapting the resulting unused space for more productive commercial use presents a huge and as yet largely untapped opportunity for property owners and developers.
Audra Capas is president of 5StarPR LLC.