A growing industry creates a major capital opportunity.
EACH DAY, THE world creates 2.5 quintillion bytes of data, with 90 percent of all existing data created over the past two years alone, according to IBM. With more of the world population's business and personal lives being stored and logged online, the need for cybersecurity has never been more urgent.
As of 2017, just under 750,000 people in the U.S. were working in the cybersecurity industry, with more than 286,000 unfilled positions in technically and financially driven states such as California, Texas, Florida, Virginia and New York, according to CyberSeek. These locations match the major cybersecurity employers and investment targets in the San Francisco Bay Area, Washington, D.C., New York City and Dallas markets. Much of this demand centers around two areas: network maintenance and administration, and the design and development of cybersecurity systems. A recent study by DataTribe cofounders Robert Ackerman and Mike Janke reported that the number of cybersecurity engineers and analysts in the Washington, D.C., area is 3.5 times bigger than the rest of the U.S. combined.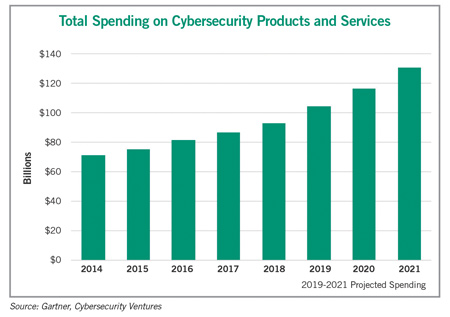 The year 2017 saw a major increase in leasing to cybersecurity companies across the country, with 1.4 million square feet signed for over the past year, 1.2 million of which involved new leases. This was a big increase over 2016, in which the sector secured just under 800,000 square feet. In 2017 it represented 2 percent of the more than 49 million square feet of space leased nationally.
Of the 1.2 million square feet of new space taken nationally, more than 800,000 square feet was throughout the San Francisco Bay Area, in neighborhoods such as the Financial District and SoMa in San Francisco, Santa Clara, Redwood City, and both the downtown and near-airport neighborhoods in San Jose. The Washington, D.C., area was a distant second, with more than 132,000 square feet leased in 2017, followed by Detroit, Dallas and New York City.
The six largest individual leases were for office space in the Bay Area, where Okta signed for more than 207,000 square feet at the Norges Bank- and Kilroy-owned 100 First Plaza in San Francisco. It was the year's largest lease for the cybersecurity sector, following up on the company's IPO earlier in the year. Okta planned to move into the new space in July 2018 and occupy it for 10 years. Gigamon renewed and added onto its space in Santa Clara for a total of more than 151,000 square feet, while Sonicwall took nearly 75,000 square feet in Milpitas.
Cybersecurity companies in these markets are prioritizing lease flexibility and scalability as they occupy more space to accommodate their growth. As a result, developing and employing an effective real estate strategy has become vital to the success of new leases across different markets.
The continued and future importance of cybersecurity remains an attractive opportunity for both investors in the sector and those who lease space to the industry.
By Kevin Imboden (kevin.imboden@cushwake.com), director, data center advisory group; John Redeker (john.redeker@cushwake.com), senior associate and lead, cybersecurity advisory; and Elisa Konik (elisa.konik@cushwake.com), chair, emerging technology advisory, Cushman & Wakefield
Note: This column is adapted from "Cybersecurity: A Major Capital Opportunity," Cushman & Wakefield Research, April 2018.