As health care providers seek to improve customer service by offering convenient access closer to where their patients live and work, they are discovering a hidden resource: the regional mall.
EVOLVING CONSUMER habits are driving fundamental changes at U.S. regional malls. Today's stores tend to be smaller, freeing space for new tenants, and there is greater emphasis on drawing patrons to properties with "experiences." Restaurants, theaters and other entertainment offerings are becoming more prominent tenants, as are retailers that meet consumers' daily needs, like grocery stores and fitness centers.
There has also been some churn in mall ownership. Larger mall REITs are focusing on higher-end malls in core markets and disposing of lower-performing malls in smaller markets. Additionally, many of the anchor store chains that are shrinking their U.S. footprints and store counts, primarily Sears and Macy's, own their real estate. The anchor spaces they are selling typically trade to the mall owners, which can then divide the space and adapt it for other uses.
Despite ongoing store closures, malls as an asset class have for the most part successfully secured new tenants or adapted space for alternative uses. National mall occupancy has slowly declined since the recession but hovers at approximately 96 percent, and U.S. malls posted 4.2 million square feet of net absorption in the first half of 2017, according to CoStar. As the graph at right illustrates, mall vacancy stood at 4.25 percent at midyear 2017, down from a peak of 5.09 percent in 2010.
Formulas vary by market, location, demographics and, of course, investment dollars, but a growing number of leasing programs are bringing in bowling alleys, gyms and other alternative uses, as well as fresh new types of retail tenants, such as specialty grocers, fast casual restaurants and trendy apparel outlets that appeal to Gen X and Z shoppers.
Mutual Attraction
One of the most intriguing strategies to emerge from this re-imagining of the mall tenant mix has been the introduction of medical service providers to operate alongside conventional stores or, in some cases, to replace retailers entirely. Health care services fit today's leasing goals by bringing in patients as well as physicians, nurses and technicians who work at the property each day and frequent its restaurants and stores.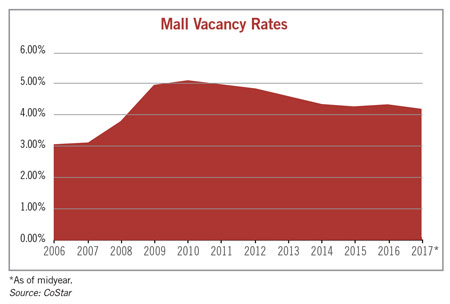 The trend has strengthened in part because mall owners have grown much more open to health care providers as tenants. As the pool of traditional retailers shrinks, retail landlords are facing the reality of adapting or dying, and health care uses can drive foot traffic and keep occupancy high. The most common challenge is local zoning, which may restrict or prohibit medical uses in retail spaces.
Medical leases tend to be long term because of the high capital cost of build-outs, the disruption associated with moves and the enormous expense of relocating specialized equipment. Once in place, landlords find that health care tenants have a strong motivation to stay put and are often willing to pay higher lease rates than the retailers that previously occupied the space.
The cross-industry attraction among retail landlords and health care providers is mutual. In today's competitive market, hospital systems want access to patients where they live and work, so that their "customers" do not have to drive across town to a flagship hospital campus. These health care providers are establishing emergency rooms, clinics, labs and even microhospitals in underserved areas and near populations of existing and potential patients. In many cases, patient satisfaction scores improve when they do so, because a well-designed facility in a familiar location with easy parking reduces stress for patients and their families.
Numerous Options
Physician practices and other health care providers seeking space today have a wide range of options, including multitenant medical office buildings, converted traditional offices, single-occupant structures and retail space. Malls can be an ideal solution for many health care providers, in part because of their exceptional vehicular access and ample parking.
Often located at the center of larger retail trade areas served by a variety of restaurants and other amenities, malls are typically centrally located within dense population clusters and often have large blocks of available space. Their large on-grade floor plates can accommodate heavy medical equipment at a lower cost than would be the case for a multistory building.
Main Line Health, for example, invested $4.5 million to turn 32,000 square feet of first-floor mall space into an ambulatory care center in Exton, Pennsylvania. The facility, which opened in January 2014 in Exton Square Mall, features massive and advanced MRI equipment designed for large and/or claustrophobic patients. Exton Mall's owner, Pennsylvania Real Estate Investment Trust, previously partnered with Mercy Suburban Hospital to open a two-story, outpatient care center in another of the REIT's properties. The $3.5 million facility opened in October 2012 in Plymouth Meeting Mall, in central Montgomery County, Pennsylvania.
Complementary Activities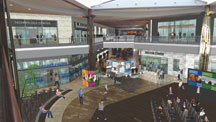 Ongoing redevelopment can add to a mall's appeal for health care providers. As landlords parcel out excess surface parking for development of apartments, office buildings, hotels, restaurants and other uses, the resulting mix can echo the complementary activities that often emerge around major hospital campuses.
One Hundred Oaks Mall in Nashville, Tennessee, is an early example of how well a mall's available space, parking and location within a community can serve health care providers. Vanderbilt University Medical Center occupies nearly half of the 850,000-square-foot property, taking up the entire second floor, while the first floor remains a retail center, with shops and eateries that serve as amenities for the health care tenant's patients and staff. Occupancy in the facility, which opened in 2009, is near 100 percent, with a tenant mix that includes Guitar Center, Michaels, T.J. Maxx, PetSmart, Burlington, Ross Dress for Less, Chipotle, Logan's Roadhouse, Regions Bank, Panera Bread, Panda Express and Ulta Beauty. LaSalle Investment Management purchased the center in late 2012.
For some redeveloped shopping malls, retail may be pushed out en-tirely or be limited to a handful of restaurants or stores serving those drawn to health care and other nonretail facilities. The former Atrium Mall in Chestnut Hill, Massachusetts, for example, has been transformed into Life Time Center, a 286,000-square-foot wellness and medical center. The Bulfinch Companies Inc., a private real estate firm, closed the mall in 2013 and converted it entirely to health care and fitness uses, capitalizing on the mall's proximity to the Longwood Medical Area in Boston. The repositioned asset is almost entirely leased to a gym and wellness center called Life Time Athletic and the Dana-Farber Cancer Institute, which is scheduled to open a 140,000-square-foot clinic there in 2019 to serve as a satellite of its downtown Boston campus.
In May 2017, Dimension Financial & Realty Investments Inc. announced its acquisition of Fiesta Mall in Mesa, Arizona, and outlined plans for its $30 million redevelopment for medical education providers, along with eating and entertainment venues. The list of malls injecting health care into their tenant mix continues to grow, as these two seemingly divergent industries explore their common ground.