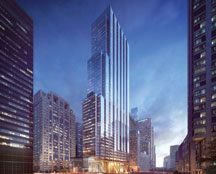 1.35 million sq. ft.
The Howard Hughes Corp. has received Chicago Plan Commission approval to build a 51-story office tower at 110 North Wacker Drive, in collaboration with Riverside Investment & Development, Goettsch Partners and CBRE — the development, design and leasing teams behind the recently completed 150 North Riverside Plaza project. The 1.35 million-square-foot aluminum and glass curtain wall building will feature sweeping views of the Chicago River as well as a conference center, fitness facility and retail and dining options. The project is expected to take about two and a half years to build.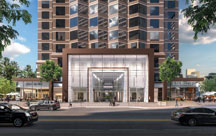 1.2 million sq. ft. + 2.66 acres
Stream Realty Partners and J.P. Morgan Asset Management plan to renovate and expand Trammell Crow Center in Dallas. The first major renovation of the 32-year-old, 50-story postmodern office tower is expected to transform it and an adjacent 2.66-acre site into a mixed-use destination that will serve as a cornerstone for the city's Arts District. Redevelopment of the 1.2 million-square-foot office tower will include enhancements to the lobby, lower exterior and plaza. The mixed-use development will be anchored by more than 26,000 square feet of restaurant-driven retail space and a parking facility that will boost the office tower's parking ratio to 3 spaces per 1,000 square feet. Construction began in March 2017 and is expected to be completed in fall 2018.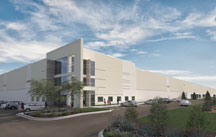 1.2 million sq. ft.
The Opus Group, in a joint venture with AEW Capital Management LP, plans to construct a 1.2 million-square-foot industrial warehouse in Joliet, Illinois. Located in Chicago's Interstate 80 submarket, the development will feature 36-foot clear height ceilings, an ESFR sprinkler system, more than 200 loading docks and parking for up to 450 trailers and 225 cars, with room for expansion. The speculative building, which has been designed to meet the needs of the e-commerce and intermodal logistics industries, will be able to accommodate a single user or two tenants of 500,000 square feet or more. The project is slated for completion in summer 2018.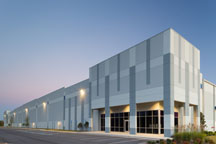 760,000 sq. ft.
Trammell Crow Company and its partner Allstate have begun construction on phase II of King Mill Distribution Park in Atlanta. The 760,000-square-foot warehouse building will feature 36-foot clear height ceilings, ample trailer storage and employee vehicle parking, and a flexible design that can accommodate multiple tenants with two separate entrances. The project is expected to be completed in the third quarter of 2017. TCC and Allstate completed construction of phase I, which consists of 847,000 square feet fully leased to Wayfair, a Boston-based e-commerce retailer, in April 2016.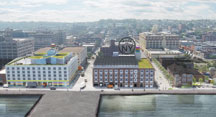 300,000 sq. ft.
New York Mayor Bill de Blasio has announced a $136 million transformation of Brooklyn's industrial waterfront. The Made in NY Campus project, conceived by the New York City Economic Development Corp., will create 300,000 square feet of new garment manufacturing and film/television production spaces at Bush Terminal in Sunset Park. WXY architecture + urban design created the project master plan and is providing conceptual design services. Pedestrian-friendly streetscape improvements and new plaza spaces will provide an enhanced sense of place for tenants and community residents.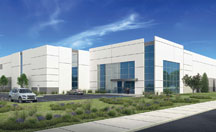 156,000 sq. ft.
Liberty Property Trust has broken ground on its first industrial development project in Southern California, a 156,000-square-foot structure in Redlands. Located at the intersection of Alabama Street and San Bernardino Avenue, the building will offer access to the Interstate 10, 210 and 215 freeways. The facility will include office and finished mezzanine space, and will feature 32-foot clear height ceilings, 54-by-50-foot column spacing, 26 dock doors and one grade-level door as well as a 164-foot truck court and parking for 93 cars. It is expected to be completed by the end of 2017.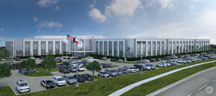 140,000 sq. ft.
Adolfson & Peterson Construction has begun building a new headquarters for WatchGuard Video in Allen, Texas. The two-story, 140,000-square-foot structure will feature office space for approximately 500 employees as well as a first-floor manufacturing facility, where the company's in-car and body cameras will be assembled, and a demonstration room. It will also contain a training center, a high-tech engineering laboratory and a fitness center with an indoor racquetball court. The project, which was designed by GFF and is being managed by Fricks Construction Management, is slated for completion in the first quarter of 2018.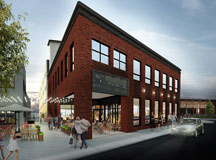 140,000 sq. ft.
Westbridge Partners planned, rezoned and has entered into a joint venture agreement with Federal Capital Partners to develop Stockyards, a 140,000-square-foot adaptive reuse redevelopment of the last remaining historic buildings in the Miller Union Stockyards district of West Midtown Atlanta. The project will consist of roughly 105,000 square feet of office space as well as 10,000 square feet of restaurant space and the 25,000-square-foot Painted Duck, a combination duckpin bowling alley, karaoke lounge and bar. Office tenants include Fitzgerald & CO, Momentum, and Mannington Commercial. Construction began in June 2016; the first tenants are expected to arrive in June 2017 and completion is expected by the end of 2017.