NAIOP celebrates 50 years of advocacy, education and professional excellence.
NAIOP, the Commercial Real Estate Development Association, began in 1967, when nine owners and developers of industrial parks in the eastern U.S. first met on September 12, 1967, near Philadelphia. Their goal was to support the emerging niche of industrial parks by addressing the need for standardized covenants and restrictions, building requirements and beneficial legislation and taxation.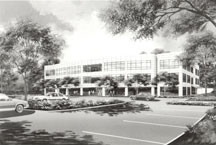 Since its earliest years, NAIOP has attracted members who are committed to creating a top-quality built environment, entrepreneurial in spirit and eager to learn from and share with their colleagues. While the group was initially founded to combat unnecessary regulation, its focus grew to include information sharing and education about best practices in CRE development, operations and investment. It has done this through face-to-face gatherings that include conferences, roundtables, briefings and educational programs, as well as through publications that include Development magazine, research reports, white papers and more. In recent years, these efforts have expanded to include a broad range of online offerings.
As the development process became more specialized, the association expanded its government affairs efforts, research, education offerings and conferences to meet members' increasing needs for information and support. And as more members recognized the always important value of relationship building to their careers in CRE, NAIOP created and has expanded its National Forums program.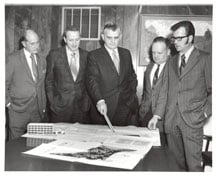 This "three-legged stool" — advocacy, networking and education — is the strong foundation upon which NAIOP was built and with which it has endured the economic cycles of expansion and contraction for the past 50 years.
Today, NAIOP remains a leading commercial real estate industry provider of unparalleled networking opportunities, educational programs, research on trends and innovations and strong legislative representation. Its sister organization, the NAIOP Research Foundation, is dedicated to conducting research that explores and assesses trends and economic impacts.
The Early Years
By 1968, the association's nine original members had grown to 70 when it held its first annual meeting in Fort Washington, Pennsylvania. With the addition of members from California, Minnesota and New Jersey, the fledgling group became a national organization. Its mission quickly broadened to include networking and education, in addition to advocacy. The group began planning to create a research library, a newsletter and other literature to inform its members, the broader development community, public officials and the public about the industrial park in America.
A period of explosive growth in the organization followed, with NAIOP reaching almost 900 members and expanding to form 30 local chapters across the U.S. by 1977. The first Canadian chapter, in Vancouver, British Columbia, formed in 1994, with Greater Toronto following in 1995. They were followed by Calgary and Edmonton, both in Alberta, in 2002 and 2013, respectively. NAIOP's Canadian membership now tops 1,700.
Information Sharing and Best Practices
In the mid-1970s, as an economic recession set in and industrial and office park development activity diminished, NAIOP and its members faced many challenges. In a 1979 Plants, Sites and Parks article, 1978-79 NAIOP Chairman John Lotz voiced members' concerns: "As one tries to look into the future, it becomes increasingly difficult to predict or to plan because of the energy crisis, various economic pressures and the always-present environmental uncertainties."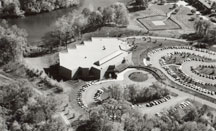 Recognizing the value of increased information sharing in these uncertain times, NAIOP responded by ramping up its offerings, including publications, conferences, roundtables and White House Briefings for members. Educational programs focused on marketing, project design, business management practices and staff compensation, as well as energy policies and national building standards.
Gathering the expertise of its members to help each other develop properties to their highest and best use, NAIOP created the Project Plan Analysis program, which operated from the late 1970s through the 1990s. When a developer requested a Project Plan Analysis, NAIOP assembled a group of seasoned industry veterans to analyze the project's plans and objectives and provide recommendations about how the developer could enhance the project to make it more marketable, lessen risk and increase the bottom line. More than 100 properties benefitted from these teams' professional advice during this boom market period.
Membership, Chapters Expand
NAIOP membership grew steadily over the decades, from 654 in 1976 to 7,500 in 1988. Although many CRE companies went out of business following overbuilding in the late 1980s and the ensuing savings and loan industry collapse in 1989, and NAIOP suffered significant membership decline, losing more than 3,000 members between 1988 and 1993, the association persevered.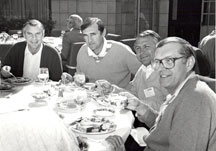 As 1993 Chairman Dana Rowen pointed out in a NAIOP flier, "In 1993, the industry was in a deep and brutal recession. NAIOP helped our members get through this tumultuous period, so that we could rebuild and reshape our businesses, and our members forged lasting friendships that led to new ventures and collaborative projects."
By 2008, membership had grown to 18,000, a number that dropped precipitously during the Great Recession. It took until 2017 for membership numbers to again top 18,000.
The number of NAIOP chapters has also grown since the first chapter, NAIOP New Jersey, was formed in 1970. By 2008, the association boasted 57 chapters. While a number of chapters disbanded during the 1990s economic downturn and the Great Recession, new chapters later formed, most recently NAIOP Edmonton in 2013. The association now has 51 chapters in 30 states and three provinces.
A Safe Harbor
As noted above, NAIOP's membership numbers have suffered during two significant periods of economic contraction. The association responded by focusing on helping members and their businesses get through those tough times. At the end of the 1990s, when the CRE industry was emerging from what many developers had feared might be a decades-long slump, 1999 Chairman Phil Stevenson wrote in NAIOP's annual "Vision" report, "A safe harbor is my vision for what NAIOP is for all of us … a place where individual, competitive entrepreneurs can come together as an industry and draw strength … so that we all thrive in this new marketplace…. A rising tide lifts all boats and that's what networking and sharing does for NAIOP members and our industry."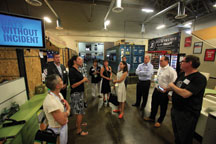 In 2009, at the peak of the Great Recession, NAIOP introduced its "Four-Point Promise," which outlined specific steps that the association was taking to sustain its members' businesses and facilitate returning the industry to good health. It offered complimentary membership to longstanding NAIOP members who had become unemployed. To seek solutions to the credit and capital crisis, the Four-Point Promise committed to public policy solutions that would increase capital sources, create jobs and assist CRE in its recovery. A Commercial Credit and Capital Advisory Board was formed, engaging experts to interpret trends and advise members on strategies for accessing capital.
Time and again, NAIOP has proved to be an important partner in the recovery of many of its members' companies.
Increasing Specialization, Sophistication
As the CRE development process became more specialized and investment and ownership more institutionalized, NAIOP responded to its members' needs for more sophisticated information, outreach and advocacy efforts.
Redoubling its advocacy efforts to protect its members' interests, NAIOP established a political action committee (originally called the American Development Political Action Committee, or ADPAC) in 1989. The PAC, which later became known as NAIOP-PAC, is funded through the personal contributions of NAIOP members who are U.S. citizens. NAIOP-PAC helps support candidates for the U.S. Senate and House of Representatives who understand the economic contributions of the CRE industry and who work to advance policies that are broadly supportive of the legislative goals of NAIOP and its members.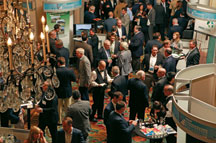 As regional and national companies became more involved in CRE, they required increasingly sophisticated industry and professional knowledge to continue to thrive. To answer this need, in 2000, NAIOP, under the guidance of Ronald Rayevich, established the NAIOP Research Foundation, to support practical research into industry trends and other areas of CRE in order to deliver practical, useful information to practitioners. It was founded by 10 Governors, all of whom made a substantial financial commitment to support the work of the Foundation. As 2001 Chairman Anne Evans Estabrook summed up in that year's "Vision" report, "NAIOP presents solutions to problems before they become emergencies."
By 2017, the Research Foundation fully hit its stride, with 58 NAIOP members serving as Governors and multiple research and forecasting projects underway. Recognizing that CRE is all about the future, the Foundation's research efforts focus on identifying the trends that will impact the industry in the medium to long term.
Members' Activities Expand, Online Outreach Begins
By 1992, when it celebrated its 25th Anniversary, NAIOP had expanded to encompass those involved in developing, operating and investing in a variety of types of commercial real estate, including retail, mixed-use and hotel properties, as well as office and industrial space. As the association reaches its 50th Anniversary, more than 60 percent of NAIOP members report that they are engaged in a product type outside of the association's traditional office and industrial sectors.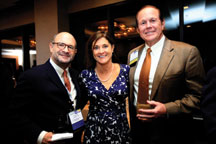 Recognizing the speed and value of communicating digitally, NAIOP launched the association's first website, NAIOP.ORG, in 1996. A major upgrade in 2013 added an advanced content management system to allow the website to deliver personalized content based on a user's location and interests. In 2014, the Development magazine app debuted, followed by the NAIOP member app in 2015. With the development of these convenient mobile apps, members can now access this magazine as well as schedules, speaker bios and other conference content on their smartphones.
NAIOP also maintains an active social media presence on Twitter, Facebook, LinkedIn and YouTube.
Relationship Building Opportunities, Diversity Efforts Grow
Perhaps the most visionary initiative of the 1990s was the 1995 creation of the NAIOP National Forums, a flagship program that provides opportunities for exclusive networking and experience exchange among NAIOP members. As envisioned by Rayevich, who later became NAIOP chairman in 1997, each National Forum is structured to bring together, in an atmosphere of confidentiality and collegiality, a small but diverse group of peers from across North America. Each Forum meets at least twice a year, at NAIOP's fall conference and spring symposium. The program, which began with 100 members in four Forums, has now grown to 669 members in 44 Forums.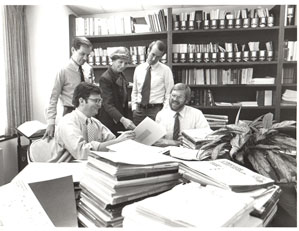 To bring even more new voices into the organization, NAIOP created a Diversity Task Force in 2004. The Developing Leaders (DL) program, an ambitious plan that aimed to attract younger members, aged 35 or less, and improve the diversity of both NAIOP's membership and the entire CRE workforce, grew out of that effort. As a result, by the end of 2016 DLs constituted 22 percent of NAIOP's membership, an impressive increase from only 3 percent in 2006. (The proportion of women members also has grown, to 20 percent of the current membership.)
To actively support this next generation of professionals, NAIOP developed additional opportunities, including annual Developing Leaders Awards, mentoring programs and a Diversity Scholarship that awarded $25,000 in 2016, its inaugural year. In 2007, NAIOP created a Young Professionals Forum, which was renamed the Developing Leaders Forum in 2012. Through initiatives such as this, younger NAIOP members are deepening their involvement and embracing leadership roles in the national association by participating in committees and on the Board of Directors. Two DLs have gone on to become Research Foundation Governors.
As 2014 NAIOP Chairman Jean Kane wrote in the winter 2014 issue of Development magazine, "Our Developing Leaders membership is crucial in propelling NAIOP into the next decade, and it's our responsibility to encourage diverse hiring practices, both within our own firms and throughout membership organizations. Bringing a variety of perspectives to our organization allows us to take new approaches to old issues and problems, preparing us for the future."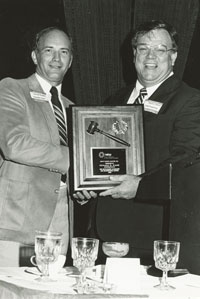 To meet the needs of these young professionals, as well as support established members who were exploring new property types and/or markets, NAIOP rolled out numerous educational initiatives. In 2009 The Center for Education was launched to provide a comprehensive approach to continuing education, with a curriculum based on the core competencies involved in CRE. Members and others can take individual courses or pursue a more rigorous body of knowledge by completing a series of courses leading to a Certificate of Advanced Study in Commercial Real Estate Development or Commercial Real Estate Finance.
Looking Ahead
As NAIOP celebrates its 50th Anniversary with 18,000 members and 51 chapters across North America, the association looks back proudly on surviving and thriving through numerous real estate cycles. Commercial real estate has evolved from local to regional, national and even international in scope; from privately held to institutionally financed. NAIOP has built a foundation of professionalism for its members that has elevated the industry and allowed real estate to become the "fourth asset class." The three-legged stool of advocacy, education and networking opportunities on which NAIOP was founded remains remarkably sturdy and capable of supporting the association and its members well into the future.
Sheila Kelly Vertino, former editor-in-chief of Development magazine and a freelance writer. Thomas J. Bisacquino, president and CEO; Margarita Foster, vice president, knowledge and research; Kathryn Hamilton, vice president, marketing and communications; and Julie D. Stern, managing editor, Development magazine, contributed to this article.
NAIOP National Chairmen Reflect
Brian Hogg, 1980, reflecting on his introduction to NAIOP in 1971: "We got excited about the ability to get together in an organized manner. At that time, there was no formal education in real estate. What we started was an on-the-job training program, teaching each other about real estate development, on a planned, comprehensive basis." Hogg went on to become an early chairman of NAIOP's Education Committee.

Hogg adds that another driving force behind the formation of NAIOP was the need to fight the Interstate Land Sales Full Disclosure Act, which, he notes, was written "to protect consumers from buying residential land in Florida that was underwater; there was no carve-out for commercial real estate." (See "Five Decades of CRE and NAIOP" to read about NAIOP's first legislative victory, an exemption to the act for industrial parks.)
Ronald Rayevich, 1997, a driving force in the creation of NAIOP's National Forums, commenting on his 18-year membership on the Capital Markets Forum: "After I spend six hours with my Forum, I can tell you what every major lender is lending and how they're doing it, and what the nuances are from the previous six months."
Rayevich also spearheaded the formation of the NAIOP Research Foundation, as founding chairman and one of its first Governors, who now number 58. He proudly points to the quality and scope of the Foundation's work: "The research we've done is both practical and highly useful to all of our members."
Referring to the Foundation's Industrial Space Demand Forecast, he asks: "Is there an industrial developer who doesn't have to have that information?"
Anne Evans Estabrook, 2001, recalling how the 9/11 terrorist attacks sent ripples through the association: "None of us had ever been alive when an act of international terrorism had occurred on our own soil. It was absolute chaos and very scary; we didn't know what was going to happen next."
"NAIOP Chapters raised a lot of money and sent it to organizations such as the American Red Cross," Estabrook recalls. She, NAIOP President Tom Bisacquino and the rest of the Executive Committee debated whether to cancel the annual conference, scheduled to be held in Chicago in October, just one month away, and decided to press on. Taking a commercial flight that soon after the attacks was terrifying to Estabrook, but she and her husband Ken braved it.
Estabrook relates how NAIOP members from various regions of the country reacted differently to 9/11: "The people from the Northeast were shell-shocked; other parts of the country were like, 'Let's move on.' We needed their exuberance; they needed to hear from us how solemn things were." Estabrook estimates that "it took five years [for the] industry, especially in the Northeast, to recover."