A comparison of these two North American industrial markets offers some interesting insights.
THE TABLES, right, offer a quick comparison of the U.S. and Canadian industrial markets. Some observations:
1) The U.S. industrial market is nearly 10 times larger than the Canadian industrial market.
2) The largest U.S. industrial market, Los Angeles/Orange County, is almost the same size as the entire Canadian industrial market.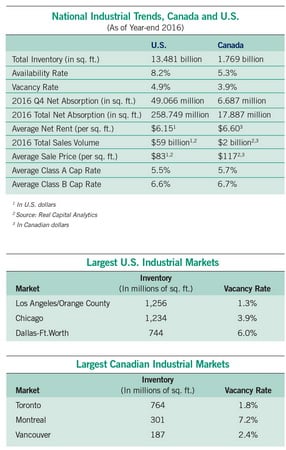 3) The average sales price per square foot is roughly 30 percent higher in Canada, which could reflect the current exchange rate as well as differences in inventory.
4) Cap rates are slightly higher in Canada, reflecting slightly greater perceived risks.
5) Toronto and Vancouver are expected to remain two of North America's most competitive industrial markets through 2017, and will account for the majority of Canada's industrial sales and leasing activity. Activity in the U.S. markets is less concentrated, with both user and investor demand found across the spectrum, from the largest markets — Chicago, the Inland Empire, etc. — and secondary markets such as Phoenix, Indianapolis, and Columbus, Ohio.
6) E-commerce induced expansion of the distribution and logistics industry will drive industrial leasing and investment activity in both nations. The impacts, however, will differ. Canadian retailers are still in the early stages of building out their e-commerce and omnichannel supply chains, while the U.S.
e-commerce market is more mature. In particular, U.S. occupiers are increasingly focusing on perfecting their "last-mile" delivery systems; retailers are increasingly partnering with third-party logistics providers or retrofitting existing assets to include fulfillment centers for online orders. (See "E-commerce 2.0: Last-mile Delivery and the Rise of the Urban Warehouse," Development, spring 2017.)
7) The amount of industrial space under construction in Canada is at a seven-year low of 9.5 million square feet, which will support record low availability rates throughout 2017, especially in gateway markets. Supply in the U.S. is growing, with nearly 200 million square feet under construction in early 2017, which should meet user demand for the first time in over a decade and relieve some of the pressure brought about by record low vacancy rates across the country.
David Egan, Americas head of industrial research, CBRE Global Research