Living wall systems can be simpler to install and maintain than one might expect — and can have meaningful impacts on building owners and occupants.
THE EMERGENCE of biophilic design and living green walls satisfies the human need to connect with nature, offers positive health benefits and provides welcome visual elements. (See "Plantscaping and the Value of Biophilic Design," Development, spring 2017.)
There's no doubt that indoor plants can improve people's health and mood. According to a 2015 study published in the Journal of Physiological Anthropology, "interaction with indoor plants can reduce physiological and psychological stress through suppression of autonomic nervous system activity and diastolic blood pressure and promotion of comfortable, soothed, and natural feelings." Architects have devised various ways of incorporating indoor plants into the design of corporate, commercial, and even industrial work environments, including living green walls.
The value of living green walls can be more difficult to calculate than that of energy efficiency features such as LED replacement bulbs; there are, as yet, no practical tools for measuring these walls' effects on morale, health and well-being. Yet their value can be sensed in meaningful ways. Tenants and building owners who enjoy access to living green walls describe them as giving spaces a clean, vibrant and airy sense that evokes feelings of wellness, connection with nature and a general lightness of being. In urban settings, this response can be a welcoming respite from the hectic urban streetscape. Even in suburban office buildings situated on landscaped campuses, supplementing a user's experience with an interior dose of green can make an otherwise cold lobby or atrium feel inviting, fresh and active.
Living Wall Systems
There are a variety of living wall systems on the market, ranging from simple plastic tray systems with small removable pots to fully integrated solutions with hard-piped plumbing, automatic controls and full-spectrum lighting. Living wall installations also vary widely in size and design, from 2-by-2-foot mini systems meant for small spaces to enormous feature walls that prominently soar multiple stories in height. Accordingly, installation costs can range from approximately $50 per square foot to more than $200 per square foot. Developers and building owners can work with architects to scale a living wall design that maximizes impact while managing installation and operational costs.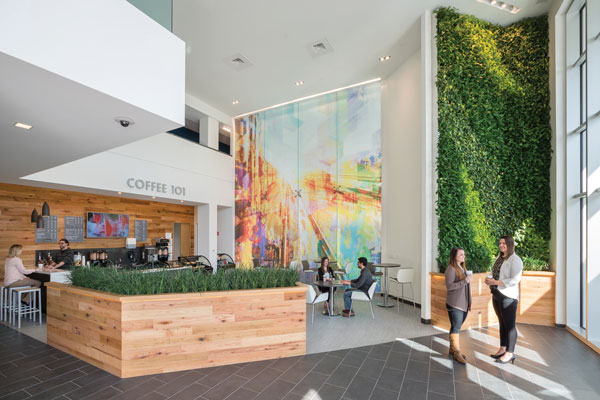 Some of the more versatile living wall systems consist of a simple metal tray or pan upon which multiple separately potted plants sit. This "plug-and-play"-style setup facilitates ongoing maintenance; if one of the plants fails to thrive, it can simply be replaced. Irrigation is typically required but does not need to be expensive or complicated. A few common systems use a manifold of plastic drip-irrigation tubing running in a grid that connects upstream to a single building plumbing connection. Water is supplied from the top shelf down to the bottom-most tray, which serves as a collector. If a plumbing connection is not available, a living wall can be watered using a portable water cart.
Lighting on and around a living green wall will affect both plant health and aesthetics. Factors such as building location and orientation, living wall placement and window glazing type, along with solar calculations, will help determine whether supplemental full-spectrum lighting is necessary. With appropriate natural light, lighting fixtures on a living wall may be reduced or eliminated altogether, resulting in substantial savings.
Several Examples
When National Development renovated an outdated office building at 101 Station Drive in Westwood, Massachusetts, designers repositioned the front entrance and added a new dynamic glass curtain wall. The brighter, double-height lobby was the ideal setting for a pair of two-story living green walls that anchor two sides of the lobby. Ample natural daylight eliminated the need for specialized grow lights.
A smaller installation at 275 Wyman Street in Waltham, Massachusetts, offered another opportunity to bring the outdoors in. There, a green living wall in the dining facility enhances the building's amenities while providing a fresh focal point.
Living green walls are becoming increasingly popular as an appealing and healthful design element. With careful planning, biophilic design can be easily and affordably implemented in any building environment.
Alvaro J. Ribeiro, AIA, senior architect, Margulies Perruzzi Architects