Interior plantings can make a big impact on LEED and/or WELL certification — and on building occupants' comfort and productivity.
IN AN INDUSTRY that's steadily becoming more conscious of its environmental impact and the value of sustainable design, developers, property managers and owners are increasingly seeing the value in building to LEED standards, even when they don't pursue LEED certification. In recent years, the WELL Building Standard has also emerged, with particular attention to the built environment's impact on the people who occupy buildings as well as the ecological footprint of the building itself.
Planting to Meet Green Standards
When making improvements to existing buildings or kicking off a new project designed to LEED standards or with the goal of LEED and/or WELL certification, it's important to consider the role that "plantscaping" — interior as well as exterior landscaping — can play in meeting these standards. One should also consider the impact plants can have on boosting property values and improving the experience of the tenants who reside or work in commercial properties.
LEED specifies areas where interior plants — living green walls, in particular — can contribute to a building's scorecard, generating as many as 30 points toward certification. Interior plants can have an even greater impact on WELL Building certification, by improving the experience of a building's occupants. The concept of biophilia, which focuses on the innate connection between humans and nature and its impact on happiness and well-being, plays an important role in WELL's "Mind" category, one of the seven key concepts of the WELL Building Standard.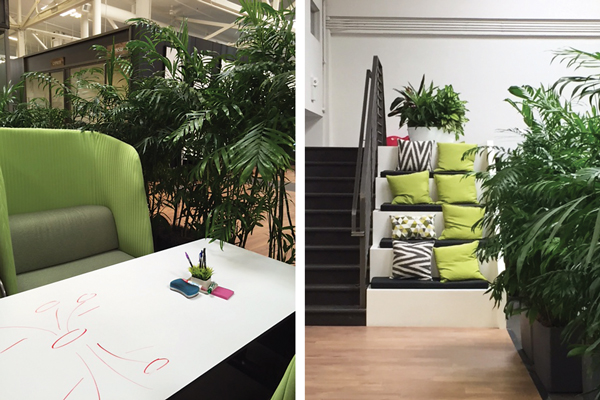 Many people spend more than 90 percent of their time indoors, where they are typically separated from the natural environment. Implementing indoor plant features is an important step toward providing access to elements of the natural world. This can be done in several different ways.
Strategically placed potted plants of varying heights can mimic the look and feel of a natural setting, providing a connection to the outdoors that's missing in more sterile interiors. To contribute to a project's WELL score, such plants must cover at least 1 percent of the floor area on each floor of the building. Living green walls are also a great way to meet the requirements of this standard as the space permits. A living wall must cover the equivalent of 2 percent of the floor area or occupy the largest available wall to contribute to the building's WELL score.
Measurable Results
Incorporating plants in a building's design can both increase the building's property value and enable it to command premium rents. In general, interior and exterior plantscaping can increase property values by as much as 5 percent, according to researchers Robert Laverne and Kimberly Winson-Geideman ("The Influence of Trees and Landscaping on Rental Rates at Office Buildings," Journal of Arboriculture, September 2003).
Direct access to nature has been shown to alleviate stress and reduce absenteeism. Studies performed by Ihab Elzeyadi in an administrative office building at the University of Oregon ("Daylighting Bias and Biophilia: Quantifying the Impacts of Daylight on Occupants' Health," in "Thought and Leadership in Green Buildings Research, Greenbuild 2011 Proceedings," USGBC Press) demonstrated that views improved by biophilic design resulted in an average of 11 fewer hours of sick time per year for each employee working in these spaces. Exposure to complex natural scenes can lower pulse rate by 15 percent, lower stress hormones by 6 percent and lower blood pressure.
Recent developments in living green walls connect these features directly to a building's HVAC system, providing a natural biofilter for the air circulated throughout the interior space. A number of companies are working on ways to make retrofitting green walls into an existing space easier and more efficient. These green walls also increase the building's energy efficiency, because they're very effective as insulators, keeping spaces warmer in winter months and cooler during the summer. Potted plants can also play an important role in regulating interior temperatures by adding shade when placed near large windows. In large numbers, potted plants can reduce humidity and draw excess heat from the environment. This is especially true for larger plants that can be installed in large spaces such as a lobby or atrium.
The impact of plants on building interiors is growing in importance as the industry learns more about the benefits of plantscaping. Beyond LEED and WELL certification, plants contribute to the quality and value of a building in measurable ways, and the industry's increased focus on the impacts of biophilic design is generating creative new ways to incorporate plants in commercial real estate projects.
Kenneth Freeman, head of innovation for Ambius, a division of Rentokil Initial PLC