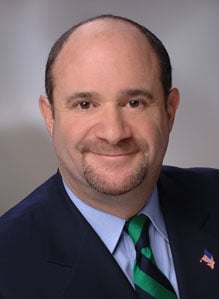 AS I START MY NEW role as chairman, I reflect on how much the industry has changed since I joined NAIOP back in the 1980s, and how critical my NAIOP membership has been to my professional growth and understanding of this dynamic business. As chairman, I intend to share my story of what NAIOP means to me and how members can take advantage of the numerous professional resources, leadership opportunities at the local and corporate level, legislative activities and valuable connections that membership offers. I am particularly passionate about the role our association plays in advocating for our industry on major legislative issues, including Internal Revenue Code Section 1031 like-kind exchanges. Development magazine asked me to share a little about my story. I hope to be able to share it with many of you in person.
What do you find most engaging about the CRE industry?
We are blessed to be in an industry that allows us the opportunity to shape the landscape of our communities. There is no shortage of creative opportunities to dream, design and build. Our industry is a microcosm of the economy, with financial systems and functions, plus marketing, planning, architecture, engineering, construction, transportation, technology and so forth. You can have just about any job you can dream of within the real estate industry.
You are a longtime National Forums member. What has this group done for your career and business?
When I first joined the Forums program well over a decade ago, I was very impressed with the level of professional achievement of my fellow members. I did my largest development deal in a joint venture with a fellow Forum member's private equity fund. That development helped propel me to a level that would have taken me years to reach on my own. The entire six-year experience was like getting a Ph.D. in industrial real estate development.
What's the impact of tax reform on CRE?
We need to be judicious in our strategy and prevent the government from making systemic changes that might create unintended consequences. NAIOP has a great government affairs team in Washington, D.C., led by Aquiles Suarez, and with the impetus and direction of NAIOP's President and CEO Thomas J. Bisacquino, I have no doubt we and our industry will be, as Tom has often said, at the table — rather than on the menu.
What innovations do you think will have the biggest impact on the industry in the next three to five years?
Technology in general is still in its infancy within CRE. There is untold potential for further advancements that may have significant impact on the industry. Everything from fundraising to acquisitions and dispositions could look dramatically different with innovations in technology. This could lead to significant benefits for many of our constituents.
How can millennials become more integrated into NAIOP and our industry?
We "seniors" in the industry have an obligation and opportunity to help train, mentor and guide the next generation of leaders so that we can continue to help our local communities and country move toward a brighter future.

Jonathan Tratt, principal, Tratt Properties, LLC
2017 NAIOP Chairman
All About Jonathan
Industry experience
I've been in the CRE industry for 35-plus years, starting in property management for an overseas investment company. I managed an office/industrial complex in suburban Cincinnati for the company while I was an undergraduate at the University of Dayton. Then I started my brokerage career in Phoenix in 1986, specializing in industrial property. In the late '90s, I transitioned from brokerage into development.
Family
I married later in life, as I was a late bloomer and found my life partner at age 46. Irit and I are blessed with three wonderful children: Maya (10), Rachel (8) and Ari (3), who all attend a private Yeshiva day school.
Last book read?
"Smart Money Smart Kids" by Dave Ramsey and his daughter, Rachel Cruze.
Favorite out-of-the-office activity?
Hiking in the Phoenix Mountains Preserve, which I can walk to from my house.