Logistics and transportation issues are top of mind in the commercial real estate industry — and around the world.
Supply chain problems have become pervasive in the wake of the COVID-19 pandemic. A vast, complex web of interconnected factors is fueling shortages of nearly every imaginable product, and the problems won't be going away anytime soon. (See box)
For example, the Adobe Digital Economy Index noted that U.S. consumers received more than 2 billion out-of-stock messages while shopping online in October, a 250% increase from January 2020.
Why Did Supply Chains Lock Up?
The COVID-19 pandemic is the driving force behind the current supply chain problems. According to an October 2021 analysis by the Cato Institute, the pandemic "has scrambled the typically predictable global supply-and-demand patterns on which complex production and logistics networks have long been based."
Here's what happened: The reopening of the U.S. economy this past summer led to skyrocketing demand for consumer goods. However, the major exporting countries in Asia couldn't meet demand. At the same time, those Asian countries weren't purchasing as many goods from the U.S., such as agricultural products. Because of that, there was "a major imbalance in the usual shipping container flows to and from the U.S.," according to the analysis.
Additionally, there has been a "serious mismatch" between total available shipping capacity and abnormally high global demand. "Shipping capacity just can't keep up: Logistics firm Flexport estimates, for example, that global demand for ocean cargo space is 20 to 30 percentage points higher than available capacity, even though ocean carriers have deployed every ship they have," the report notes.
Those supply-and-demand imbalances then began impacting the logistics infrastructure in the U.S., "creating bottlenecks that have exacerbated the original problem," according to the report.
"Shipping containers, for example, have been stacked up at port, thus preventing additional boxes from being quickly unloaded," the report notes. "This is because there is insufficient truck and freight rail service available to pick them all up. Those backlogs, in turn, are reportedly due to a shortage of intermodal chassis — what shipping containers sit on when trucks move them across the country — and warehouse space. Without a nearby place to put their orders, U.S. importers have left their containers at the ports, using them as de facto warehouses."
The highest levels of the U.S. government are paying close attention to the issue, which is contributing to rising inflation and could be a threat to the ongoing economic recovery. In June, the Biden administration announced a task force to address supply chain issues.
And while there were inklings of relief in late fall (according to the Wall Street Journal, manufacturing ramped up in Asia and ocean freight rates were down substantially from their highs in September), a full solution won't be coming anytime soon. In late October, Federal Reserve Chair Jerome Powell, speaking at a Bank for International Settlements-South African Reserve Bank conference, said that supply chain problems are "likely to last longer than previously expected, likely well into next year," according to a report from the New York Times. That echoes what experts in the logistics industry are saying. For example, Jackson Meyer, CEO of Australian freight forwarding firm Verus Global, told the country's 9News in October that shipping delays could last into 2023.
"There's a massive backlog already and there's a huge demand continuing to rise," Meyer said.
That backlog has been visible for months off the coast of Southern California. This summer and fall, dozens of cargo ships were anchored off the ports of Los Angeles and Long Beach because there was no space to store their containers in the ports, and trucks and trains couldn't move unloaded goods inland fast enough. Together, Los Angeles and Long Beach handle about 40% of the ship-bound cargo that comes to the U.S. each year.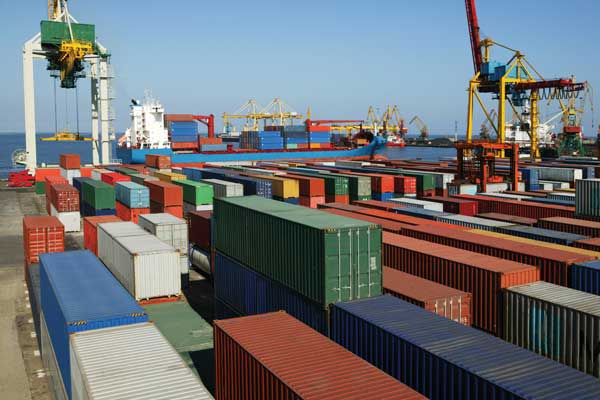 Some relief arrived in October, when the Biden administration reached an agreement with the International Longshore and Warehouse Union (ILWU), which represents dock workers in ports along the West Coast, to begin working 24 hours a day, seven days a week at the port of Los Angeles to clear the backlog of ships, some of which had been waiting up to three weeks to unload their cargo. (The port of Long Beach began round-the-clock work shifts a few weeks before that.) But labor issues could linger: the contract for the ILWU is up for renewal next year, and negotiations could be difficult. According to a July 2021 article by NFI Industries, the union is likely to oppose efforts to increase automation.
Meanwhile, shipping costs have skyrocketed. Before the pandemic, the price to transport a container from China to Long Beach was about $1,500. As of late September, some quotes were as high as $25,000.
"It's kind of hard to change plans when you're in the middle of it," Will McIntosh, global head of research with USAA Real Estate, said during a panel at CRE.Converge in Miami Beach in September.
McIntosh said the backlog of cargo ships is just the first obstacle in an interconnected chain of transportation and logistics stumbling blocks.
"I think about what happens when you bring those goods off the ship," he said. "Now you've got to bring them east, and that has its own set of problems. For example, there's a shortage of truck drivers. They carry more than 70% of all goods transported in the United States."
According to the Next Generation in Trucking Association, as of 2021, the industry is short 68,000 drivers, and 25% of current drivers could be retiring soon.
McIntosh added that in addition to trucking problems, the rail system is getting overwhelmed, too. In October, the Association of American Railroads reported that in the first half of 2021, railroads handled the highest volume of intermodal traffic ever moved.
Michael Landsburg, chief development officer with NFI Real Estate, noted that while costs have gone up about 30% year over year in the red-hot industrial real estate market, the costs for other factors in logistics like transportation are going up just as fast or faster.
"Are you sending them by truck? All the costs have gone up and the availability has gone down," he said during CRE.Converge. "Total transportation makes up about 50% of costs. That affects where distribution centers go. It may be a smaller percentage, but it matters. The challenge is planning. Right now, it's hard to look out six months to a year."
A Focus on Reshoring
A May 2020 survey of logistics executives by McKinsey and Company found that 93% of them are planning to increase resilience in their supply chains. Nearshoring and reshoring could play major roles in those efforts.
Beyond the current supply chain woes, rising labor costs in China is another factor that could lead to greater reshoring or nearshoring of manufacturing. According to a 2019 report from IVEMSA, a Mexican manufacturing back-office services provider and shelter company, labor costs in Mexico are about $4 per hour compared to roughly $4.95 in China, and there are far fewer transportation issues due to the 1,954-mile-long border with the U.S.
"You're going to see more companies looking for suppliers who are closer to the consumer," McIntosh said. "Approximately 80% of the ingredients that go into our pharmaceuticals come from Asia, as do 60% of our semiconductors. The current way of operating is not sustainable."
To illustrate his point, McIntosh shared an anecdote about a Utah-based company that manufactures hot tubs. The company gets parts from seven countries and 14 states. The firm estimates that there are 887,776 miles of travel to assemble a hot tub in Utah. In recent months, supply chain issues got so bad that the company had to charter flights to pick up parts.
"It went from taking a few weeks to make a hot tub to six months," he said.
Air transport is one option that some companies are using to reduce bottlenecks. However, only certain types of freight qualify, fewer passenger planes are available to accept shipments, and air cargo is also facing the same labor issues as every other sector of the logistics industry.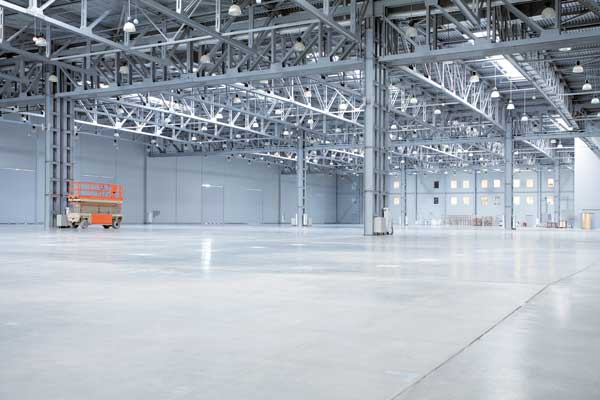 According to Joe Dunlap, managing director of supply chain advisory for CBRE, many firms are trying to pursue a supply chain policy that's been labeled "China plus one."
"If you were a company that had consolidated its sourcing to one country, you're in trouble," he said. "So, you should have suppliers in other countries. Generally, it would be China plus another Asian country, but it could be anywhere."
Inland ports are also pitching in to relieve the pressure on supply chains. In late October, the port of Long Beach, the Utah Inland Port Authority and Union Pacific Railroad announced an initiative to boost the capacity of rail deliveries between California and Utah.
"The direct, regularly scheduled rail service connecting the Port of Long Beach to Salt Lake City will allow cargo destined for all of the Intermountain West to be rapidly evacuated from terminals in Long Beach to Salt Lake City for further distribution throughout the region," said Mario Cordero of the Port of Long Beach and Jack Hedge of the Utah Inland Port Authority in a joint statement. "Much of this cargo traditionally moves to Utah, Colorado, Nevada and Idaho by truck, and thus must be removed from the port terminals one container at a time. Re-engaging this direct rail service will allow removal of blocks of containers at a time."
According to Union Pacific, millions of shipping containers move through the Intermountain West each year, but only 10% are carried by trains.
Just in Case vs. Just in Time
Many companies are also scaling back on the longstanding practice of "just in time" inventory management, in which goods are shipped only when they're needed. Instead, they're starting to focus on "just in case" inventory management, in which a surplus of products is kept in storage to ensure that an adequate supply is always available. McIntosh said many companies are already doing that, which will have a major impact on future industrial space demand.
"Walmart's inventory up is 20%," he said. "Target's is up 26%. And Home Depot's is up 40%."
That shift could be good news for the industrial sector, which was performing well even before the pandemic. JLL predicts that by 2025, there could be demand for more than 1 billion square feet of industrial real estate in the U.S. JLL researchers also note that as of the second quarter of 2021, there was more than 400 million square feet of industrial space under construction in the U.S.
"The future demand for logistics warehouse space is off the charts," McIntosh said. "You see the forecasts for e-commerce and then the inventory that's picking up because they don't want to get hung up in a just-in-time systems. You add that in, and the demand is staggering."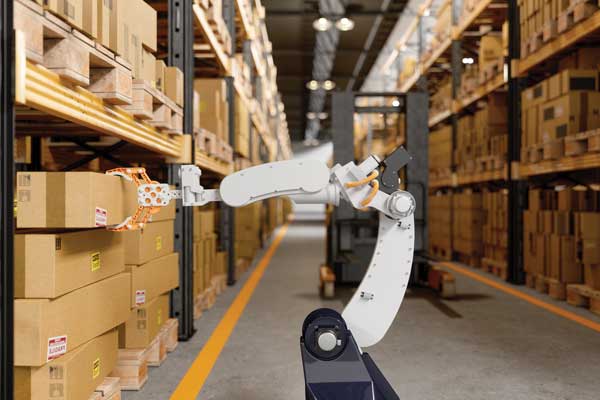 According to CBRE research, the national vacancy rate for warehouse space is hovering around 3.5%. John Morris, executive managing director and industrial and logistics leader for the Americas with CBRE, told ABC News in November that level is "effectively zero."
"For the year, we have an effective shortage of space of about 300 million square feet," he said.
However, land and labor are major issues when it comes to building more industrial space, as is securing the timely delivery of construction supplies that are among the countless products stuck in the clogged global supply chain.
"We've done over 100 Amazon deals, but the problem is getting the construction materials," McIntosh said. "We've got the site, we're ready to start building and you get your materials ordered, and then they come back and say 'OK, prices have gone up. Here's your new price.' That's after you've already approved your budget. And then we have to go back to the investment committee and re-approve the new price. And then they say 'I've got more bad news: We told you we could get this for you in a few weeks. It's six months now.' So your construction's delayed and your delivery timing is delayed."
According to McIntosh, labor issues are a big factor for Amazon, which controls about 40% to 50% of the e-commerce market in the U.S.
"Right now, one of the first questions they'll ask if you've got a site for them is about the labor market," he said. "A tough part is getting the people they need to work."
That's where automation could fill gaps. Landsburg said NFI Real Estate is working on flexible automation that can move from facility to facility depending on need. And further down the road, technological advances could really take off, he said.
"Imagine driverless tractor trailers being operated by remote drivers," he said. "In the future, this kind of job could appeal to technologically inclined younger workers."
Trey Barrineau is the managing editor of publications for NAIOP.
Where to Build Warehouses?
According to Julie Whelan, head of occupier research for the Americas at CBRE, technological advances could help with site selection for industrial properties as the sector continues its strong growth and the logistics industry seeks more space for warehouses to meet unprecedented demand.
"The industrial sector may want to consider other areas where technology could make up for the lack of available labor," she said during NAIOP's Research Directors Meeting at CRE.Converge. "Technology is getting easier to implement. Industrial sites could be a possibility in economically depressed towns where there is a supply of available land."
Matt Dolly, research director with Transwestern, noted that areas with great highway corridors are the next high-growth markets.
"In some markets like New Jersey and L.A., there's not much land to build on, so they go out to the Inland Empire or the Lehigh Valley in Pennsylvania," he said. "You still have to drive a little bit further, so they might get lower rents because of that move."
Dolly said growth in the Lehigh Valley, which is about a two-hour drive from the ports of New York and New Jersey, has been especially impressive.
"Transwestern has what it calls our Elite 11 industrial markets, and in terms of inventory, construction, deliveries and net absorption, the Lehigh Valley is near the top of those 11 markets, which include Southern California, Northern New Jersey and Atlanta," he said. "Right now, the rents are favorable, and there are lots of government incentives, too. And Central Pennsylvania is starting to become an extension of the Lehigh Valley."
Despite all the intense interest in the industrial sector, Dolly said he doesn't see a bubble developing.
"With the transportation costs being so much higher, they can increase the rents because it costs them more to deliver the goods than it does for the actual rent," he said.
However, Dolly said he'll continue to pay close attention to what's going on in this critical field.
"I used to read Sports Illustrated," he said. "Now I read Inbound Logistics."
---
Relevant Research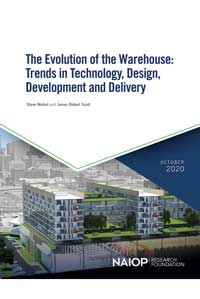 In October 2020, the NAIOP Research Foundation published a report titled "The Evolution of the Warehouse: Trends in Technology, Design, Development and Delivery," by Steve Weikal and James Robert Scott, researchers at the MIT Real Estate Innovation Lab. Weikal and Scott reviewed recent publications on emerging logistics and building technologies and interviewed industry practitioners to evaluate how these technologies will influence the future of logistics real estate. Continued advances in automation, data analytics and artificial intelligence promise to make industrial assets more productive and profitable, create new opportunities in building design, and blur traditional boundaries between property types.
To download the report, visit naiop.org/Research-and-Publications