An aging population and longer life expectancies are boosting demand for facilities.
Senior housing is one of the most appealing sectors for real estate investment, and the industry is expected to only become stronger over the next 10 years. Developing high-quality, desirable senior living communities is not just about bricks and mortar or investment returns; it's about creating spaces where people feel safe, supported, connected and cared for. It also includes selecting strategic locations that enable seniors to engage in the surrounding community and experience amenities outside their walls.
The demand for senior living communities will continue to grow through this decade and then accelerate rapidly over the next 20 years due to the aging of the population. In addition, life expectancies have been increasing, acuity levels have been rising, and the wellness and health care needs of seniors will have to be satisfied outside of traditional health care settings — with senior living expected to play an increasingly vital role.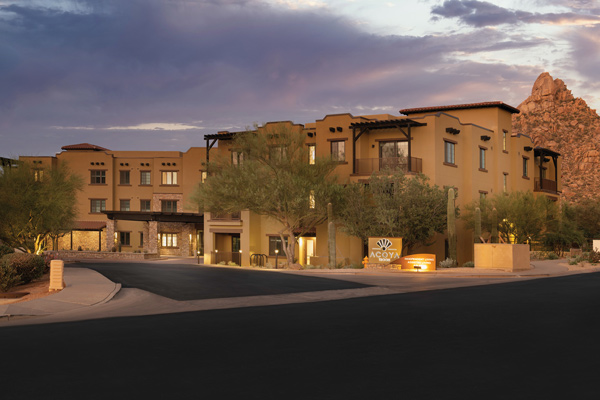 According to the National Council of Real Estate Investment Fiduciaries (NCREIF), the senior living industry is fragmented, with more than 50% of the market space controlled by small owner/operators that own less than 10 communities. About 60% of the existing inventory is 17-plus years old and not designed to meet customers' needs. The financial performance of senior living has shown greater resilience in recent economic cycles compared to almost all other real estate sectors. Data for the senior living sector's annual returns through 2019 exceeded all other real estate sectors' returns on a one-, three-, five- and 10-year basis.
The combination of a growing population and lack of inventory presents opportunities for well-capitalized developers to deliver new properties and to fund needed capital improvements. This is also an ideal time for land brokers to source parcels for development and investment companies. The following summarizes what the current data is saying about senior living, why the sector is thriving and a general summary of how development within this industry works.
Baby Boomers and Increasing Life Expectancy
The U.S. population is aging. The massive baby boomer generation, born just after World War II, started turning 65 in 2011. In 2030, this age cohort will all be over 65 — and in 2040, the youngest of the generation will be over 75. This generation is sometimes referred to as a "wave" because it makes up a large percentage of the population and is expected to require a larger share of health support and housing services.
Life expectancy in the U.S. is also on the rise, calling for an increased investment in infrastructure to support a longer living population. According to the Centers for Disease Control and Prevention, the average life expectancy in the U.S. was 76.9 in 2000. By 2060, it will increase to 85.6 due to medical innovations, prevention programs, and support and medication for chronic illnesses.
As the population continues to age, by 2034, the 65-plus population will outnumber children for the first time in U.S. history. By 2060, nearly one in every four people in the U.S. will be 65 years old or older.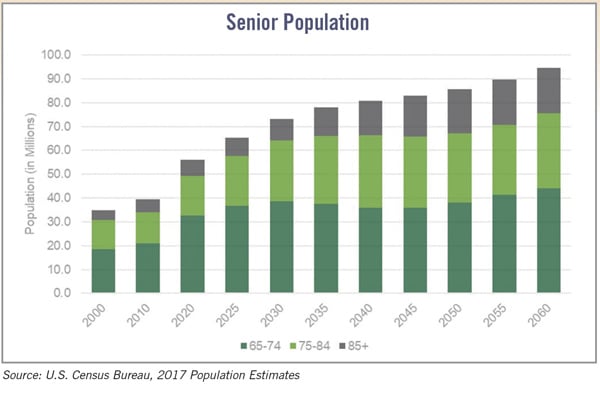 As the silent and greatest generations, along with the larger baby boomer generation, live longer, the 65-plus population is expected to increase by 68.9% from 2020 to 2060. During the same period, the 75-plus population will increase by 117.2%, and the 85-plus population by 183.8%. Between 2020 and 2035, the 75 and older age group is expected to see the highest growth rate — an increase of 76%.
Care Types and Community Types
Senior housing generally services those over 75 years and is typically divided into four categories: independent living, assisted living, memory care and nursing care. Out of the four types of services, nursing care is the most traditional and institutional, whereas the other levels of care are more like hospitality and multifamily atmospheres.
The type of community is classified by the units of care offered. For example:
Continuing Care Retirement Communities (CCRCs) can offer everything from independent living to nursing care and everything in between. Not all CCRCs provide nursing care.
Combined campuses provide two different types of care. This does not include a community with both nursing care and independent living because that would be classified as a CCRC.
Freestanding campuses offer only one type of care such as independent living.
The Complexity of Senior Living
Senior living incorporates hospitality, multifamily and health care all in one. Hospitality services include transportation, housekeeping, entertainment, dining options and other amenities. The multifamily component is focused on a homelike setting and providing care services such as assistance with bathing, eating and other activities. Lastly, the health care portion includes skilled nursing, rehabilitation therapy and chronic care.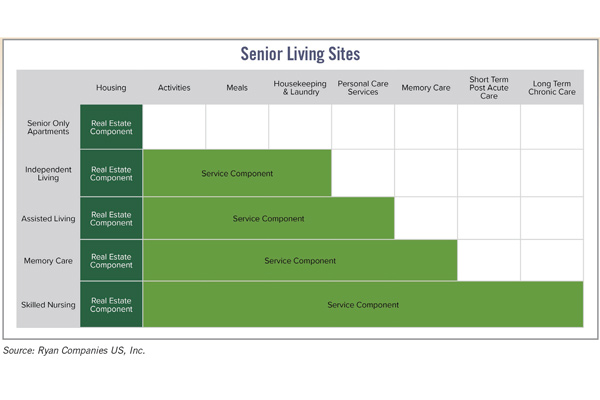 Having a community with multiple care types available requires an in-depth licensing process. In some states, it can take a building a few months to open after construction has turned the keys over. Overcoming licensing challenges, code requirements and the demands of the end-user can be done by viewing senior living developments through a holistic lens and hiring teams with specific senior living experience.
Additionally, it is important to note that the operations and the operator are a primary key to success in senior living. Senior living is an operational business; the value of the buildings is tied to the operational income.
The industry has grown through various development and operating models. Many commercial real estate companies with significant multifamily experience have created teams focused on senior living. They are capitalizing on their housing skills but hiring the talent that understands the nuances of senior living related to development.
Finding the Perfect Site
Site selection can play a key role in the success of a project and the well-being of the residents. Senior housing is a data-driven business, and it is imperative to choose a location where age- and income-qualified households are prevalent. Brokers and developers must do research to income-qualify an area, review the competition and evaluate population trends.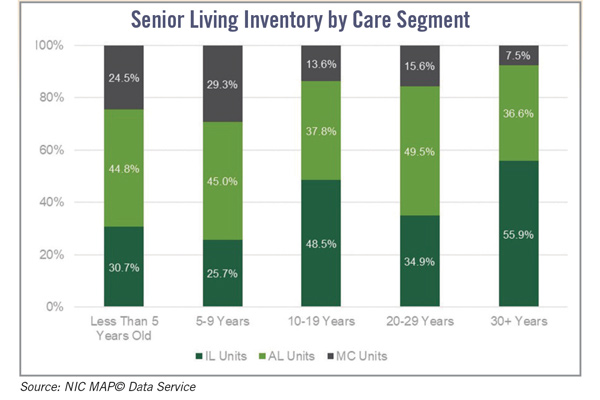 With site selection, there is also an opportunity to place these buildings near accessible amenities such as grocery stores, restaurants and surrounding neighborhoods. Sometimes this means within a suburban area close to local businesses, while other projects are built within an urban environment.
For example, Ryan Companies US, Inc., recently began construction on Clarendale Six Corners, a 10-story senior living community located on a prominent corner in downtown Chicago. It is surrounded by dynamic public spaces and an outdoor sky terrace on the fourth floor, as well as 18,000 square feet of street-level retail space. Not only is this an ideal location for seniors to thrive, but the market research also pointed to a project that will positively impact the local economy.
According to Ryan, on average, a Ryan-developed community creates approximately 100 permanent jobs and generates approximately $6.1 million in construction job wages. Ryan senior living communities also pay an average of nearly $600,000 in property taxes per year.
Aging Existing Inventory
According to the NIC MAP® Data Service, most senior living communities are 20-plus years old (58%), while only 14.5% are less than five years old. Many older senior living communities were built without the ability to update technology, health, safety or mobility infrastructure, along with smaller units and less of an emphasis on community spaces. New communities are integrating a more hospitality-centered design to facilitate ease of living and social connections, as well as a sense of community among residents.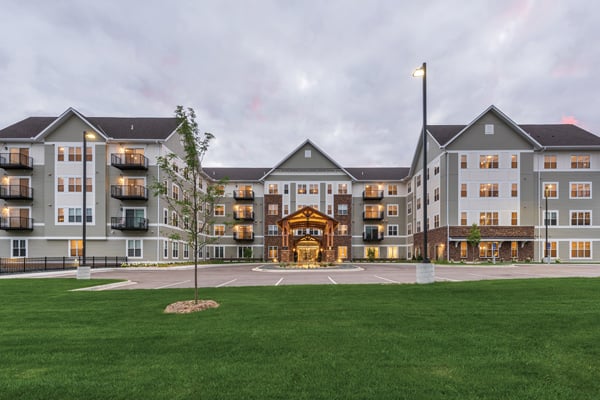 Older inventory of 30-plus years is dominated by independent living (IL) units, while assisted living (AL) and memory care (MC) make up the majority of those built in the past 10 years. According to the NIC MAP® Data Service, the past five years of construction have been more evenly split among care segment types, with newer construction consisting of 30.7% IL units, 44.8% AL units and 24.5% MC units. As life expectancy continues to increase, the need for AL and MC units has become apparent, and the new inventory reflects this trend. Market research shows that IL construction has also increased during the past five years, as many new communities offer a continuum of care with IL, AL and MC under one roof.
Favorable Investment Returns
According to the NCREIF National Property Index (NPI), senior housing has outperformed the annual returns of most other property types the past 10 years. This data is from the fourth quarter of 2019 and does not include any impact from the COVID-19 pandemic. This dataset, based on a pool of more than 8,200 investment properties, illustrates the long-term stability of senior housing, which has achieved a 12.1% annualized return since 2009.
The inclusion of 2020 data into the NPI index shows a decline in one-year return rates for senior housing (1% vs. overall NPI of 2.1%). However, the long-term returns show an escalation to 10.1% for a 10-year annualized return, in contrast to a 7% overall NPI and 6.7% for traditional multifamily.
Growing Buyer Rates
The buyer profile for the senior living asset class has continued to expand as an understanding of the property type has increased. Over the past five years, buyers have represented a mix of institutional investors, REITs and private equity investors.
Real Capital Analytics reported that transaction volume in 2020 was greatly impacted by the COVID-19 pandemic, falling 49% from the previous year.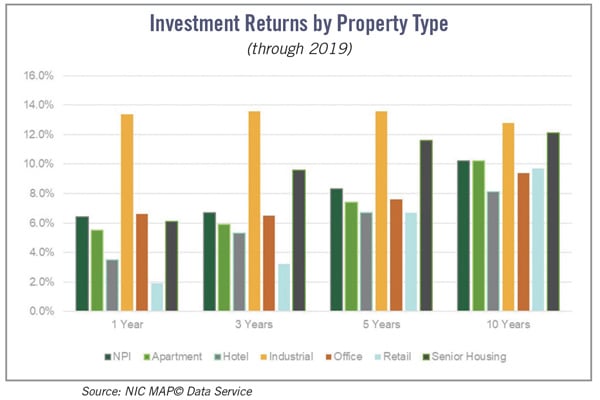 According to CBRE and Real Capital Analytics, in 2020, international buyers made up 2.3% of sales, while institutional buyers (banks, retirement and hedge funds, insurance companies) fell to 20.7%. REITs dropped to 15.8% in 2020. Most sales (60.6%) were completed by private investors, including Merrill Gardens and AEW Capital Management with the acquisition of 10 properties and the sale of 10 properties by Healthpeak Properties to Aegis Living and Blue Moon Capital Partners.
Recession-Resilient Asset Class
Senior living has weathered several global crises better than many other asset classes. According to CoStar, rent growth dipped to 1.8% in 2010 in the aftermath of the global financial crisis, while many other asset classes saw negative growth in 2009 and 2010. From 2011 through 2019, rent growth for senior living fluctuated between 2.0% and a high of 3.9% in 2016. After year-over-year rent growth of 3.5% in 2019, rent growth again dropped to 1.8% as COVID-19 had an impact on all asset classes. All other asset classes, barring industrial, saw negative or no rent growth during 2020.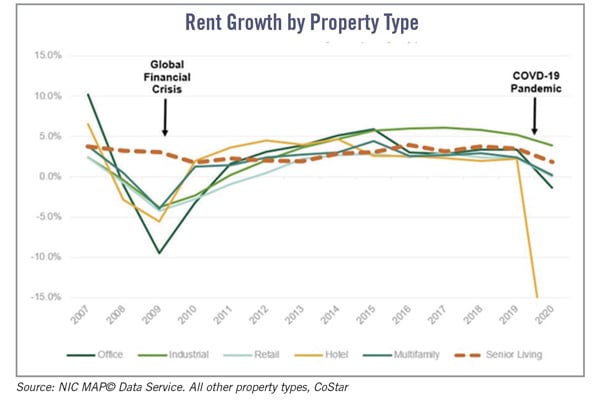 From 2013 through the end of 2019, stabilizing senior living communities were on average 90.6% occupied while absorbing a total of 88,600 units over a seven-year period, according to the NIC MAP® Data Service. At the end of 2020, stabilized occupancy fell to 82.9%, as the pandemic reduced — and in some cases halted — move-ins to senior living communities. Absorption was negative for the first time as move-ins to existing communities slowed and new units were still being delivered to the market. The NIC MAP® Data Service shows that move-ins have started to increase during the second quarter of 2021. The rising number of move-ins follow the increase in the number of vaccinated residents and employees at communities. The CDC has reported that the average vaccination rate among residents in senior living communities is well over 70%.
Consumer Sentiment in a Post-COVID World
The senior living sector was challenged during the COVID-19 pandemic with decreasing occupancy, negative press and increased expenses. Operationally, the senior housing market was prepared for the pandemic; the industry has infectious-disease protocols in place to manage seasonal flu outbreaks and other viruses. However, because of COVID-19, the existing protocols were used and then modified with CDC guidelines to keep the residents and employees safe. Most communities went into lockdown mode, allowing only essential team members in the building and implementing quarantine protocols for new residents and any resident having left the building.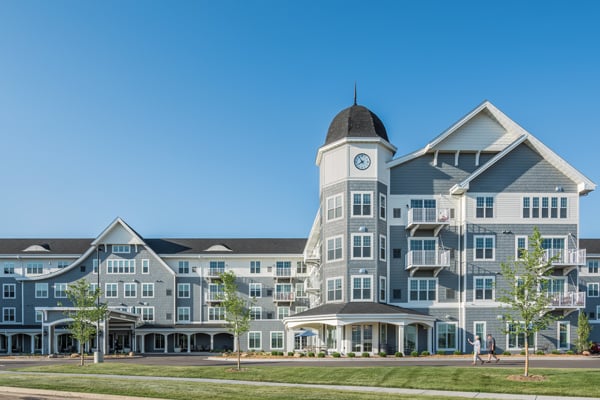 During the pandemic, the needs-based care residents continued to move in at a steadier pace in comparison to independent living seniors that do not need as much care. Many families discovered they could not take care of their elderly family members and their children while everyone was home at the same time during the pandemic.
New developments continue to attract interest from equity investors and lenders because projects started today will take 18-24 months to build before they open, allowing enough time for the impacts of COVID-19 to be dealt with.
According to a survey conducted by ProMatura Group, an Oxford, Mississippi-based senior living market research firm, prospective residents and their families continue to desire to use senior living services in the future. Many in the industry or those with elderly loved ones have the same goal in mind, which is to offer spaces for seniors to thrive. Developers, operators, equity groups, lenders and senior living industry organizations all believe that senior living is experiencing a near-term bump in the road, and the long-term outlook for the sector remains positive. Despite a challenging 2020 and even a slow start to 2021, deals are being made, and construction in the senior housing market is regaining momentum.
Julie Ferguson is senior vice president for senior living at Ryan Companies US, Inc. Talamore in St. Cloud, Minnesota, provides independent care, assisted living and memory care.