Visionaries Program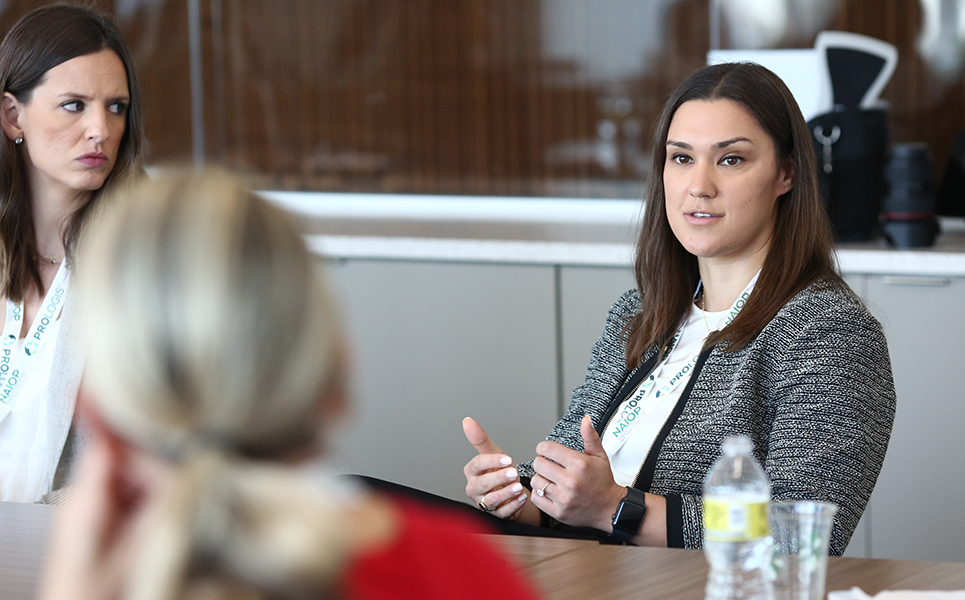 The Visionaries program provides a select group of rising industry leaders, 40 years of age and under, with meaningful ways to engage with the Research Foundation and the governors.
Meet Our Research Foundation Visionaries
Participants have an unparalleled opportunity to learn from and network with senior professionals and governors and gain valuable career development and industry insights. Visionaries also play an important role in the Foundation's research development process by sharing their perspectives and expertise and serving on committees.
Questions? Contact Bennett Gray at (703) 674-1436.
Visionaries Program Information
Program Goals
The five main goals of the program are to:
Provide an opportunity for exemplary industry professionals in the early part of their careers to gain industry and career development insight from governors.
Recruit rising industry leaders whose expertise and experience will help inform the Foundation's research development process.
Ensure that the perspectives of NAIOP members ≤40 are represented in Research Foundation activities and discussions.
Educate Visionaries on the benefits of being a governor by exposing them to thought leadership and through mentoring.
Cultivate future governors to support the Research Foundation's work.
Benefits
High-level benefits for Visionaries include:
Exclusive meetings with governors throughout the program period.
Mentoring opportunities with specific Research Foundation Governors.
Participation in and opportunity to help shape the Foundation's research development process.
Attendance at exclusive Industry Trends Task Force (ITTF) meetings.
Attendance at cocktail receptions and dinners with governors.
Early receipt of research findings ahead of general distribution.
Annual program contributions counted toward a Research Foundation governorship.
Recognition
Visionaries are recognized throughout their participation period:
On-stage recognition at annual in-person NAIOP events, in Foundation materials, and on its website.
Press release and social media posts announcing acceptance to the Visionaries.
Listing on the NAIOP Research Foundation's website.
Article featuring the Visionaries in the Research Foundation's newsletter (print and online).
Recognition of appointment to the Visionaries in NAIOP's online newsletter (the Source).
Criteria/Fee
Visionaries will be selected based on the following:
Professional competency and level of responsibility.
Career goals.
Community involvement.
Program Structure
Term - 3 years.
Number of participants – capped at 15.
Eligibility
40 years of age, or under, at the time of appointment.
Seven, or more, years of commercial real estate experience.
Applications will be judged by members of the Governors program and senior NAIOP staff.
Fee
$1,000 per year during 3-year term ($3,000 total).
For participants who wish to become a governor, any payments made during their 3-year term will be counted toward the governor pledge of $25,000. (Visionaries are encouraged to pledge within three years of completing their 3-year term. This, however, is not mandatory.)
Visionaries are not obligated to pledge to become a Research Foundation Governor, either at the beginning or end of their three-year term.
Contact
For questions, contact:
Bennett Gray
Vice President for National Forums and Research Foundation
703-904-7100 | gray@naiop.org