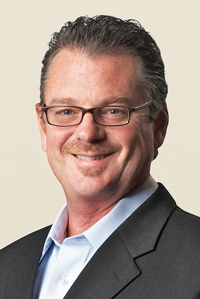 If you've ever attended a NAIOP industrial conference, you know it's difficult to tell where the most learning happens — inside the session rooms from leading speakers or in the hallways from unending networking and conversations. No matter where our attendees find the most value, it's clear that our industrial conferences are the sector's best events.
At the time of this issue's release, another 1,200 industrial leaders will be coming together at I.CON East in New Jersey. I thought I'd share some key takeaways and quotes from I.CON West, held in my home market in Southern California in March.
The COVID-19 pandemic upended the supply chain and changed the calculus involved with nearshoring. "We started having this trend of changing from a global economy with global sourcing to a regionally global economy," said Gregg Healy, executive vice president and head of industrial service for North America at Savills. Now, "there is a tiered approach, with a lot of product coming in from [the global South] and coming to these nearshore or 'friendshore' countries that are more friendly to the United States."
The outlook for the U.S. economy is closely tied to the labor market, which is historically tight. "GDP is a function of labor, capital and productivity," said keynote Rebecca Rockey, economist and global head of economic analysis and forecasting at Cushman & Wakefield. "A slowing population and workforce growth means that we need technology to help us create output at higher rates — to offset lost output from less labor growth."
Some markets offer advantages based on labor market indexes and total cost modeling, but the logistics labor market in California's Inland Empire remains hard to beat. "Real estate site selection is highly focused on labor and the future growth of labor. What makes the Inland Empire so great is that the concentration of workers, warehouse and material-handling workers, is very strong, and the amount of growth in the last five years has been 400%, which is extraordinary and unmatched," said Ryan Shelton, senior vice president, market officer leasing West, Link Logistics Real Estate.
Investors are interested in industrial opportunities in Southwest markets, particularly Las Vegas and Phoenix, which have seen strong population growth. "One thing not discussed as much in the headlines is the East Coast companies that don't have a West Coast hub facility," said Sean Zaher, senior vice president for CBRE. "Historically, they would have gone into Southern California. Now, they're stopping at the border, whether it's Las Vegas or Phoenix, and creating their West Coast hubs there."
Get buy-in early — and from all parties involved to streamline the implementation of sustainability strategies and achieve net-zero targets. "Since we're in California, it's worth pointing out that the new property building code requires solar in new industrial buildings," said Grant Walden, LEED AP, head of sustainable strategy, GAIA. "It's important to bring a solar developer on early or bring in a solar consultant to do the brand's design and ensure engineers are getting early looks at things that can get pushed to the end. This streamlines the implementation and usually reduces costs as well."
NAIOP captures these types of takeaways on its Market Share blog (blog.naiop.org), and I'd encourage you to read the posts and follow along with our I.CON or CRE.Converge events if you aren't able to attend. If you can attend, I look forward to seeing you in person.

Kim Snyder, President,
Western Region
Prologis
2023 NAIOP Chair