Developers must find new ways to configure workspace amid challenging times for the sector.
From the cavernous floors of the 1900s, to the fluorescent-lit cube farms of a later era, to the posh settings of today, office amenities have taken a dramatic turn for the better, with more innovations to come. While these expensive additions don't guarantee that a landlord will close the lease deal or that a tenant will be able to hire top talent or finally lure employees back to the office, new amenities packages are the key to competing in today's uncertain commercial office markets.
In February, Cushman & Wakefield published "Obsolescence Equals Opportunity: The Next Evolution of Office and How Repositioning and Repurposing Will Shape the Future." The report notes that by 2030, U.S. office inventory will reach 5.7 billion square feet. Sixty percent of office stock could require upgrades or repurposing to avoid obsolescence, while 25% could need to be reimagined to stay relevant.
"Office demand is slowing, lease expirations are mounting, all as tenant preferences are shifting," the report notes. Those preferences include demands for all kinds of improved amenities, which have changed considerably since the dawn of the modern office more than 100 years ago.
The First Office Amenities
"Early in the 20th century, offices reflected a manufacturing environment," said Chris Congdon, director of global research communications for Steelcase, an office furniture company. "Those offices were organized with leadership around the perimeter of the space in enclosed offices with workers in the middle assigned to desks."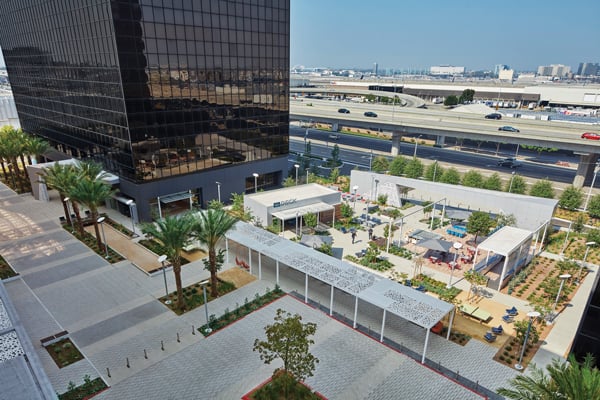 These offices had coal-fired heaters, no air conditioning, no break rooms and not much of anything else. But in its formative years, Steelcase developed a major office amenity — the metal wastebasket.
Why was a metal wastebasket important?
"Because building and fire codes at that time were not what they are today," said Congdon. "Everyone in these offices smoked. It was not uncommon for someone to throw a lighted cigar into a flammable wicker wastebasket filled with papers, causing the office and perhaps the building to go up in flames. Once metal wastebaskets were introduced, the resulting fire caused by the thoughtless smoker would be contained to a fireproof metal wastebasket."
Several decades later, office amenities had become much more impactful than a new trash can.
"Technology and the progression of gender, social and racial equality have driven the evolution of the office over time," said Stacey Mosley, director of research with Brandywine Realty Trust in Philadelphia. "Before the advent of computers, offices in the 1950s were reminiscent of factory floors to keep workers visible and to ensure productivity by managers in surrounding private suites."
The rise of individualism in the 1960s coincided with the invention of the open-office floorplan by Robert Propst of Herman Miller in 1968. (However, he told the New York Times in August 1997 that he lamented how his concept evolved from a way to "give knowledge workers a more flexible, fluid environment" into a cost-saving tactic that was unpopular with workers.) The ergonomic movement of the 1970s further reinforced the ideals of comfort and privacy for all employees — not just those at the top, Mosley said.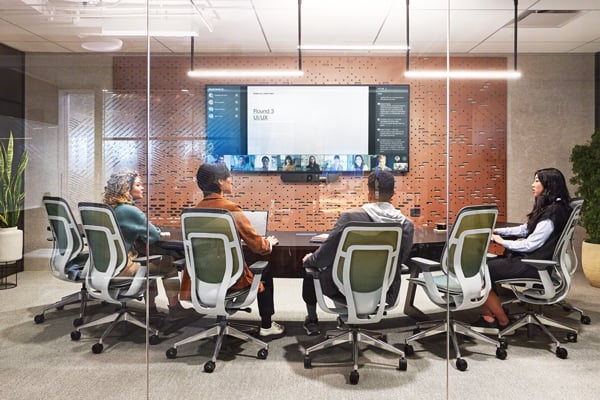 But by the 1990s, she noted, the nature of work dramatically changed, with widespread use of the internet and mobile phones. Open office spaces grew in popularity, but now with the intent of spurring collaboration because the exchange of ideas could happen at high volume and high speed.
"The internet, which facilitated the flow of information from nearly anywhere in the world, began enabling individuals to establish home offices and, with the entrepreneurial movement arising from the venture-capital-fueled dot-com era, freelancing and coworking began taking off, creating a whole new vertical in the real estate industry," Mosley said.
In the early 2000s, the tech sector led the way to greater amenities in the workplace, according to Lenny Beaudoin, CBRE's global head of workplace and design.
"Amenities are important not just because people like good coffee or an interesting place to work," he said. "Amenities create social connections between workers, which is valuable for career growth and development, for building affiliation and for creating cohesion in organizations."
Beaudoin said the tech sector needed to attract hard-to-recruit engineering talent and to create environments that they wanted to work in. Large tech companies have great amenities because they want their employees to come in and be connected to each other, do their work and drive the performance of the organization.
The 2000s and Beyond
Sergio Valentini, regional director with international design firm Ware Malcomb, said that in the 1990s and 2000s, research was dedicated to improving office space.
"The office was no longer being designed as a flat, open plan anymore," he said. "It was more targeted to the needs of a specific company so that it could make spaces more comfortable and boost the productivity of its employees."
These trends continued through the first two decades of the 21st century, coinciding with another trend of working away from the office. With a laptop, cellphone and good internet connectivity, employees could work virtually anywhere.
The Pandemic Pause
As the pandemic hit, people left their offices in droves to work at home, with many employees continuing this arrangement to this day. A recent article in The Wall Street Journal found that most U.S. offices were half empty three years after the pandemic.
What about trends in the largest U.S. market?
"I do not see remote work ending anytime soon around New York City," said Ryan Elazari, senior director with Empire Management in New York City. "A recent survey by the Partnership for New York City found that only 52% of Manhattan office workers are in the workplace on an average weekday, with just 9% of employees in the office five days a week. So that's very telling. In another part of the survey, the partnership found that 56% will likely be the new normal for average daily office occupancy in Manhattan offices."
Here are other statistics from that same survey, according to Elazari:
15% are in the office four days per week;
35% are in three days per week;
18% are in two days per week;
12% are in one day per week;
10% of Manhattan office workers are fully remote.
Hybrid Work Arrangements
Hybrid work is here to stay, agreed Sanjay Rishi, Americas CEO for work dynamics with JLL and co-author of "The Workplace You Need Now," published in October 2021.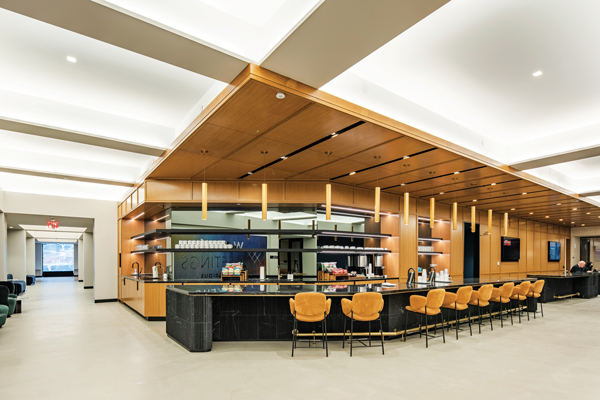 "We learned very important lessons pre-pandemic and during the pandemic," he said. "A key lesson is that most work can be done from anywhere, so hybrid is very much here to stay. But don't confuse hybrid working with the notion that 100% remote is here to stay, because we know that is unsustainable. On an individual basis, people will make choices to come into the office whatever days are best for them. As they come into the workplace, organizations are making decisions on designing workspaces that are conducive to this idea of open spaces, team spaces — what we call 'me' spaces and 'we' spaces."
Post-Pandemic Amenities
In the aftermath of the pandemic, the trend toward more and improved amenities has accelerated because there are just more factors that come into play, according to Ware Malcomb's Valentini.
"We have moved from 'nice to have' to 'must have' amenities," he said. "Rather than amenities simply improving the office for the employees, they are a necessity. Employers are concerned that without the right amenities, they will not be able to draw people back to the office or hire the best talent. That has been the biggest shift, and it is affecting corporate end-users. They are a lot more aware of the type of spaces that they have and the type of space they are looking for."
Coworking Space
Another critical amenity, according to those interviewed, is coworking or flex space within the building. With fewer employees coming to work at the same time, the tenant probably does not want to dedicate space to conference and meeting rooms. But when teams are together at the office, these spaces are critical.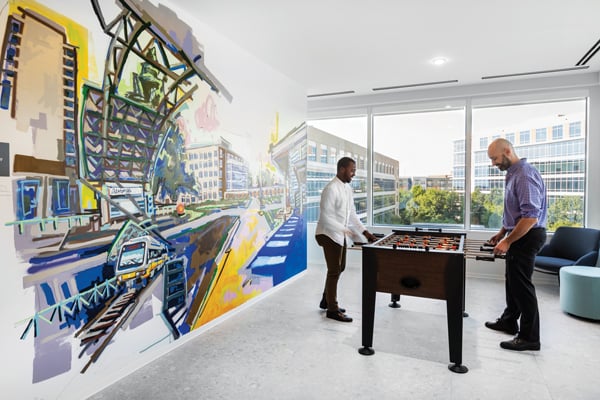 "Employees have opted for a hybrid working solution where they spend some time at the company's offices and other times working remotely, which has made the availability of flex or coworking space in the office building a 'must-have' amenity," according to Jacob Bates, head of Americas for Flex by JLL.
Flex by JLL manages flex spaces, both coworking and flex suites, on behalf of investors and asset owners across the country. According to Bates, Flex by JLL partners with owners through contract structures that allow owners to maintain control of the space experience, physical footprint and fiscal attributes.
"The real need for flex space is reflected by the fact that people are the new amenity," said Bates. "They probably always were, but we didn't perhaps recognize them as an amenity. These spaces fill the need for community connection and engagement. The conferencing, event and amenity spaces inside of Flex and Experience Management locations are getting more use today than in the past. We're seeing the revenue that is being generated from these spaces far exceeding anything we ever expected pre-pandemic. In some cases, these spaces are generating more revenue than the office space itself."
Rishi agreed with that assessment.
"People are not going to fight traffic to come into work for a good lunch, but they will come to work to interact with each other," he said. "We found from our research that over 60% of employees want to come into the office and get back to work. At the same time, they are saying, they don't want to come into the office five days a week 9 to 5, 8 to 6 or whatever…they need flexibility. They want this world of hybrid."
Here are other trends in amenities in the post-pandemic market:
Privacy is at the top of the list for the return to the office. Steelcase conducted research in 11 countries and asked people who were working at home what would bring them back to the office. Their answers surprised the company. The most important factor, according to Congdon, was a dedicated space with more privacy. That was followed by ergonomic furniture. The third-most-important factor was better technology, especially for collaboration.
There's no replacement for in-person mentoring. While a large percentage of the work an employee does can be accomplished remotely, one function that cannot be left to virtual communication — or chance — is mentoring. It requires in-office attendance by both new employees and senior executives. "All of us have grown up learning from other people and watching other people — how they act under stress, how decisionmakers make decisions," said Rishi. "All of us are where we are today because we had someone to look up to, someone who championed our cause."
Push amenities tied to health and wellness. "Health and wellness [amenities] were being incorporated into office buildings pre-pandemic, but now more is expected," said Mosley. "In addition to well-equipped fitness centers, breastfeeding rooms, quiet rooms and outdoor lounges, more room is being made for self-care amenities."
A focus on collaboration. "Work is no longer the place you go to," said Rishi. "Work is what you do." He said companies are realizing that it is about culture, collaboration, innovation, brand affinity and a sense of belonging. "This is the purpose of the workplace," he said. "Within the workplace, the kind of work that benefits the most is when we are collaborating with other people, when we are doing creative work and thinking out loud. We feed off each other's energy and creativity, reaching levels that are difficult to achieve in the virtual world."
A hospitality state of mind is key. People want a space they feel comfortable in. They want a space where they feel safe that promotes physical and mental wellness, but at the same time promotes a hospitality feel. "People want to feel like they are in a well-appointed hotel lobby as opposed to a sterile cube farm," said Rishi.
Smart building tech wins the day. Nobody wants to come to an empty office to do heads-down work that could have been easily done at home without fighting time-wasting traffic. Workers need to have a heads-up when their teams are coming into the office. "Smart building technology that allows an employee to know when people will be at the office is critical," said CBRE's Beaudoin.
The Developer's Role in Amenities Changes
In the past, the office developer constructing a non-build-to-suit building would lease the space to a tenant who would build it out to preferred specs. Often some tenant-improvement dollars would be offered to sweeten the deal. Now, tenants want and need finished space with amenities in place.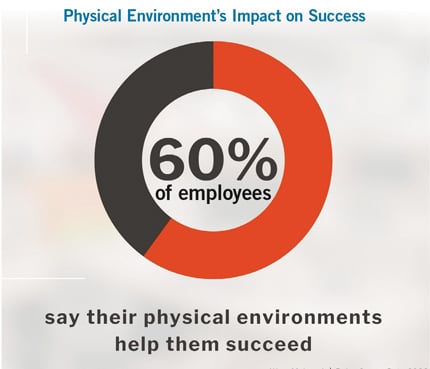 "There is a race to be the class-A building in the market because the building has the fitness center, the conference center, the grab-and-go café, beautiful outdoor amenities — you name it," said Valentini. "While many of these amenities were done pre-pandemic, now more is demanded. Developers are putting in operable windows, terraces, golf rooms, libraries, yoga centers and wellness spaces. One recent building I saw had an indoor basketball court."
He said the pandemic accelerated a lot of social, economic and demographic trends. And a big shift has occurred among developers.
"Before the pandemic, it always took some convincing to get spec developers to include amenities in their buildings," said Valentini. "Now, after the pandemic, everybody is aware that if they do not include these amenities, they will not attract tenants. There is a race to space quality and amenities to attract companies and ultimately attract employees."
The Future of Amenities
While no one knows what types of amenities will win in the market in the future, Rishi said that it is important to keep three big themes in mind going forward: sustainability, technology and physical design.
Here are other ideas from the experts on the future of amenities:
Take a neighborhood approach to planning the office. For the workplace of the future, the office needs to draw inspiration from great neighborhoods. A diversity of spaces is what gives a city neighborhood a special vibe. "There's diverse kinds of things happening in the best neighborhoods," said Congdon. "These neighborhoods have a combination of residential spaces, public spaces, plazas, libraries and schools. They also have great commercial spaces." This type of diversity should be incorporated into office spaces.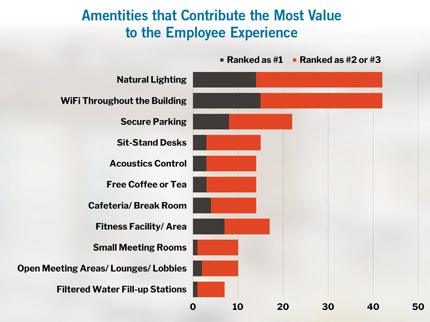 Location and time are two big drivers. Of all the amenities that can be added to an office project, two of the biggest are location and time, according to Valentini. "The most important is location — access to the community, access to a mixed-use development — retail, restaurants, shopping services, housing. As for time, people do not want to spend an hour or two in a car to get to work and then back home. Having proximity to where people live is important. Being near where the talent lives, being near services, having walkable amenities near the office are all critical."
Stay agile and create space with flexibility. Bates said that the furniture and room dividers that are in use today are incredibly agile. "Consider using them rather than static construction," he said. "There are a lot of modular furniture systems out there that can be used as heads-down space today, but then become a collaborative meeting area using the same pieces and parts of the system tomorrow."
For the lobby, it's programming. With building lobbies, creating a sense of community and liveliness is increasingly a differentiator, Mosley said.
Seek out adjacent retail that's special. What types of retail services are true amenities near office buildings? Stores that enhance daily rituals for those using the office, according to Mosley. For example, highlight retail that allows people to meet someone for coffee, lunch or after work, or gives them the opportunity to purchase a bottle of wine or a special gift on the way home. "The ideal retail is that which accommodates those transitional moments at the very beginning and very end of the day," she said.
Outdoor spaces. These have always been somewhat important. Now they are critical, according to Valentini. "Even in markets like Chicago and New York, where the weather can be tough, outdoor spaces are important."
Ron Derven is a contributing editor to Development magazine.
Must-Have Amenities
According to Gensler's U.S. Workforce Survey 2022, these 10 types of office amenities are no longer optional:
Quiet or tech-free zones
Alternative individual workspaces
Focus rooms
Libraries
Innovation hubs
Maker spaces
Project/war rooms
Rest/nap areas
Outdoor spaces
Meditation spaces