An up-close-and-personal look at the NAIOP-Drexel Summer Real Estate Program, which inspires students of color to build careers in commercial real estate.
The NAIOP-Drexel Summer Real Estate Program is a 10-day immersive residential summer program for high school students of color. It introduces them to careers in commercial real estate fields including architecture, development, investment, construction, brokerage and urban planning/design.
The program, a partnership between NAIOP Greater Philadelphia and Drexel University, is a combination of classroom learning, site visits and industry events where participants learn the basics of real estate through case studies. 2023 will mark the program's fifth year.
In July 2022, freelance author Robbie Tarpley Raffish sat in classrooms and toured development projects with the instructors and the 30 students participating in the program, capturing their experiences in real time and in their own words.
Getting There
It began as most programs do when young people don't know each other: quietly. Lots of looking at phones and working to appear nonchalant.
They arrived from Pennsylvania, New Jersey, New York, Delaware, Virginia and Texas, their parents dropping them off at Drexel University dorm rooms and hugging them goodbye. The students, many on a college campus for the first time, lugged their belongings to their rooms and tentatively met their roommates as they unpacked, not knowing what to expect. It was
"real estate camp" — how exciting could it be?
Plot twist: they weren't beginning in a classroom. Instead, they boarded a bus and headed to a ropes course where, for the next three hours, they climbed, zipped, wobbled and gripped their way across obstacles, cheering on those whose nerves were high, helping each other out and celebrating successes. The ice was broken, and the students had bonded.
Immediate team building is critical to the success of the program, according to Sarah Maginnis, executive director of NAIOP Greater Philadelphia, which conceived of the program in 2018.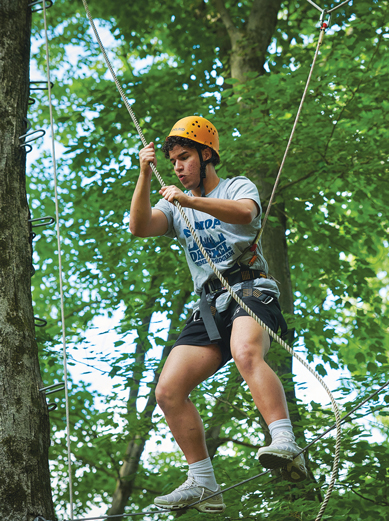 "Ten days sounds like a long time, but it's not, especially when you consider how much ground there is to cover," she said. "Each day is packed — there is classroom work, property tours, professional panels, software training and much more. We want them to be in a frame of mind to pull everything out of it they can."
One young man shared that not only was this the first time he'd stayed on a college campus, but it was also the first he'd visited, and it was a lot to take in.
"I'm a little worried I could get lost," he said as he walked quickly to catch up with the group.
Aubrey C. of Philadelphia, from Springside Chestnut Hill Academy, showed up knowing a little more.
"My sister came through the program before me, and I was more excited than anything else," he said. "I want to study real estate in college in any way I can — such as through internships — and I want to get my real estate license, so I knew this could get me one step closer."
After dinner in the dining hall, they returned to their dorm and met their program "ambassadors," a group of students from the real estate program at Drexel's LeBow College of Business who were selected to help the campers stay on course.
"Our job is to keep the students on schedule," said Arianna C. of Philadelphia, a Drexel student who served as an ambassador. "For many this is their first independent experience out of their homes, and we are here to listen, make sure they get where they need to go, and have fun."
It took some work, but most of the students were so tired from travel, nerves and the ropes course that "lights out" came more easily than one might imagine.
'A Reflection of Their Future Selves'
Jeriel C., a student from Atlantic County Institute of Technology in New Jersey, came to the program motivated. No one recommended the NAIOP-Drexel Summer Program to him; he found it by doing his own research.
Standing outside of the lecture hall, quietly speaking with another student after a panel discussion entitled "The Greening of Commercial Real Estate," he talked about his desire to "learn everything I can about real estate." When encouraged to go back in and approach the moderator, Tony Ewing, for a business card, his face revealed a combination of nerves and excitement.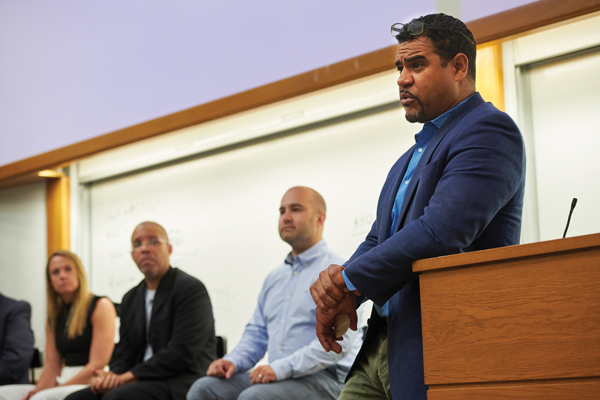 Excitement won. He approached Ewing, an investment officer for EQT Exeter in Philadelphia and a NAIOP Greater Philadelphia board member, who had assembled the panel. As the moderator, he had deftly drawn the students into asking questions with his energetic and welcoming demeanor. He put out his hand, smiled and spoke with Jeriel for some time.
"That's what we want this program to do," Ewing said. "The connections they make here are critical, especially because many of us teaching look like them, black and brown. This is an opportunity for kids to see people working in the kinds of jobs they are interested in and learn about jobs they don't even know exist until they get here. It is encouraging when they see a reflection of their future selves."
The panel featured four CRE professionals talking about various careers related to sustainability and environmental stewardship. Kristen DeBias, president of Energetek, a minority- and woman-owned commercial energy brokerage and commodity trading advisor, made the difficult concept of renewable energy credits understandable to high school students. She said her company had a goal of being "net zero by 2050" and highlighted ways they were working to get there.
Students asked a lot of questions, from the micro of balance sheets to the macro of climate change goals. Architect Ian Smith, owner of IS-DG in Philadelphia, a minority-owned firm, told the students that their futures will be addressing the issues the current generation leaves behind, but that young people can make a difference now when it comes to global warming and building design.
One student asked how developers use design to offset global warming, to which Lucas Hamilton, manager of applied building science at Saint-Gobain North America, offered a green roof as an example.
"Green roofs are great for the environment but they're a heavy load, so you have to compensate in the design for that," he said. "They are also great for those who can see and touch it — it's called biophilia, the innate human instinct to connect with nature and other human beings."
Ewing added that from the spreadsheet side, "a green roof costs more per square foot, making the [development] numbers go up, which has to equate high value to higher rent," touching on a math lesson from earlier in the morning. "It results in a higher cap rate — you remember cap rate, right?" To which there was some head-bobbing and nervous giggling as students tried to connect the dots between the data.
Hard Hats All Around
Of all the program's offerings, nearly all the students agreed: site visits were their favorite.
On the first full day, the group toured a building at One UCity, a life science project being developed by Wexford/Ventas. They were met by Pete Cramer, a NAIOP Greater Philadelphia board member who serves as senior director of development at Wexford Science & Technology, LLC. He walked them through the 450,000-square-foot Drexel University Health Sciences Building, a $30 million project that is 100% leased by Drexel for two schools, the College of Nursing and Health Professionals and the College of Medicine.
"Four thousand students and faculty will utilize this building this fall," he said, hinting that the students were receiving the rare opportunity to tour the facility before it opened. "It is the tallest academic building on campus," he continued, as students boarded elevators in small groups to begin tours.
"This is so cool," one young woman said to another. "I feel like we're sneaking in."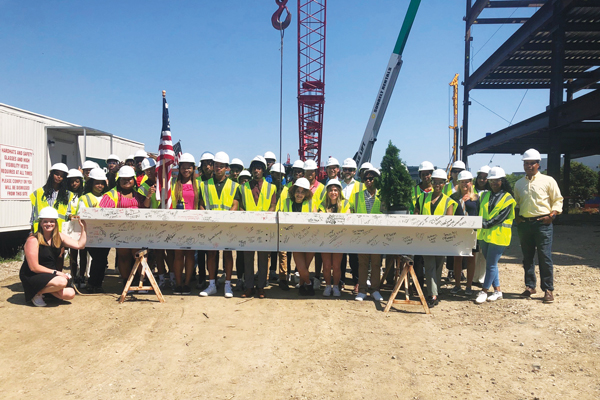 Other tours followed, including one that was not on the original schedule. A few days before Mark Seltzer, a NAIOP Greater Philadelphia board member and senior vice president of development for Ensemble Real Estate Investments, was supposed to teach a class about the fundamentals of CRE, he learned that the final beam would be installed on his project at 1201 Normandy Place in the Navy Yard in Philadelphia. The life science building is a joint venture with Mosaic Development Partners under the banner of Ensemble/Mosaic. The 130,000-square-foot project kicked off a 20-year, $4.8 billion initiative that includes the development of life science, office, residential, hospitality and amenities.
"What started as a scheduling conflict became a great opportunity for the students to be on-site and see a topping-off ceremony," Seltzer said. "We all saw how instructive — and fun — it might be to come onto a working site in a vest and hard hat, and we wanted to make it happen."
To allow the students to participate and for Seltzer to make his teaching time, program Chair Phil Butler Sr., a NAIOP Greater Philadelphia board member and a senior vice president at MRA Group in Philadelphia, worked the phones for transportation while Seltzer obtained the safety equipment.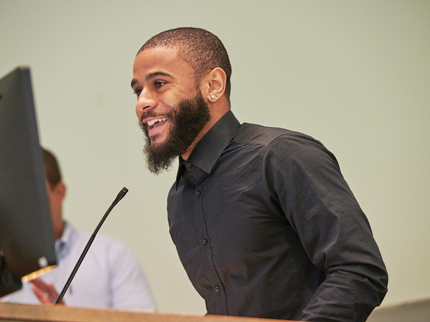 The students were animated, taking selfies in hard hats and vests and asking questions about the development process. They lined up with construction workers to sign the beam before it was lifted into place, which many students captured on video with their phones. They were excited to learn they could keep their NAIOP-MRA co-branded hard hats as souvenirs.
Next, they were treated to lunch at the Ensemble/Mosaic office. Seltzer led the class in a training room, which offered a break from the classroom and a low-key demonstration of what working in an office might feel like.
Aubrey C. said the site visits brought the classroom work alive.
"Putting on that hard hat made it more real," he said. "My favorite [trip] was probably watching the final beam being raised on a building at the Navy Yard because it showed me that the job was not just about sitting at a desk. You could be outside, on a site, building something."
More trips followed, including the Riverwalk Apartments, West Tower at Schuylkill Yards and Cira Green, all hosted by NAIOP members.
Abu Saccoh, from Boys Latin School in Philadelphia, said the "program has helped me understand that real estate isn't just purchasing houses … After high school and college, I would most likely [pursue a career] in real estate."
Living the Learnings
"One of the most important aspects of the 10 days is the time students get to spend on a college campus, learning in a classroom, eating in the dining room and sleeping in the dorms," said Joe Ritchie, president of NAIOP Greater Philadelphia and managing director of business development and head of diversity and inclusion at Tishman Speyer. "Timing it as they are starting to think about colleges — and what they will study — is very important."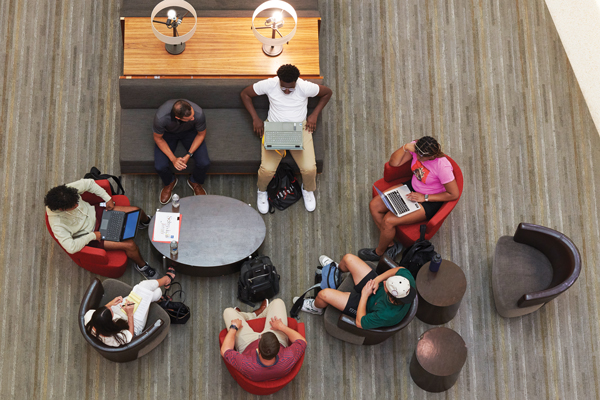 Another goal is to provide real-world experience that students can add to their résumés. One afternoon, the schedule included a course in using Microsoft Excel and how to create and organize spreadsheets, a skill that would be critical to the participants' upcoming final project. Another afternoon focused on developing a solid LinkedIn profile.
"The program was everything I expected — and more," said Aubrey C. "I was excited that the teachers would be college-level professors, but there were also real titans of industry, including [young people] who were making six figures right out of college. Our speaker at the final dinner was Jayden Cartwright (who attended the Summer Program in 2021), and he is at Howard University," where Aubrey is interested in attending. "I connected with him on LinkedIn right after I got home, and he invited me to visit Howard."
Michael J. DiSanto, a NAIOP Greater Philadelphia board member and a senior vice president with M&T Bank, has a unique perspective on the program. M&T has been a sponsor for five years, and DiSanto teaches in the classroom, seeing the impact of the bank's investment firsthand.
"Personally, I have always enjoyed working with younger people," he said. "I can remember what it was like [at that age] to be without direction or leadership to guide me, and I want to give back. On a larger level, I am astounded and humbled by the depth and breadth of the participation of the Greater Philadelphia CRE community. These are top-level folks. Young people can be very apprehensive about these kinds of interactions, and this allows us to allay some of their fears and make them more comfortable about the future."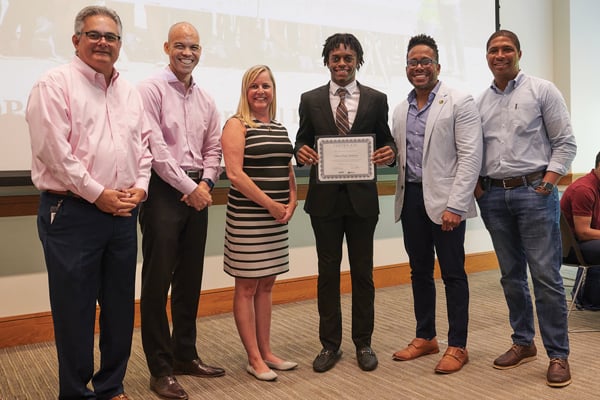 On his evaluation, Jahlanie Johnson, from Simon Gratz High School Mastery Charter, reflected on the experience.
"It was a little tough at the start to meet new people, but taking that step to let my wall down was worth it," he wrote. "I learned so much and met so many people … and I definitely want to use this opportunity for the future. I have already reached out to Zach Kravitz, assistant project manager at IMC Construction, about an internship."
A Race to the Finish
The last step at the NAIOP-Drexel summer program involved an intense and highly competitive final project that reflects a "real world" experience — a mock RFP for a real project.
The NAIOP-Drexel participants split into teams of three and competed, bracket-style, in what was, according to at least one student, "one of the most intense and powerful experiences I've ever had."
The assignment was to take a section of the Schuylkill Yards project in development by Brandywine Realty Trust, a charter sponsor of the summer program, and create an in-depth case study of 3151 Market Street, a major new life science, residential and retail development from Brandywine (and one for which there are very real plans). Each team would then present in front of blue-ribbon judging panels composed of Drexel faculty and staff and members of the Philadelphia CRE community.
"The case study was really stressful," Aubrey C. said. His team had been developing an idea that they discovered would not work on the site. "Two days before we had to present, we had to completely change the program," including creating a new design in SketchUp, a 3-D modeling software. "The financial analysis was also challenging — we were up really late" on what he later revealed was his 18th birthday.
In the end, Team NYP, comprised of Meelan Dessejour of Brooklyn; Noah Jones of Rockville, Maryland; and Abu Saccoh of Philadelphia, took home the win. Each team member received a $200 gift card and a certificate.
After the competition, when the last student had been picked up, Butler reflected on the 10-day period.
"I believe that every student who participates in this program goes home with far more than an understanding of commercial real estate," he said. "Each has a much better sense of themselves, where they might see themselves in college and the wider world. It's an amazing gift that this huge team of people is able to offer, and we are excited to see where each student heads in the future."
One place they may head is into NAIOP Greater Philadelphia's externship and internship programs.
"We want them to continue the journey and expand on what they have learned," said Maginnis. "The summer program, externships, internships and then Developing Leaders Program (for working professionals aged 35 and under) creates a continuous line from high school to college to career, allowing participants to build on their learnings, deepen relationships with mentors and provide a welcoming entry to a career in commercial real estate."
Robbie Tarpley Raffish is a writer based in Sharptown, Maryland. (Note: This article was originally published as a five-part series on NAIOP's Market Share blog: blog.naiop.org.)
'It Was a Bit of a Learning Curve'
In February 2020, Joe Ritchie of NAIOP Greater Philadelphia discussed the origins of the NAIOP-Drexel Summer Real Estate Program during a panel at NAIOP's Chapter Leadership and Legislative Retreat in Washington, D.C.
Ritchie said the idea for the program began during regular meetings with Drexel University President John Fry regarding a development project. Those conversations helped launch the program.
Ritchie said the program has taken off because it had support from the highest levels of NAIOP Greater Philadelphia.
"Our board was 110% behind us," he said. "It was one quick conversation, and everyone jumped in."
At the start, building a curriculum geared toward teenagers was a major challenge for the chapter.
"We are real estate professionals; we're not educators," he said. "Translating what we do in the industry every day to a 16-year-old is tough. It was a bit of a learning curve. It's really key to have that kind of partnership. Drexel did a lot of lifting to make this successful."
Ritchie said the chapter puts in a lot of footwork to find students for the program.
"We ourselves go directly to the schools and go to school district events," he said. "We go to churches, too. We also reach out to social organizations, such as Jack and Jill, and fraternities and sororities. We go everywhere we can be where we might encounter a parent."
Once candidates are found, Ritchie said they go through a rigorous application process that involves transcripts, applications and teacher recommendations.
Sarah Maginnis, NAIOP Greater Philadelphia's executive director, said the chapter raises all the funds to cover the cost of this program through sponsorships from its partnering companies. For the inaugural program in 2019, NAIOP Greater Philadelphia raised $60,000 for 19 students.
Volunteers are found through the chapter's network.
Finally, Ritchie urged commercial real estate professionals who want to start a similar program to look at the one at Drexel.
"Here is a way to start," he said. "I firmly believe that talent is distributed equally, but opportunity is not. I am one of very few African American corporate real estate executives. I happened to be in the right place at the right time. We're trying to get more folks in the right place at the right time."
For more information about the program, visit naiopphila.org/home/precollegecreprogram/
Additionally, interested students and parents, as well as professionals who want to participate, can reach out to Maginnis to be added to e-mail updates at smaginnis@naiopphila.org.
— Trey Barrineau
Other Summer Programs
Several NAIOP chapters are currently committed to commercial real estate summer programs for high school students from historically underrepresented groups. These are produced both independently and through the Real Estate Executive Council's Real Estate Exchange (REEX) summer programs.
NAIOP Chicago with Roosevelt University
NAIOP Massachusetts with MIT
NAIOP Pittsburgh with Robert Morris University
NAIOP Wisconsin with Marquette University