This booming industrial segment requires a lot of planning for developers.
Cold storage warehousing and distribution is expected to grow into a $324 billion market by 2030, according to Acumen Research and Consulting. That's up from $114.6 billion in 2021. This remarkable growth has been powered by the COVID-19 pandemic, which forced more people to rely on e-commerce deliveries of fresh food.
A June 2022 report from CBRE revealed a 58% year-over-year increase in online sales of refrigerated and frozen foods as of October 2021. In addition, the same report shows that e-commerce's share of total U.S. grocery sales is expected to reach 21.5% by 2025 — up from 13% in 2021. The report also notes that there were 3.3 million square feet of speculative cold storage development underway in the U.S., up from only 300,000 square feet in 2019.
Investor interest has soared as well. CBRE noted that nearly 40% of respondents to its 2022 U.S. Investors Intention Survey are pursuing cold storage assets this year, up from 22% in 2021 and 7% in 2019.
Four Critical Design Factors
Modern cold storage facilities have unique design features and must overcome specific challenges. Factors such as building height, utility demand, foundation requirements and rail access differ significantly from those seen in standard warehousing and distribution centers. Understanding these factors and evaluating them early in the due-diligence process may help development teams quickly identify sites and assess the feasibility of projects.
Building Height
Cold storage buildings can range in height from 80 to 150 feet to accommodate automated storage and retrieval systems. That's much taller than standard distribution centers, which are generally around 30 to 40 feet tall. Unless the proposed project is a smaller-scale microfulfillment center — typically 15,000 to 50,000 square feet — this requirement could be a deal-breaker when it comes to municipal approvals.
During due diligence, assess the surrounding properties within the proposed building's "line of sight." The design team can anticipate potential opposition to the project and help the client negotiate a height variance if needed.
Utility Demands for Refrigeration
Compared to a standard warehouse, water and power demands are significantly higher for cold storage to support the various layers and temperature-controlled chambers within the facility — some dipping below -10 degrees Fahrenheit. Increased water flows are required for the condensers, and power demand can range from 4,000 to 8,000 amps.
The required utility demands may not be available at the proposed site or could require significant upgrades or offsite extensions. During due diligence, evaluate potential cost implications if these services are not already provided or aren't readily accessible and available.
Geotech Investigations for Building Foundations
Cold storage facilities bear a much heavier load than standard warehouse buildings because of taller heights, refrigeration equipment, and automated storage and retrieval systems. Depending on the site's soil conditions, the building foundation could require costly reinforcements to prevent shifting and maintain the facility's stability.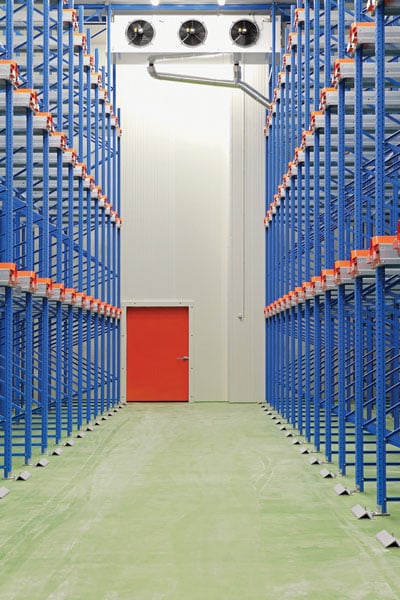 Perform a thorough geotechnical investigation as early as possible in the development process. A geotechnical consultant should drill core samples across the entire site to better understand the types of soils that are present.
Rail Access and Accommodations
Many third-party logistics (3PL) providers and refrigerated warehouse tenants are interested in facilities located near rail lines. Receiving products via insulated rail cars and shipping them via trucks remains an effective distribution strategy.
To determine whether a particular site along a rail line is feasible, it's critical to understand the rail provider's routes and operations. Allotting time and budget for the design and permitting of a rail spur — the secondary track used to unload railcars without interfering with the main line — is also important. Determine the layout of the rail spur and understand that there could be a potentially lengthy approval process.
Considerations for Retail Conversions
Owners and developers continue to find new opportunities by converting underperforming big-box stores and shopping malls to warehouse and fulfillment center space. These centers may have all the necessary criteria for a retail-to-warehouse conversion, including large buildings, generally ample parking and typical access to major traffic corridors. However, if the facility is being considered for conversion to cold storage, it's important to investigate whether the building's thermal envelope would be suitable. The thermal envelope includes the foundation or slab, roofing systems, walls, doors and windows.
But beyond square footage, parking counts and proximity to highways, there are many additional factors to consider when evaluating whether this type of repurposing is feasible.
In addition to building height and utility capacity, consider factors such as truck circulation patterns, loading dock heights, pavement material and strength, and potential impact on off-site traffic conditions. A comprehensive understanding of the current condition and future requirements will help the development team understand what adaptive reuse could entail and enable them to better prioritize sites for potential cold storage conversions.
Considerations for Last-Mile Microfulfillment Facilities
Microfulfillment centers are beginning to pop up for refrigerated last-mile distribution. Products are stored for a short period of time with a faster turnaround. These facilities do not require taller building heights. Because of this, retail facilities often can be repurposed for this use.
Speed to market can be the leading driver for last-mile distribution. Facilities are often designed, approved and start construction before tenants sign on, so last-minute redesign and reapproval is common.
How to Streamline Tenant Sign-On
To simplify the process of acquiring tenants, it's crucial to gather critical information about tenant operations to help the design team customize the site layout. Factors such as the size and type of vehicles used (especially if they are electric vehicles), how much parking and vehicle storage is desired, loading dock sizes, utility draw and number of employees can all have a significant impact on design.
Timely communication is key. As soon as the developer obtains critical operations data for a potential tenant, bring the design team up to speed so they can adjust the site design and quickly resubmit plans for updated approvals. Make sure the design team is coordinating with each other and tracking how plan revisions affect other features of the project.
Finally, the design and development teams must be prepared to react quickly to tenant updates, identify potential challenges and budget impacts, and offer prompt solutions — often within two weeks' time.
Mike Jeitner, PE, is a principal at civil engineering firm Bohler.
---
NAIOP E-Book: Best Practices in Cold Storage Facility Development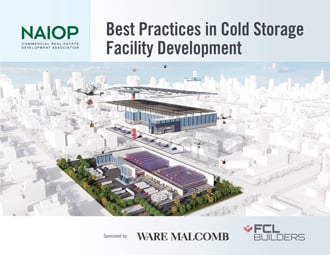 Cold storage development is not for the faint of heart — it is complex, expensive and requires high-level expertise. This niche property type has been getting more attention due to the increasing demand for temperature-sensitive goods including online grocery orders, meal kits and pharmaceuticals. The growth in cold storage has become so great that speculative cold projects, unheard of five years ago, have become increasingly popular. To serve as an introductory guide to the topic, NAIOP has released an e-book, "Best Practices in Cold Storage Facility Development."
Industry experts from Ware Malcomb, FCL Builders and Cold Summit Development offer their latest insights along with specific design and construction considerations for build-to-suit and speculative projects, including Ware Malcomb's new Cold Ready prototype. This 40-page e-book features over a dozen illustrations and covers topics such as predevelopment, site planning, building envelopes, insulated mental panel walls, roofs and racking.
To purchase a copy, visit www.naiop.org/coldstorage