Survey shows that commercial real estate firms must focus on finding and retaining top talent in 2023.
The commercial real estate industry is facing many challenges as it moves into 2023. Amid rising interest rates, the lingering impacts of COVID, high levels of inflation, a recessionary economy, shifting capital markets, technological advancements, the Great Resignation, quiet quitting and demographic transitions, one element remains clear and constant — talent management. The real estate industry can't operate and deliver successful outcomes without exceptional talent and leadership. However, those two factors also come with rapidly rising compensation and retention challenges.
Several recent CEL & Associates post-COVID surveys found that rewarding and retaining talent has become the No. 3 or No. 4 priority for real estate CEOs and boards of directors. Exceptional talent and HIPOs (high-potential employees) are difficult to find and even more challenging to retain without a robust talent-management strategy, and competitive compensation and long-term incentive plans. Talent comprises 65% to 70% or more of most real estate firms' operating budgets, yet only 27% of real estate organizations have a competitive, well-thought-out talent-management plan. Only 32% of real estate firms have a formal succession plan for CEO and other C-suite positions. Slightly more than 76% of real estate firms have "concerns" relative to retaining top talent.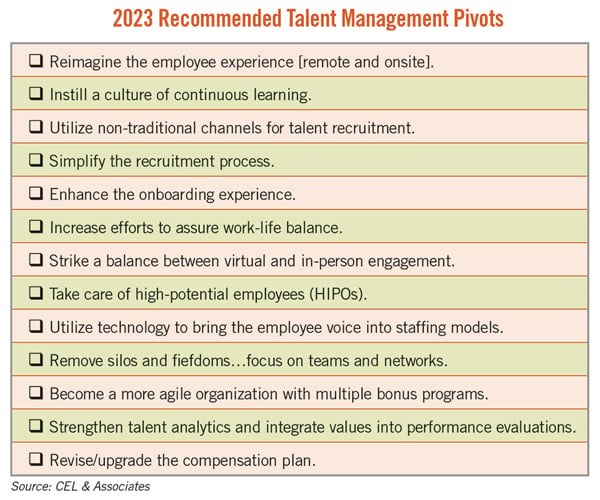 Real estate leaders must rethink not only how they can attract new talent but also how they can draw existing talent back to the office — and workforce. Customizing work schedules, embracing hybrid staffing models and showing employees how their work makes a difference is the new normal for talent management.
Surveys Reveal Strategy Changes
According to the 2022 CEL & Associates National Real Estate Compensation & Benefits survey, the largest in the real estate industry (and co-sponsored by NAIOP and the National Apartment Association), 54% of participating real estate firms are changing/adapting their human-resource policies to appeal to a young talent base [Millennials and GenZs]. Approximately 38% of the real estate industry workforce is working remotely. The larger the firm, the fewer remote-work options. Smaller firms have had to adapt more remote work options in order to retain talent.
An increasing percentage of real estate firms are "future proofing" their talent-management strategies to retain top performers. Current data suggests that more real estate firms will increase their use of independent contractors, outsource agencies (foreign and domestic), freelancers, consultants and part-time personnel to fill key but not core positions.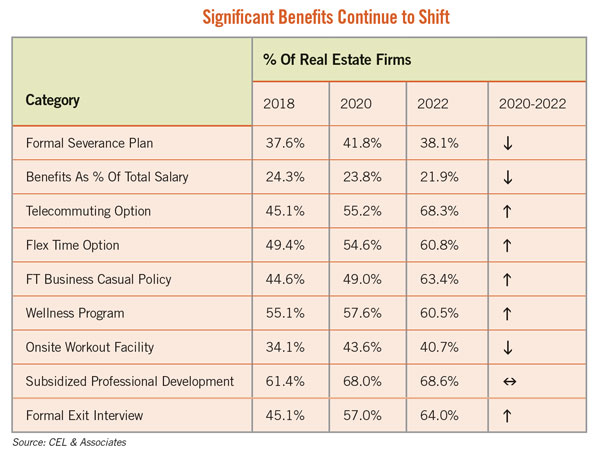 DEI (diversity, equity and inclusion) remains an important strategy. For example, women, while nearly 60% of college enrollees today, comprise only 9% of the C-suite positions in the real estate industry — and 44% of those positions are human resources. Approximately 46% of today's workforce is age 55 or older.
However, only 36.3% of real estate firms have a formal DEI policy, and only 20.9% have a formal plan for ESG (environmental, social and governance).
Staying competitive, remaining profitable and building for tomorrow will be recurring themes throughout the real estate industry for 2023.
Pay raises in 2023 will likely hover around 5%, with exceptions for those employees who create value. Of course, total compensation also includes benefits. According to CEL's research, nearly 94% of real estate firms provide a vision plan, 84% provide basic long-term disability benefits and 98% offer dental benefits. The average number of paid days off (fixed and floating) is now 11 days. Nearly 96% of real estate firms have a 401[k] plan. The total "benefits" load as a percent of total salaries is now 21.9%, while the total benefits load as a percent of operating revenue is around 4.5%. Average bonus achievement (for 2022 performance) is expected to be 90.5% as a percentage of the target (potential) bonus.
Interestingly, according to CEL & Associates research, 68.3% of real estate firms now offer a telecommuting option. To retain young and talented professionals, 74.1% of real estate firms now pay or subsidize professional society/association dues.
Looking Ahead
It is clear from the data that real estate firms emerged from the pandemic with greater awareness and concern for their talent and leadership pool. Long-term incentive plans are being offered deeper in the organization. Enterprise value incentive plans are becoming more commonplace.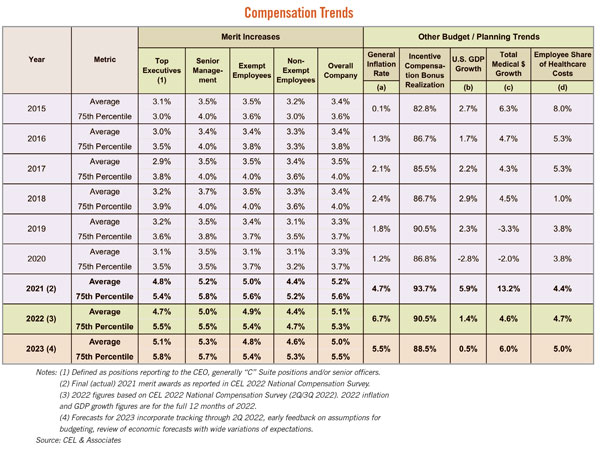 Talent management is an art as well as a science. Getting it right means making talent a priority. In 2023, real estate firms must take a comprehensive look at all aspects of talent management. From the initial recruitment process, selection and onboarding to performance/goal setting, compensation administration, benefits and employee recognition, a firm's messaging must be multi-generational, reflect current and emerging market trends, and motivate every employee. Real estate firms will face many external challenges in 2023. As a result, employers will need to focus on building and maintaining morale, improving workplace productivity, nurturing relationships, and accommodating hybrid work options and work-life balance expectations. In times of disruption, internal communications must be robust and frequent.
In 2023, real estate firms are likely to experience more, not fewer, operating, performance and talent-management hurdles. The competition to retain talent, along with economic uncertainty, means real estate CEOs will face expectations for more compensation. They will also be considering the productivity of employees working from home. Balancing employee satisfaction, creating a welcoming and productive workplace environment, and providing a culture that supports work-life balance has become requirements for real estate firms.
Getting through 2023 to harvest the opportunities in 2024–2025 will require a focused and thorough review of talent-management plans and strategies. These next 12 months will be transformative, full of surprises and replete with challenges. However, great people, collaborative teams and aligned leadership can and will outperform the market.
Christopher Lee is president and CEO of CEL & Associates, Inc.
---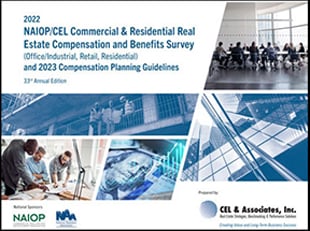 NAIOP/CEL Commercial Real Estate Compensation and Benefits Reports
Is your 2023 salary and bonus package competitive? Find out with the 2022 NAIOP/CEL Commercial Real Estate Compensation and Benefits Reports.
These valuable reports enable commercial real estate businesses to stay current on salaries, bonuses and benefits for CRE professionals from executives to entry-level positions.
The reports include:
Submissions from over 300 companies
Salary, bonus, incentives and benefits for up to 200 positions
Data from 100,000 distinct jobs in the office/industrial, retail and residential property sectors
Data is presented by:
Company size (based on number of employees)
Company type (private and public)
Real estate specializations (development, brokerage, asset management, acquisitions, operations and more)
Seven U.S. regions and up to 28 metro areas
To order the reports, visit www.naiop.org/research-and-publications/compensation-report/