Here's how to reinvent these properties for a new era.
The term "midlife crisis" often sparks negative connotations: an impractical sportscar or a drastic makeover. However, midlife can also be a time for reinvention and positive change.
The latter is certainly true for the current midlife crisis within the real estate industry. The large stock of aging office buildings — according to JLL data, 68% of national inventory in the U.S. was built before 2000, and more than 70% of space in many gateway cities is more than 30 years old — is due for a makeover. Many of these properties are teetering on the edge of obsolescence due to antiquated systems, dated features and a lack of curb appeal. Additionally, a recent study from researchers at the NYU Stern School of Business and Columbia University Graduate School of Business projects that the impacts of remote work and aging spaces could lead U.S. office buildings to lose $500 billion in value by 2029.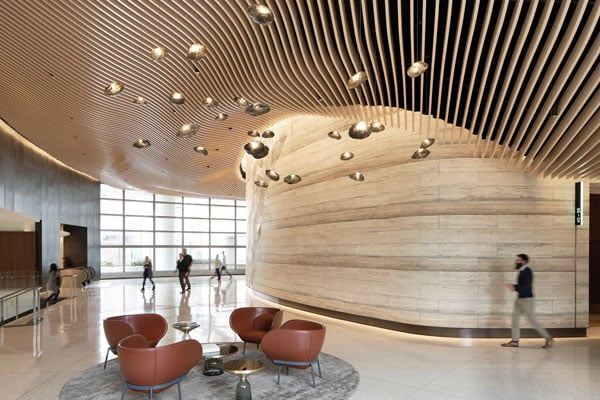 Notably, older office towers must compete with new, modern, Class A office buildings. Buildings delivered since 2015 command a 43% rent premium and have lower vacancy rates relative to older assets, according to JLL research.
The commercial real estate industry has an opportunity to transform these properties — and to do so in a way that can be more sustainable and faster than building new. Existing towers often occupy central locations in cities and downtowns, making them even more desirable when the right attributes and amenities are present.
What's more, repositioning aging buildings can help attract top-tier talent and tenants. But to do so, developers must think beyond "check-the-box" amenities like conference rooms and fitness centers to alter the longevity of the asset — for example, high-quality design, transit access, environmental, social and governance (ESG) considerations related to environmental sustainability, and unique food and beverage options for a truly dynamic experience. When done correctly, repositioning can transform these seemingly unappealing relics of a bygone era into socially vibrant, pedestrian-friendly spaces for discovery, exploration and community-building — all while reducing their carbon footprints.
Recently, NBBJ and JLL partnered on a study titled "A Perfect Storm," which analyzed a large range of new and aging high-rise properties in metropolitan areas to analyze which buildings are best suited for renewal, then crunched the numbers to get a clear picture of the return on investment. The findings highlight the significant ways that renewal and repositioning can dramatically increase an older building's value and potential. For example, starting now and repositioning an existing building in phases through 2030 can increase the market rate by 120% and extend its useful life to 100+ years, not to mention reduce vacancies. There are several key strategies identified in the study that companies can implement — either incrementally or all at once.
Reimagine the Ground Plane
Downtowns have been nine-to-five destinations for years. However, when the pandemic forced many office workers to stay home, these areas suffered disproportionately. Now, as offices bring people back — with new parameters around flexibility and schedule — the shift from nine-to-five to 24/7 activation is more relevant than ever before. Tenants and landlords want the same thing: full, vibrant offices. Because of this, owners seek to make these spaces "worth the commute," and they partner with companies who can achieve that goal and increase the value of their assets.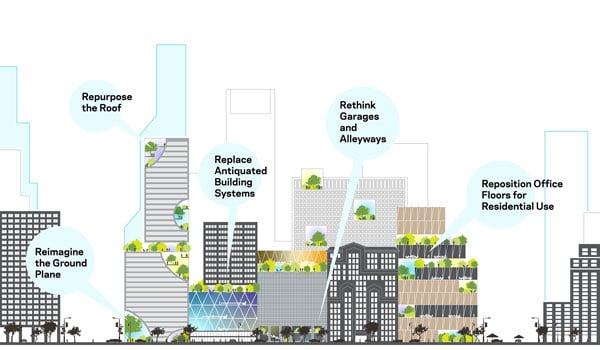 Key to this idea is introducing a mix of environments that support 24/7 accessibility, access to public spaces, engagement, discovery, productivity and respite, all of which can be baked into the diverse landscape that anchors the ground floors of dynamic, mixed-use properties. This can be done on a variety of scales, from weaving several properties together to create a lush network of indoor/outdoor spaces, to enabling access to nature and community activity through the entire podium of the building, to leveraging successful neighborhood retailers to introduce a sense of pride and entrepreneurial spirit.
For example, NBBJ's recent renewal of public spaces in the 56-story Two Union Square office tower in Seattle, which opened in 1989, transformed the building's lobbies from mere passageways into destinations that are more welcoming to tenants and the public, who can move around the entire perimeter to find places to work and meet up.
In downtown Washington, D.C., NBBJ hired its experience design studio, ESI Design, to create an integrated 1,700-square-foot motion-activated LED display that is built into the walls of the lobby of Terrell Place, a 624,000-square-foot historic office building that was once a Hecht's department store. The display, which is activated by motion sensors, has won numerous design award since it was unveiled in 2016.
Reposition Office Floors for Residential Use
The theme of community doesn't need to stop at the ground floor. Instead, expand the mixed-use concept up vertically into the tower. One way to do this is by repositioning existing office floorplates into residential floors. Leverage prefabricated, built-in, flexible modules to reduce waste, optimize efficiency and create a "luxury" experience that is accessible to all, or adjust existing office floorplates to make them more desirable. For example, move the exterior glazed wall of the apartments in by five to six feet and use the added space as an exterior patio, or increase the amount of natural light into units by stacking the space vertically, putting a master bedroom suite in an upper loft. Introduce a work lounge on every other floor, giving residents an opportunity to "step away" when they work from home.
With hybrid work now the norm, developers must also think about how to accommodate a population that requires both work and living space. One-bedroom apartments with dens are becoming one of the fastest-growing categories — people want the ability to work from home, but they also crave separation between their work and living space. Coworking spaces on residential floors take this idea one step further, providing an office-like environment and the ability to get away from the apartment for a change of scenery or a more social experience.
Rethink Garages and Alleyways
As fewer people commute to the office every day, and looking ahead to the future of transportation, spaces like garages and alleyways may become less necessary. Rather than "throwaway spaces," they can be repurposed for community engagement and alternative energy.
For example, a data center installed in underused parking levels can provide waste heat that can be harvested for productive uses. Or, to replace revenue previously generated by parking structures, a garage can be repurposed as a theater or entertainment venue to host traveling exhibits and films, and support young, regional talent. Likewise, alleys can be viewed as active, urban backyards, appealing to diverse age groups, subcultures and interests. Examples include installing a climbing wall to leverage vertical space as cities densify, or creating a biker's café at an existing monthly garage exit.
Repurpose the Roof
Urban rooftops have traditionally been used to house building mechanicals. However, as the footprint needed for this type of equipment has decreased, these areas can now be leveraged for tenant gardens, social decks and shared views for all residents, transforming a functional space into a lush, attractive environmental workhorse. Residents can take advantage of this protected "backyard" through hands-on activations such as communal firepits and barbecues, a tinkering shed, or gardening spaces that build community and encourage well-being.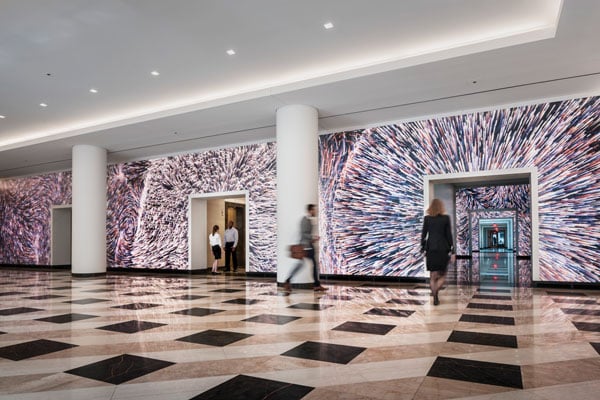 A lush, landscaped roof provides everyone with outside air, natural light and great views, all through the smart, economical use of space. The ground-floor level of a property and the roof can also work synergistically, supporting one another through shared or complimentary programming — for example, a rooftop play area for community-level day care, or a garden to host community programming like horticulture therapy or cooking classes. Finally, leveraging rooftop space also provides an energy opportunity through photovoltaic panels, which can generate approximately 15% to 20% of a building's annual electricity consumption.
Replace Antiquated Building Systems
Commercial tower enclosures from the mid to latter 20th century are aging and wearing out, designed and built for a different set of owner and environmental criteria than those of today. Luckily, there are many options for refreshing these buildings, including replacing obsolete components, increasing durability, lowering energy use, improving interior thermal comfort and boosting air quality. And one of the most successful ways that landlords can partner with tenants is through ESG initiatives. The office is a primary place for meaningful sustainability efforts, and many employees expect the organizations they work for to make good environmental decisions.
Starting with the building's exterior, a new modular cladding system is both economical and environmentally sound, and adding high-performance glazing frames can further reduce energy use and increase the longevity of the building's structure. A new, redundant water-management system can reduce the risk of water leaks, and heat pumps at the roof can produce heating and cooling while eliminating cooling-tower water usage and reducing energy consumption. Switching to floor-by-floor outside air handling units and chilled beams or radiant panels reduces the depth of services on typical floor plates and frees up the mezzanine level for other uses. (According to Air Conditioning, Heating and Refrigeration News, a chilled beam is "an air distribution device with an integral coil that may be installed within a space in order to provide sensible cooling and heating." The U.S. Department of Energy defines radiant panels as devices that are "usually made of aluminum and can be heated with either electricity or with tubing that carries hot water.")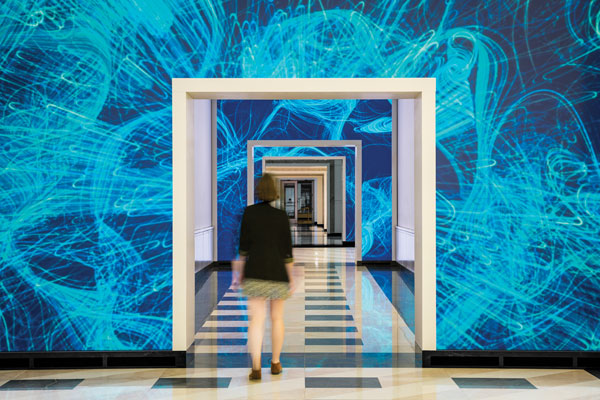 Bringing it All Together
By reframing thinking beyond predictable amenities and lobby remodels, it is possible to successfully reposition aging buildings. While any building can be remade, certain factors make an office tower more desirable for repositioning — for example, its location, a more generous site (featuring a plaza or setbacks, unlike most current new builds), shallower floor plates, high ceilings and mid- to high-rise design, which lends itself better to multi-purposing. Without these key components, the assets are simply market-dependent investments, and teardown is sometimes the best option.
Repositioning is also about protecting the fabric of communities through thoughtful preservation. The advantages of thinking more widely about repositioning efforts go beyond the building itself, touching the surrounding neighborhoods and communities. Whether acting incrementally to slow the decline of the asset or precipitating a steep change in building value, start by anticipating the needs of urban environments, creating a future-facing strategy with options, and investing incrementally toward a holistic vision.
By reinvesting in these aging properties, it is possible to create dynamic new environments for living and working, and to breathe new life into urban downtowns in an efficient, cost-effective and environmentally responsible way. There are 3.5 billion square feet of powerful catalysts that are readily available resources — what are we waiting for?
Andrea Vanecko is a design principal and corporate market leader with NBBJ. Eric Phillips is a partner and global commercial practice leader with NBBJ. Lisa Stewart is senior managing director with JLL Seattle.