A shortage of workers is forcing builders to pay higher wages.
While pundits may disagree whether the economy has been, or will soon be, in recession, there is little doubt that homebuilding is headed for a dive and that many developer-financed projects are vulnerable to postponement or cancellation. That might suggest other contractors should have an easier time finding workers. But the evidence so far doesn't support such a rosy scenario.
The Bureau of Labor Statistics (BLS) reports each month on employment in five categories of construction businesses: residential and nonresidential building and specialty trade contractors, along with heavy and civil engineering construction firms. While there are different skill mixes among all the firm types, the essential difference is between the two residential segments and the three nonresidential groups.
As the chart below shows, job losses in the first two months of the pandemic — March and April 2020 — were similarly catastrophic: 14% to 16% declines in both groups of construction firms and in the overall nonfarm payroll sector. Once stop-work and stay-at-home directives eased, construction employment rebounded more strongly than other industries in May 2020.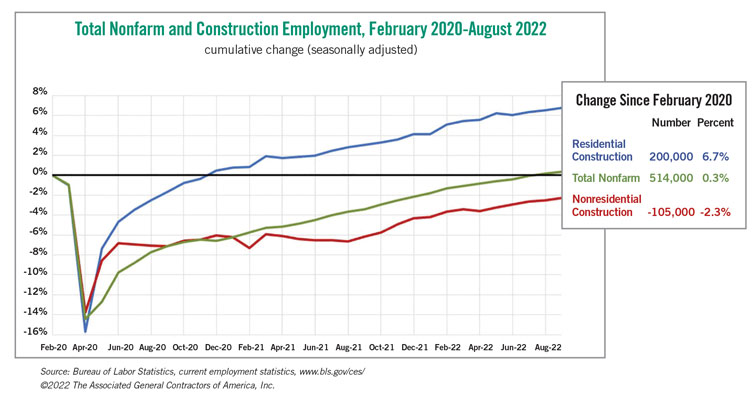 From then on, single- and multifamily builders and remodelers added employees at a steady clip, even after other housing indicators began to slip in the summer of 2022. By last September, residential construction firms had topped the February 2022 employment level by 200,000 or 6.7%, one of the largest gains of any sector.
In contrast, nonresidential construction employment stalled for 14 months before beginning to grow again in August 2021. Since then, the sector has added jobs at roughly the same rate as the overall economy, but nonresidential employment in September 2022 remained 105,000 or 2.3% below its February 2020 level.
That may seem to imply there are plenty of former construction workers who might be available to hire back now that demand is growing again. But the unemployment rate tells a different story: in September, the rate for individuals with construction experience who hadn't worked for pay in the previous four weeks and were actively looking for employment was just 3.4%, the second-lowest rate in the 23-year history of the series.
While the overall unemployment rate is also at a near-record low and many industries report difficulty filling positions, construction faces additional challenges. Because many jobs are physically demanding, require working in all types of weather, with fixed hours, and sometimes remote locations, the industry has always paid a premium to attract hourly craft workers. These workers, along with some office workers, are what BLS calls production and nonsupervisory employees.
From 2000 through 2019, hourly earnings for such workers in construction consistently averaged 20% to 23% more than across the entire private sector. But once the pandemic struck, formerly low-wage industries such as fast food, warehousing and delivery services bumped their starting pay from near the federal minimum of $7.25 per hour to as much as $19 per hour. The construction "premium" shrank to 16% or 17%.
In addition, many more employers were able to offer remote, hybrid or flexible locations and hours, features that onsite construction jobs can't match and that became more attractive for workers with medical conditions, childcare or other family responsibilities. To attract more workers, it appears likely that construction firms will have to boost average pay even more than the 6.8% increase that occurred between September 2021 and September 2022.
Property owners and developers thus should expect that costs for construction and renovation or remodeling projects will soon reflect much higher labor costs than they have experienced over the past 15 years of modest wage increases. Once steeper wage gains become the norm, a return to more modest increases may take a long time.
Ken Simonson is the chief economist with the Associated General Contractors of America. He can be reached at ken.simonson@agc.org.