Sound bites from NAIOP's I.CON West, held March 23-24 in Long Beach, California.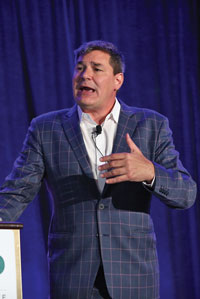 " What's happening in the economy overall is complex. Fourth-quarter 2021 GDP [gross domestic product] was 6.9% and February unemployment was 3.8%. Beware of the narrative." — Christopher Thornberg, Ph.D., founding partner of Beacon Economics
" There's a reduction in labor demand, but also a great demand in labor supply. This leaves us with a profound problem, and we are seeing a decline in the number of people in their prime working years. It took the pandemic to speed it up." — Christopher Thornberg, Ph.D., founding partner of Beacon Economics
" I think looking forward, there is a risk to not including capital for solar in your project. It's much more expensive to add solar to a building retroactively." — Alexander Hancock, vice president, clean energy finance, Nuveen Green Capital
" Four things have always controlled construction in my view: the cost of labor, cost of dirt, cost of money and the cost of goods. One of the four can be out of control, but not all four. I'm watching for the line where rent increases and the cost of construction collide. This is where the problem will emerge. As long as rents can keep up with the cost to build, it's solid." — Guy Martin, president, Martin-Harris Construction
" We think there is a significant opportunity here. There is a huge intersection between energy and buildings, but we need an integrated solution. Prologis is thinking about how to add value to their buildings, and I think integrated EV solutions are a big part of that moving forward." — Dan Loflin, commercial head of EV charging, Prologis
" Their first question when vetting a location is, 'Will anybody come there to work? How do we know the labor market exists?' " — Seth Martindale, senior managing director, CBRE
" It's important to remember that you can't change to a glulam beam roof without thinking about all of the other elements it changes, like sprinkler systems. This type of change has to be considered in early pricing and design so you can see the whole picture." — Teresa Goodwin, AIA, regional director, HPA Inc.
" A study by Cushman & Wakefield said that Southern California ports need to do two things: track consumer demand and move forward with a new operational way. Explosive growth in consumer demand has contributed to this situation, and we need to work toward a 24/7 supply chain, including warehouse operations, because the cargo has to move." — Mario Cordero, executive director, Port of Long Beach
" For companies that are located here in Southern California, we suggest they lease a chassis pool to help their trucks get into the port. This impacts 24/7 operations. If suppliers can't get into the ports to get containers out 24/7, it's almost pointless for the port to be open around the clock. A lot of things have to click for 24/7 to work. They call it a bottleneck for a reason." — Brian Fish, senior project manager, St. Onge Company