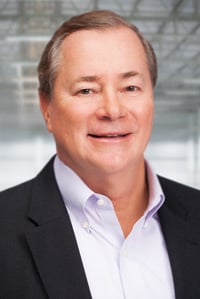 I.CON West speakers and attendees shared the common outlook that the industrial sector is ripe with opportunities. E-commerce continues to explode to meet same-day delivery expectations, and significant supply chain challenges caused by an unimaginable pandemic have also accelerated both industrial demand and investment.
These are some of my biggest takeaways from the event:
Changes to port operations could ease supply chain challenges. Mario Cordero, executive director, Port of Long Beach, said one of the port's biggest issues is the volume of empty containers waiting to return to Asia — at one point equaling 50% of containers at the port. There is an opportunity to focus on changes to the supply chain, including greater availability of rail cars or truck chassis, or permanent 24-7 operations.
American savings accounts were supercharged during the pandemic. Beacon Advisors economist and keynote speaker Christopher Thornberg, Ph.D., shared that while Americans collectively lost $800 billion in income during the past two years, the stimulus packages created by the federal government directly gave Americans more than $2 trillion. As a result, collective household net worth increased $30 trillion — a 25% increase in average household net worth in just two years.
There are industrial opportunities in the markets you might not expect. Brian Fish, senior project manager with St. Onge Company, shared that if a supplier wants to be within two days of service to 95% of U.S. population, there are three markets that get them there: Salt Lake City; Jackson, Mississippi; and Louisville, Kentucky. If they want to be within one day: Seattle; Fresno, California; Albuquerque, New Mexico; Waco, Texas; Bloomington, Illinois; Huntington, West Virginia; Newark, New Jersey; and Jacksonville, Florida.
Solar has room to grow — and can pay off. According to McKinsey & Company, approximately 70% of commercial real estate has the capability to go solar, but there's only a 3% penetration rate. A solar array on an owner-occupied light industrial building in Ronkonkoma, New York, resulted in first-year savings of over $700,000, and the anticipated savings over the project's life is more than $5.6 million.
Dimensions of industrial buildings are growing. Over the past two decades, an increasing number of distribution centers have exceeded one million square feet in size, and clear heights have expanded to a new standard of 40 feet, up from the previous 26 feet. Kim Snyder, president of the West Region with Prologis, shared that their conversations with tenants are increasingly shifting from square feet to cubic feet and increased racking capacities.
New talent is bringing fresh ideas to industrial real estate. It was my honor to meet more than 20 recipients of the annual NAIOP and Prologis Inclusion in CRE scholarship, industry professionals from underrepresented demographics in commercial real estate who are rising industry leaders. I was so impressed by this group and their enthusiasm for NAIOP and the industry, and I want to recognize Prologis for their support of this program that has prepared more than 60 bright minds for development and operations careers during the past five years.
I hope you can join us in Jersey City for I.CON East, and CRE.Converge 2022 this fall in Chicago. Connecting and learning at a NAIOP conference is a worthwhile investment of your time, and I look forward to meeting you there.


Jeff Milanaik, Partner, Northeast Region – Bridge Industrial
2022 NAIOP Chair