Infill development in high-value locations can be a complex process.
By any metric, 2021 was a record year for the industrial sector, as pressure to move goods with short delivery times led to aggressive leasing activity among e-commerce companies and third-party logistics providers. According to JLL, the national industrial vacancy rate dropped to 3.8% in 2022 — the first time in history it has ever fallen below the 4% threshold. This declining vacancy rate was even more impressive because prior to 2021, industrial developers had delivered more new speculative buildings than at any time in history.
One of the drivers of this sharp rise in demand is "last-mile" delivery, the most challenging aspect of e-commerce logistics. Last mile (or what Prologis calls "last touch") refers to the final transportation leg of goods from warehouses to their final delivery destinations.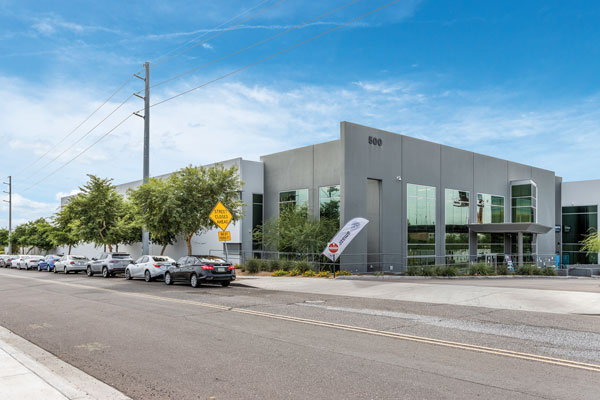 For most of the history of industrial real estate, the logistics model consisted of moving goods in bulk in tractor trailers, rail cars and shipping containers from factories or ports to distribution centers, where the goods would remain until retail stores needed to be restocked. The dawn of e-commerce 20 years ago radically shifted this model. Today, the challenge is how to get small shipments from a warehouse directly to a consumer in a cost-effective manner. E-commerce logistics providers began to realize they needed to place goods, not just in a few large regional distribution centers, but also in smaller facilities close to the population centers that must be served in a short delivery window.
For decades, the cost of warehouse rent in the overall supply chain economics has been relatively small, hovering around 4% to 5%. On the other hand, labor and trucking expenses have far greater impacts on logistics costs. Therefore, companies deciding where to locate warehouse operations focus more on reducing their transportation costs rather than minimizing rent. These dynamics then lead logistics providers to structure their supply chains so that goods travel the shortest routes possible.
E-commerce giants that promise one-day or same-day delivery windows have only intensified expectations for quick and free delivery, a trend Amazon launched with its two-day-delivery Prime membership in 2005. With stay-at-home orders amid the pandemic fueled by government stimulus payments, consumers accelerated consumption while easy fulfillment brought purchases directly to their doorsteps almost instantly.
What is Last Mile, Exactly?
While demand for last-mile warehouses and facilities has dramatically increased, real estate professionals must consider several factors when navigating this most challenging piece of the logistics puzzle. First, what is last mile and how close does a distribution center have to be to a population center to be considered last mile? Can a building be last mile in the distribution chain if it is 20 or 40 miles away from the intended destination?
The answer is complex and may differ city by city depending on traffic patterns, population densities, and the availability and distance of industrial buildings and zoned land. In many cases, buildings located farther from a city's core are still reachable within two hours, yet such buildings contain more modern logistics features such as higher clear heights, deeper truck courts and excess trailer parking and staging compared to older, closer-in facilities.
Other Uses Vying for Proximity
Because of the recent press generated by last-mile e-commerce logistics, institutional investors have flocked to this sector with billions of dollars of capital to deploy. The result has been dramatically increasing values for these facilities. Savvy owners selling portfolios with older Class-B assets have taken advantage of investor appetite by rebranding any older (and often functionally challenged) portfolio of buildings as "last mile," and the term is often used as more of a marketing tool than reality. This has resulted in a compression of capitalization rates to the point that a 30-year-old warehouse in a desirable market often sells at similar capitalization rates as a three-year-old facility.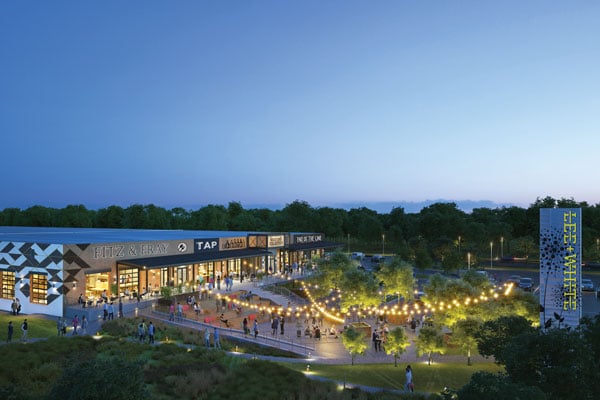 Examining the tenant base of many infill industrial markets, however, often yields results different from the breathless hype that last-mile e-commerce has generated: Only a small number of the tenants of these facilities are involved in last-mile e-commerce fulfillment. This is based on internal examination of MDH's multitenant portfolio of over 35 million square feet across 30 cities, as well as anecdotal experience from working in these markets on a daily basis. Instead, infill industrial tenants include such uses as crossfit gyms, cheerleading and gymnastics academies, breweries, HVAC and plumbing supply companies, furniture showrooms and other users who need to be close to population centers. Many of these tenants could have utilized traditional retail spaces, but the infill industrial buildings with large, open interiors offer better layouts for their uses at lower price points. Before the term "last-mile" came into vogue around five years ago, these buildings were simply referred to as "infill products."
The reality is that many tenants in so-called "last-mile" warehouses have nothing to do with last-mile e-commerce. However, that is not to say that these buildings do not have significant value. The true story is more nuanced. Investors purchase these facilities because they are difficult to replace due to land and development constraints. Over time, those factors yield solid rent growth. Many businesses also require their facilities to be near population centers and housing, while other tenants need the immediate accessibility to labor an infill environment provides. On top of these leasing dynamics, the real and growing need of last-mile e-commerce adds a new dimension to the more traditional demand drivers of infill real estate.
While investors, developers and logistics companies debate over the term "last mile," other challenges also exist within this space. Here's what the industrial and logistics sectors should be watching in the year ahead:
Site selection and competition. For a tenant who must be near a city's urban core, whether providing services for locals or delivery, site selection often proves more difficult the closer one gets to population centers. The available industrial real estate in true infill locations is older and usually less functional for modern distribution, land for new development is scarce, traffic congestion can be problematic, and most importantly, not enough of these facilities exist today to meet the various demands.
In many markets, the available urban warehouse stock has been shrinking as older buildings are transformed into higher and better uses such as multifamily, retail and creative office. Adaptive reuse of industrial buildings is a popular choice due to its potential for
higher returns, less expensive construction costs and the ability to provide a more sustainable development. When done well, the resulting new uses within older structures can also be more aesthetically appealing than new construction.
In addition, these locations often offer prime opportunities for densification with vertical development replacing single-story industrial.
Consider Atlanta's West Midtown, the oldest industrial area in Atlanta. It once had warehouses on every corner. This submarket has now become a millennial hotspot with breweries, creative offices, trendy restaurants, retail spaces and more occupying 60-year-old former warehouses. Many other warehouses in the submarket were simply bulldozed to make way for new multifamily developments and an always-crowded Top Golf facility.
A little farther south in Atlanta's Historic West End neighborhood, Ackerman & Co. and MDH Partners' mixed-use project Lee + White is an ongoing redevelopment of the community's former "Warehouse Row." At close to 500,000 square feet, these 1950s warehouses will showcase a mix of cutting-edge breweries, restaurants, a food hall, retailers, food manufacturers and creative loft offices.
Physical configuration of buildings. Most buildings located in infill locations from the 1950s to the 1990s have shallower truck courts, limiting the maneuverability of tractor trailers. While last-mile distribution often relies on smaller vans or cars to deliver the goods from the warehouse to the consumers' homes, the challenge lies with getting the goods into warehouses in the first place, which most efficiently occurs with bulk deliveries on large tractor trailers.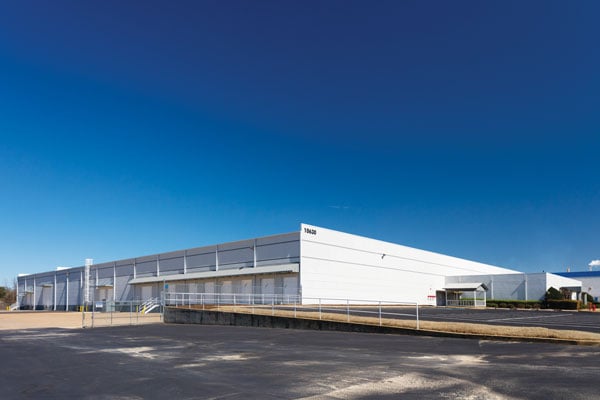 In some markets, developers have been redeveloping older sites into more modern facilities, but doing so at significant scale has its own issues. Most older sites are simply not large enough to rebuild modern facilities with the needed space for truck maneuvering and trailer storage required by large e-commerce operations. Assembling adjacent sites and combining them may be feasible, but will be time-consuming, expensive and better suited for entrepreneurial local developers rather than large institutional investors. Environmental cleanup and remediation can be another challenge in these locations.
Transportation and labor. Last-mile distribution relies heavily on a workforce delivering smaller goods to individual consumer homes in a widely dispersed city. However, the U.S. is experiencing a massive labor shortage. According to the Bureau of Labor Statistics, in March 2022 the nation had 11.3 million jobs to fill. While large cargo ships can transport thousands of pounds of goods across the globe in an efficient manner, delivery drivers must make multiple round trips a day, slowing the process of the final link in the logistics chain. The existing labor shortage further compounds these challenges. Other businesses, especially technology and medical companies, are located in infill industrial real estate because of access to nearby educated and skilled labor bases. These users can afford the higher rents of the infill markets and then crowd out the e-commerce logistics providers who use low-cost labor for their distribution services.
Resistance from residents. The closer a distribution center is to population centers, the closer it is to residential neighborhoods. Theoretically, the best last-mile locations would be built concurrently with the expansion of neighborhoods and suburbs. However, while consumers want their packages dropped at their doorsteps as quickly as possible, they are not as keen on the idea of having tractor trailers and warehouses on the streets by their homes and schools.
In place of infill sites that could accommodate last-mile industrial, residents would rather have walkable retail. Trucks can also be unsightly, loud, increase traffic and place an additional burden on local infrastructure.
Investing in sustainability. The industrial sector has been behind the curve when it comes to advancing environmental, societal and governance (ESG) policies, but in recent years developers and investors are making new efforts. While last-mile industrial has its fair share of challenges, it can also provide many sustainability benefits. Refurbishing an older infill building and extending its useful life provides the ultimate sustainability story — rather than razing and rebuilding an older warehouse, which produces waste and significant carbon emissions, refurbishing it can breathe new purpose and extend its useful life by decades. Additionally, the closer a distribution facility is to the urban core, the less time delivery trucks are on the roads, which reduces carbon emissions.
Owners have numerous options to invest in sustainability by improving outdated buildings. Steps include swapping out older lighting for more efficient LED fixtures, replacing roofs with reflective and more insulated materials, upgrading HVAC equipment to reduce energy consumption and utility bills, and more generally, cleaning up the buildings for a new generation of users.
When developing facilities from the ground up, innovative technologies provide other opportunities for sustainability. One of the most powerful new technologies that MDH Partners has employed in its speculative construction is CarbonCure, a manufactured technology for the concrete industry that introduces recycled CO2 into fresh concrete to reduce its carbon footprint without compromising performance. The cost for this added technology ranges from negligible to no cost increase. Additional environmental measures for ground-up development include adding clerestory windows, skylights, low-flow plumbing fixtures, carbon-neutral tiles and carpets in office spaces, and graywater treatment for irrigation.
Looking Toward the Future of Last Mile
Demand for last-mile facilities will continue to increase throughout 2022. EMarketer forecasts e-commerce sales to exceed $5 trillion for the first time this year, accounting for more than a fifth of overall retail sales. Demand for warehouse space from e-commerce-related tenants, who have fueled historic industrial demand across all segments of the market, should remain robust. The non-e-commerce tenants, like gyms and local service providers, should also see more growth over the next year as businesses keep reopening and growing from their pandemic lows.
Although online shopping sales will continue to trend upward, a note of caution is also warranted against using the record absorption figures of the past two years as the "new normal" going forward. The industry is unlikely to see the same rapid rate of growth witnessed within the e-commerce sector in 2020 and 2021, but should instead revert toward the pre-pandemic mean in 2022 and 2023. As traditional bricks-and-mortar businesses reopen and consumers have grown weary of isolation, demand for in-person shopping will likely increase again and moderate the rate of e-commerce growth.
If the past two years taught us anything, it's that the world is unpredictable. However, for the foreseeable future, last-mile industrial real estate should remain a favorite of retailers, logistics providers, consumers and investors.
Jeffrey Small is the CEO of MDH Partners.
Relevant Research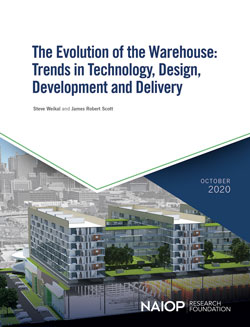 In October 2020, the NAIOP Research Foundation published a report titled "The Evolution of the Warehouse: Trends in Technology, Design, Development and Delivery," by Steve Weikal and James Robert Scott, researchers at the MIT Real Estate Innovation Lab. Weikal and Scott reviewed recent publications on emerging logistics and building technologies and interviewed industry practitioners to evaluate how these technologies will influence the future of logistics real estate. Continued advances in automation, data analytics and artificial intelligence promise to make industrial assets more productive and profitable, create new opportunities in building design, and blur traditional boundaries between property types.
To download the report, visit naiop.org/Research-and-Publications