Shortages of workers and supplies could mean higher costs and longer timelines for projects.
Construction contractors have high expectations for several types of projects in 2022. But they are wary about the impact of acute workforce shortages, along with continuing supply-chain bottlenecks and volatile materials costs. Those were some of the conclusions to be drawn from the 2022 Associated General Contractors (AGC) of America/Sage Hiring and Business Outlook Survey.
More than 1,000 contractors from every state responded to the survey, conducted in late 2021 and released on January 12. Collectively, AGC members perform every type of construction other than single-family, and they displayed broad optimism as to whether they expected the dollar value of projects available to bid on in 2022 to be higher or lower than in 2021. For 15 of the 17 project types, more respondents said they expected an increase than a decrease in potential work. The results are shown in the chart below for seven predominantly private-sector building categories.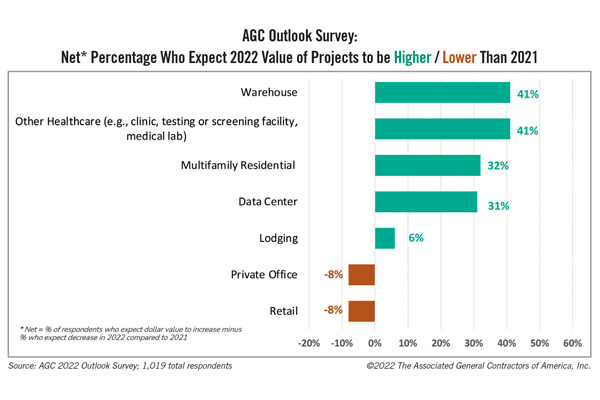 The bars indicate the "net reading"— the percentage of respondents who expect more projects (by dollar value) minus the percentage who expect less. For example, 52% of respondents expect warehouse construction spending to increase in 2022, while 11% expect spending to decrease (with the remainder expecting little change), for a net positive reading of 41%.
At the same time, contractors are bracing for a difficult year executing projects. While 74% of the survey respondents expect to boost headcount at their firms in 2022, 83% reported having a hard time filling some or all positions. Three out of four say it will be as hard or harder than in 2021 to hire.
Indeed, data from the Bureau of Labor Statistics' (BLS) Job Openings and Labor Turnover Survey show there were 273,000 job openings in the construction industry at the end of 2021. That was a nearly 30% increase from a year earlier and greatly exceeded the 220,000 employees that the industry hired in December. In other words, more than half the jobs that contractors sought to fill in December were still vacant at the end of that month.
With so many unfilled positions, it is not surprising that the industry is raising pay. Construction industry wages, salaries and benefits climbed 3.8% in 2021, up from 2.8% in 2020. But those increases did not keep up with the overall private sector, which boosted wages 5.0% as many historically low-paying industries offered dramatically higher starting pay, bonuses and other inducements.
The implication is that contractors will have to spend much more in labor-related costs in 2022. These might take the form of higher straight pay, overtime, recruitment and training costs, and investment in equipment and processes that reduce the required number or skill level of jobsite workers. Developers should be aware that these costs are likely to be passed on and may be associated with longer completion times.
In fact, 84% of participants in the AGC survey reported projects in 2021 cost more than anticipated, while 72% reported they took longer than anticipated. These impacts stemmed from worker shortages, higher materials costs and longer delivery times. As a result, 69% said their firms were putting higher prices into bids and contracts, and 44% said they were quoting longer completion times.
On the whole, contractors expect further growth in warehouse, medical, multifamily, data center and lodging construction. They are slightly pessimistic on net about the prospects for retail and private office projects. They have been raising pay but are experiencing a surge in job openings. They anticipate continued difficulty hiring workers and expect project completion times will lengthen.
Ken Simonson is the chief economist with the Associated General Contractors of America. He can be reached at ken.simonson@agc.org.