A large tire-storage facility in a small Indiana town offers lessons for developers on how to work with communities.
The new Cooper Tire and Rubber Co. warehouse and distribution center in Whiteland, Indiana, along with the 475-plus-acre Mohr Logistics Park, is bringing new employment opportunities and economic growth to this small town of 4,400 people 20 minutes south of Indianapolis.
Dallas-based Mohr Capital focuses on the development of large-scale projects across the nation and has extensive experience working with municipalities and townships. Despite its familiarity working with town managers and city planners, as well as its understanding of the intricacies of comprehensive plans, bringing the Cooper Tire project and Mohr Logistics Park to fruition required creativity, patience and cooperation.
Searching for the Perfect Parcel
Findlay, Ohio-based Cooper Tire and Rubber Co. is a long-term client of Mohr Capital. The firm built the tire manufacturer's former 807,042-square-foot facility in Franklin, Indiana. At the time of construction 12 years ago, it was the largest LEED-certified building in the United States.
Even though Mohr and Cooper Tire designed and developed the facility to be operational for several decades, the company outgrew the space. Additionally, changes in the supply chain market made operations at the facility challenging, especially as it related to trailer storage capacity. The existing site could not accommodate Cooper's growth. As the lease expiration approached, Mohr began searching for a replacement property that better suited Cooper Tire's long-term needs and could provide better economics.
To meet Cooper Tire's growth expectations and operational needs, it required a minimum of 60 acres to build a facility with more square footage and more trailer parking. Moreover, the company wanted to remain in the county or the immediate vicinity because of its existing workforce, which boasts a labor pool of 30,550 potential workers within a 30-minute commute.
Cooper Tire's site selection team, led by Mohr Capital, searched for two years to find the right location and available land for the new facility. The site Mohr identified was located in Whiteland, a small town of about 4,400 residents. It is situated five miles south of I-465 off I-65.
The site of the new location is also close to I-70 — only 19 miles away — and other logistics hubs: 25 miles to Indianapolis International Airport's FedEx hub and 102 miles to the UPS hub in Louisville, Kentucky.
Additionally, the site is eight miles north of Cooper Tire's previous facility in Franklin, Indiana, and is surrounded by industrial uses — two truck stops are nearby and an Amazon fulfillment facility is just across the road.
Prior to construction, there were only two industrial facilities in Whiteland. Mohr Logistics Park, at full buildout, will contain more than 6 million square feet spread across eight to 10 buildings.
Designing to Unique Building Requirements
Mohr broke ground on the 996,930-square-foot warehouse in June 2020. It was ready for occupancy in January 2021, ahead of schedule and under budget. Cooper Tire's facility sits on 61 acres and serves as the company's distribution hub for the Midwest region.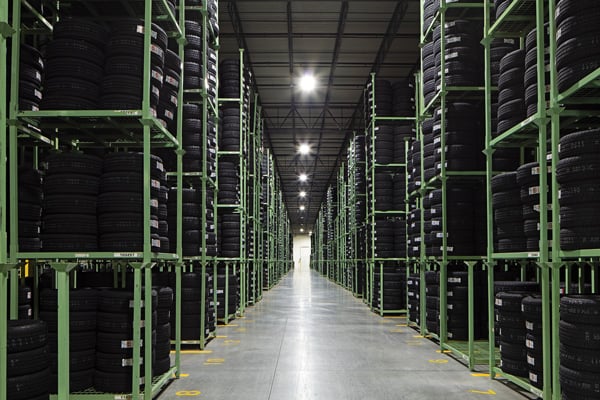 Cooper Tire signed a 12-year lease and achieved $15 million in relocation savings through below-market rent equal to $10 million over the lease term, as well as a real and personal property tax abatement valued at more than $5 million.
The Cooper Tire project is unique, not only because of its size — it's the largest warehouse in Johnson County, as of January 2022 — but also because it stores and distributes tires.
Tire facilities have unique design and construction requirements. Because rubber is potentially flammable and tires are kept within portable steel modular racking, tire storage buildings are limited to 32-foot clear heights, less than typical warehouse facilities being built today. They also must meet special fire code provisions including specific sprinkler heads, interior fire walls and water supply requirements. These may include the addition of a supplemental water tank to augment municipal supply, among other safety features.
While some developers won't consider building facilities for tire manufacturing or tire storage because of the distinct and lasting odor and fire danger, Mohr has developed more than 5 million square feet of tire distribution centers for major tire manufacturers. It is crucial to work with these manufacturers to find solutions to their specific challenges, including high pile storage, and it is important to study and understand municipal overlays that impact tire distribution centers.
Using its own capital, Mohr invested $43 million in the building, including $4.7 million to buy the property. Meanwhile, Cooper Tire invested $10 million to install new portable steel modular racking systems and other equipment in the facility.
Aggregating Hundreds of Acres
A portion of the land Mohr identified for Cooper Tire had been optioned by developers in the past, but the overall land assemblage for the industrial park was a matter of Mohr being in the right place at the right time. Since the developer was able to aggregate hundreds of acres, a large-scale industrial park made sense, so it quickly capitalized on the opportunity.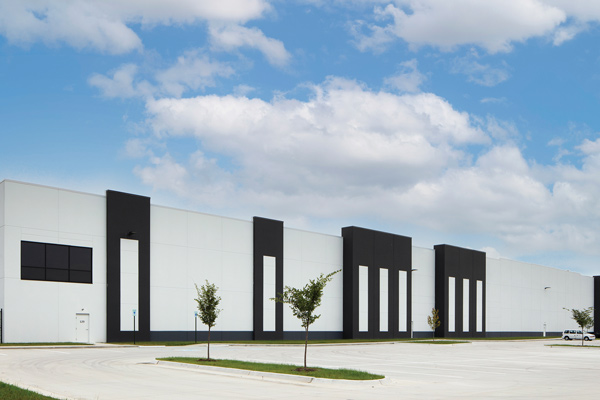 As of January 2022, Mohr was under development on five speculative buildings within Mohr Logistics Park: an 827,000-square-foot warehouse, which is now complete and under lease discussions, a 1.057-million-square-foot warehouse, an 845,000-square-foot warehouse, and two 125,000-square-foot warehouse/manufacturing buildings.
Mohr will develop the park in several phases consisting of additional land acquisitions and the construction of four to five additional speculative facilities. Two of the planned buildings will be at least 1 million square feet, while the remaining two buildings could be as large as 350,000 square feet.
Mohr's corporate leasing team is currently negotiating with two large users — an e-commerce company and a third-party logistics company. In addition, Mohr is in discussion with a smaller food-grade user and an e-commerce distribution company in need of a 1.4 million-square-foot facility.
The e-commerce companies would bring 1,000 jobs each to Whiteland and invest $150 million to outfit the facilities with conveyors and robotics. One potential occupier, which is currently operating out of Indianapolis, intends to establish a corporate campus in Mohr Logistics Park, initially leasing one building and optioning three more buildings.
Re-Imagining the Comprehensive Plan
Like most municipalities, the town of Whiteland had a comprehensive plan that outlined its future commercial and residential growth. However, that plan didn't take into account the economic opportunities a substantial development like Mohr Logistics Park could bring to the area.
Relevant Research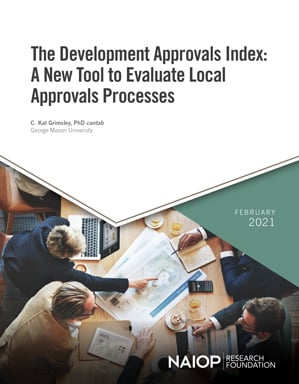 The NAIOP Research Foundation recently commissioned the creation of an index that allows commercial real estate professionals to compare development-approvals processes in different jurisdictions. The tool, which is highlighted in a new NAIOP Research Foundation report entitled "The Development Approvals Index: A New Tool to Evaluate Local Approvals Processes," can help developers "make more informed decisions and helps local governments benchmark their processes against neighboring jurisdictions."
To view or download the report, visit naiop.org/Research-and-Publications/Reports/Development-Approvals-Index
After Mohr presented its vision for the master-planned industrial park and participated in several meetings to address resident questions, the town of Whiteland took several steps to accommodate the project. Specifically, it annexed 340 acres from unincorporated Johnson County and rezoned the land to light industrial.
Originally, Whiteland zoned the land for agricultural and residential use. Several acres were owned by local farmers, and one was an apple orchard that was fallow and unproductive when Mohr moved to acquire it.
Meanwhile, Mohr needed to relocate several long-term homeowners to accommodate Mohr Logistics Park. Mohr offered the landowners well above appraisal values and worked with the sellers to accommodate scheduling requirements for their relocation at no cost.
While the U.S. Corps of Engineers identified only 2.97 acres as officially protected wetlands, Mohr plans to donate a large tract to the town of Whiteland for recreational use, walking trails and a park. This area is located in the wooded area behind a cluster of homes east of Cooper Tire's building.
Winning Over Reluctant Residents
The Cooper Tire facility, and Mohr Logistics Park overall, could be seen as an example of a successful public-private partnership.
Mohr representatives attended upwards of 15 public hearings and meetings to get to know council members, community leaders and neighbors and share its vision of the industrial park.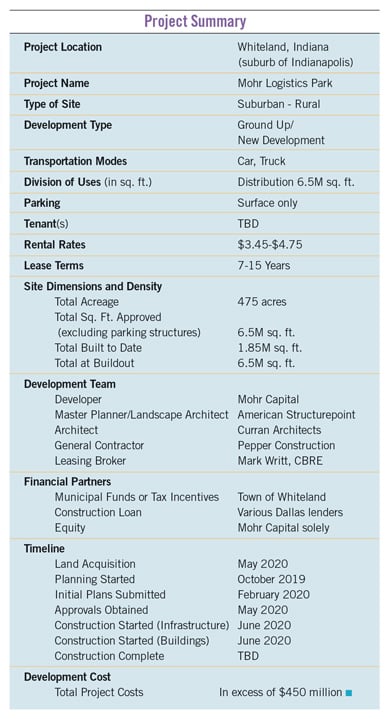 Though the project generated some resistance from homeowners and residents who prized the surrounding farmland and opposed new development, Mohr worked hard to gain support from the town and its residents. Given the size of the project, the company knew community cooperation was critical, and it overcame resistance by listening to concerns and making several development accommodations.
Many residents and town council members expressed enthusiasm about Mohr's vision to develop a master-planned industrial park rather than a series of one-off buildings, or a disparate and disjointed collection of warehouses. The company aims to create a cohesive and consistent look and feel that encompasses abundant landscaping, signage, building design, roadway improvements and building colors.
Mohr increased its budget for additional landscaping on this project, spending roughly 50% more than it usually does in order to create a park-like environment. It also invested in berming, extensive setbacks from residents and landscape buffering to shield views of the buildings and create separation from the industrial park and any residential uses in the area.
Additionally, Mohr took on roadway improvements, utilities, sewer upgrades and water distribution management. The company modified two sharp 90-degree turns on a critical access road, turning them into a softer "S" curve to accommodate vehicular traffic and tractor trailers. The company also expanded and resurfaced all roads within Mohr Logistics Park.
As part of the development, Mohr created a comprehensive drainage plan for the entire park. When the company rebuilt the access road described above, it took an extra step by adding drains into the resident's yards across the street that tied into the larger overall drainage system of ditches and detention areas. The solution will help prevent flooding and oversaturation, thereby achieving "positive" drainage.
Creating Economic Growth
In May 2020, the Whiteland Town Council voted unanimously to declare 121 acres of Mohr Logistics Park an Economic Revitalization Area and authorized a 10-year tax break on real property. Over the course of 10 years, the town will abate 49.5% of the taxes for a total of $5.3 million. The town will also collect $5.4 million in new property tax dollars, compared to the $862,680 that it would have collected during the same period on the 123-acre vacant lot.
Mohr made a diligent effort to honor the community by developing quality assets and attracting quality tenants. Additionally, the company has worked to weave itself into the fabric of the community by getting involved with several private and public organizations.
Mohr sponsors Whiteland Community High School's football team, basketball team and track team, and plans to purchase new walkie-talkies for the town's police force. So far, the company has donated approximately $15,000 to various organizations and programs in Whiteland.
Mohr is committed to being a partner of the Whiteland community for many years to come. The company and the park will continue to contribute to the area, creating additional sources of tax revenue and employment.
Gary Horn is the chief development officer with Mohr Capital.
Welcoming Freight to the Neighborhood
Industrial real estate contributes valuable jobs and services to local economies, but it's not always well understood by those communities. Concerns about traffic and adjacent land uses may also exist. In a session at NAIOP's I.CON East in Jersey City, New Jersey, in November 2021, a panel of experts discussed effective practices for engaging with local officials, decision makers and community members about the role of industrial facilities as a "good neighbor."
The panelists agreed that conversations with local municipalities about a proposed development project should be an ongoing dialogue that begins early.
"Start the conversation early, make it continuous and involve everyone," advised session moderator Anne Strauss-Wieder, director of freight planning with the North Jersey Transportation Planning Authority.
"You have to be patient with anyone you're working with — municipalities, regulatory agencies — to move forward," said Clark Machemer, senior managing director with Crow Holdings Industrial. "You also have to do education about what these buildings actually are and how they operate."
Many people are not familiar with modern warehouses and are more likely to imagine a dusty box they saw in a 1980s movie rather than the sleek, tech-infused operations of today. Developers need to bridge the education gap so municipalities and regulatory agencies better understand the realities and benefits of bringing infrastructure into a community.
Three major considerations for local communities include:
Environmental impact. "We need to look at what we're doing from a stormwater perspective and a land-planning perspective and talk about the improvements we're doing and how we're giving back to the community," Machemer said.
Truck and automobile traffic. A lot of local governments require truck traffic studies, so they know exactly what kinds of traffic are coming into and out of these facilities, said Brad Stewart, senior transportation planner with the Lehigh Valley Planning Commission in Pennsylvania. "[Consider] what the largest vehicle is that will frequent that site. Can these roads take a certain amount of truck traffic? We have to analyze that. Are the bridges sufficient to take the heavy truck loads traveling across them? Some bridges are owned by the state, some by the counties and some by local government."
Labor. "Labor is a top consideration for location: quality, quantity and getting them there," said Strauss-Wieder. It's crucial to talk about labor recruitment and retention as part of the larger discussion with local communities about development benefits.
— By Marie Ruff, communications senior manager, NAIOP