An adaptive reuse project in the Washington, D.C., suburbs show the potential for converting old office space into apartments.
The future was bleak for Park Center, a 566,000-square-foot, three-building Class B- office park in Alexandria, Virginia, when it came to market in 2016. The property consisted of two 14-story office towers and one four-story building, half of which was occupied by a full-service fitness center.
Although it was 86% occupied, one of the 14-story office towers was one-third empty and the other was about to be vacated by the U.S. Department of Agriculture (USDA). With uninspiring architecture and low tenant demand, there was little interest in acquiring these tired buildings.
However, national real estate investor and developer Lowe envisioned a future for Park Center as an apartment community. Lowe believed it presented a good value for a developer that was willing to invest the time, resources and creativity required to realize a new future for the property and transform it to viable use. Lowe partnered with USAA Real Estate to acquire Park Center in January 2018.
Park Center has been transformed into a major redevelopment now known as Park+Ford, a 435-unit apartment community. Along the way, the team encountered the unexpected, as is often the case in adaptive reuse, but not everything they found was problematic. In fact, some potential setbacks became opportunities.
In particular, in June 2020, as other businesses were pausing work amid the uncertainty of the early months of COVID-19, Lowe was able to realize significant construction cost savings and decided to proceed with construction. While it was unclear how long the pandemic would impact the rental housing market, the team was confident the market would recover by the time the renovation wrapped up. This timing proved fortuitous, and the property opened in a market where people are looking for the offerings at Park+Ford — large units with abundant on-site amenities, and close enough to commute to business centers without being dependent on public transportation.
Good Location, Good Bones
When Park Center was constructed between 1981 and 1986 along Virginia Route 7 and I-395 — major commuter roads in the Northern Virginia area — it was a single-purpose office park amid a residential area. While shops and dining are nearby, they weren't walkable or convenient for office tenants.
Since that time, the standards for desirable office locations have changed. Businesses are now looking for walkable environments that offer a mix of restaurants, shops and services. The residential area around the site, which is a short commute to major employment centers, is five miles south of Washington and approximately 3.5 miles from the Pentagon.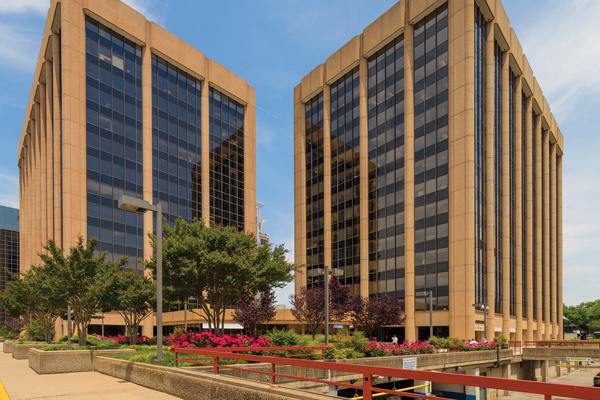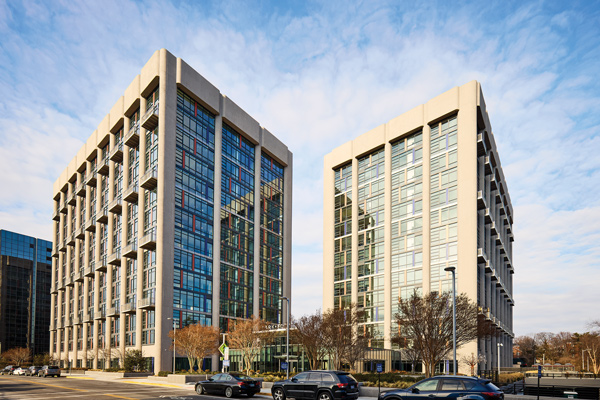 Park Center also had space. It's located on a 4.6-acre site and includes a 1,472-space garage — more than enough parking for apartments. The two 14-story towers feature 16,000-square-foot floorplates that allowed for efficient residential conversion.
Lowe negotiated a deal to acquire the property for $39.5 million — a significant value compared to new construction. For example, replacing the parking garage alone would cost $50 million to $60 million. Lowe and USAA secured a loan from Voya to carry the project through from acquisition to construction and closed in January 2018.
Vacating the Office Buildings
When Park Center was being marketed for sale in 2016, the largest tenant, the USDA, occupied nearly all of one of the 14-story towers. The agency planned to vacate when its lease ended in May 2017. The second tower had about 58% occupancy with approximately 22 tenants. They had leases running for various terms of up to seven years; some had renewal options. The four-story building was half leased to XSport Fitness, a 24-hour facility popular with tenants and neighbors. It offers a four-lane lap pool, indoor basketball court and a variety of fitness classes and equipment, plus a salon and daycare center.
The leasing situation was beneficial when considering a conversion. With the USDA set to vacate one tower but holding over, Lowe negotiated a lease extension to keep the agency in the building until its space was ready for occupancy at another building. Coupled with cash flow from the second building, Lowe had reliable income during the predevelopment period, along with certainty that it would have one vacant building and time to work with tenants in the second tower.
Lowe was able to negotiate lease terminations and facilitate relocations for the remaining 22 tenants. At the time, the local market was favorable for office deals. Facing the prospect of being in the middle of a two-year renovation process as work started on the neighboring building, tenants were open to working with Lowe on a termination plan.
A New Residential Plan
At the same time Park Center was for sale, the Alexandria Economic Development Partnership was developing a policy for the city to facilitate the conversion of obsolete office buildings to residential uses. City officials understood that having an inventory of attractive, modern offices was crucial to growing its business base, but underused office buildings in areas that were no longer favorable for business were a drain on the tax base. With these pro-economic development policies and a need for additional housing in the city, Lowe was able to close on its acquisition with some assurance that the city council would embrace its adaptive reuse plan.
Lowe met no resistance from the community regarding the conversion, particularly as traffic counts for the new apartments are well below what was being generated by the office use. In addition, in the decades since the office buildings were constructed, the surrounding area had transformed into a community with several high-rise multifamily developments. The residential reuse plan aligned with that environment.
The city approved the adaptive reuse plan with only a few requirements, mostly related to conforming with updated residential site plan conditions. A road behind the property was initially developed as four lanes, but as the area had become more residential, the community sought a more pedestrian-friendly street. Lowe reduced it to two lanes and added curbside parking, which has slowed traffic and created a calmer street environment.
Affordable housing also was important for the city, and Lowe made the choice to include 10 units of low-income housing on site, with rents at or below 70% of the area median income. Additionally, all the apartments at Park+Ford offer rents that are lower than more costly new construction. This was another appealing aspect of the project to the city of Alexandria.
While the Lowe team worked on the tenant terminations, its architects and consultants started on plans for the reuse. They analyzed building codes for residential use, determined necessary building systems improvements, and developed design schemes for the exterior and interior renovations. Lowe was able to use the existing rental income from the buildings to complete the design work and permitting. The pre-construction activities were scheduled so that the permit would be in hand as the office tenants began to vacate. This allowed the contractor to begin work soon after the buildings emptied out.
As part of the building design, Lowe reviewed apartment trends and changing demographics, identifying what would appeal to future renters. Understanding the immediate neighborhood, as well as the greater DC area, Lowe determined potential renter interest would come from maturing millennial professionals beginning to emigrate out of DC and wanting a little more space, potentially coupling up and thinking about starting a family. This led to designing slightly larger apartments overall, and more units with dens or second bedrooms.
Building amenities were also designed with the millennial in mind, providing outdoor children's play areas in addition to grilling and picnic areas and plenty of work-from-home spaces. Additionally, the design includes a dog run and pet spa.
Advantages of Office Space for Apartments
The project's apartment residences are larger than are typically developed with new construction. Park Center's large office floors were approximately 90 feet deep. If floors are too deep when designing residences, that can leave too much space toward the center of the building. That, in turn means rooms will be too far from the windows, making them dark and unappealing. Lowe's plan for larger units allowed for configurations using interior dens with openings to the living space to capture natural light. This allowed a rather conventional layout of the remainder of the units toward the exterior wall. The floor-to-ceiling window walls provide abundant natural light into the living spaces.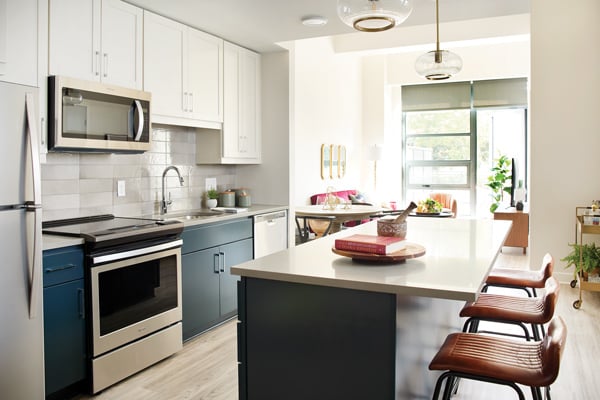 In addition, the buildings have higher slab-to-slab dimensions than in most new residential construction. Lowe was able to create units with 9.5 to 10-foot ceilings, compared to a typical residential unit with 8.5 to nine-foot ceilings.
Office buildings require multiple elevator banks to move tenants, and the occupant load is typically three times that of a residential building. At Park Center, each of the towers had six elevators, yet only three are necessary for the lesser demands of residential use. This excess former elevator space was transformed into trash chutes (including one for recycling), as well as space for mechanical, electrical and plumbing risers. Another elevator shaft was filled in and incorporated into residential units.
Common-area restrooms happened to be located where they could be easily demolished, with the space merged into the residential units.
Abundant Options for Amenity Space
Modern apartment buildings are now judged largely on what amenities are available to tenants. The former lobbies at Park Center became communal amenity areas with a variety of uses. They include a concierge, coffee bar and self-service grab-n-go market; a coworking area; a social lounge with interactive games including multisport simulators with baseball and golf; a club room with kitchen, dining area, fireplace; and a sunny conservatory. All these spaces are fitted with a variety of seating for casual or community-organized events. Residents also have access to a private dining room and a catering kitchen for meetings or social gatherings. Children even have their own space at Park+Ford — a kids' room stocked with toys and games.
The layout of the buildings on the property allowed for the creation of many inviting outdoor spaces as well. Park+Ford offers The Yard, a large landscaped area with a bocce court and nearby sundeck with misting spray systems, chaise lounges and a waterfall fountain. The plaza offers outdoor dining, grilling stations, fire pits and private cabanas. Residents also have a fenced-in dog park with shade, seating and water stations.
With plenty of parking and a garage with both above- and below-grade floors, Lowe was able to capture some of the top floor parking for a new use. That space accommodates a daycare center, a feature that Lowe says is in demand by young working families who appreciate an on-site facility as an option when either working at home or away. The daycare will be open to the public, with Park+Ford residents prioritized on the waiting list.
Construction Benefits and Challenges
In March 2020, just as the COVID-19 pandemic was escalating, Lowe secured a construction loan from PIMCO. It began the adaptive reuse work at Park Center in June 2020. The construction timeline was approximately 20 months vs. 32 months or more for new construction.
Lowe's decision to proceed with construction during the early months of the pandemic, while others chose to halt or delay projects, proved to be financially significant. The company secured materials before there were supply chain shortages and negotiated a several-million-dollar reduction in costs, thanks to the brief but sharp drop in demand caused by the pandemic. This allowed the company to open Park+Ford in an improving market with little competing new product.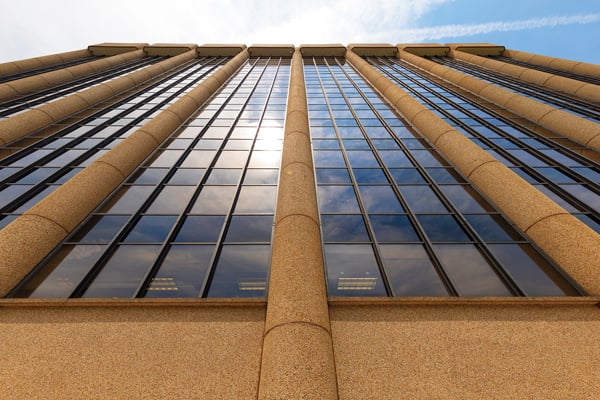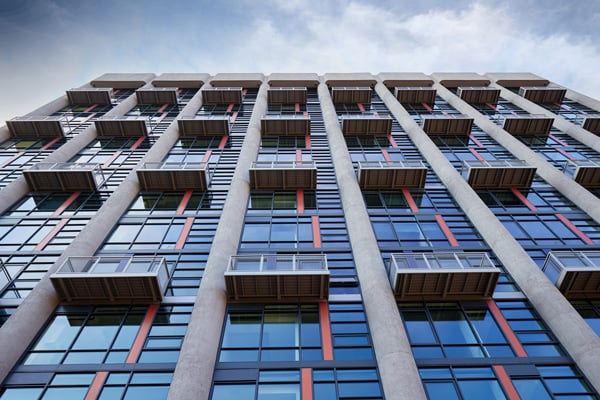 One of the more challenging aspects of the project was transforming the exterior from a tired 1980s office structure to a modern 2022 residential building. To achieve this, Lowe undertook a significant façade redesign.
Park+Ford retains most of the precast elements. Removing them would have been expensive and difficult; the building sits atop the parking garage, so cranes could not reach the pieces, and the risk of dropping a large chunk of precast would have caused major structural damage to the garage below. A window wall system with operable windows and balconies replaced the existing curtainwall.
Lowe believed balconies were an important feature to make the building more appealing. The challenge was to devise a way to add balconies so they do not look like an afterthought. The usual method would be to tack the balconies onto the façade with visible suspension cables. Lowe's design and engineering team found a way to attach the new balconies onto the building by through-bolting the anchor plates to the existing concrete floor slabs.
An observer looking at the two towers might think they were similar structures, yet they were completely different. One tower is constructed of conventional composite deck, rebar and concrete. The other is post-tensioned concrete. This is a process where cables are laid prior to pouring concrete, at which point the cables are stressed, which strengthens the concrete. Those cables could not be cut, so coordinating the installation of the balconies was tricky.
Residential buildings require a lot of openings for infrastructure such as electrical, plumbing and mechanical risers. To determine where they could safely drill these holes in the post-tensioned building, the contractor used ground-penetrating radar (GPR) to scan all the concrete slabs to locate the cable and determine the layout of the unit's plumbing and for other penetrations.
Something to consider when working with older buildings is sagging. As with many things, gravity takes a toll. At the Park Center buildings, Lowe found that the concrete slabs sagged up to two inches. In new buildings, that figure might be a quarter of an inch. Early in the design process, Lowe found a window wall system that could accommodate significant slab deflection. After installation of the unit framing, the floors were leveled using a self-leveling floor compound.
Reuse Advantages
At Park Center, the buildings were stripped down to the structures, a process that went relatively quickly. Unlike new construction, Lowe avoided the time-consuming first steps including excavation, foundation work and the expensive construction of below-grade structured parking.
One surprise at the Park Center buildings was discovering asbestos in some of the window sealants. Multiple environmental studies conducted over the years, by prior owners as well as Lowe's environmental consultant, didn't reveal any asbestos. And, based on the period in which the windows were constructed, it was unlikely asbestos products would have been used. During demolition of the exterior wall assembly, the contractor identified materials that looked like asbestos. Those materials tested positive, and the construction team began a remediation program. This added a bit to the cost and the timeline, but not beyond what was already in the contingency.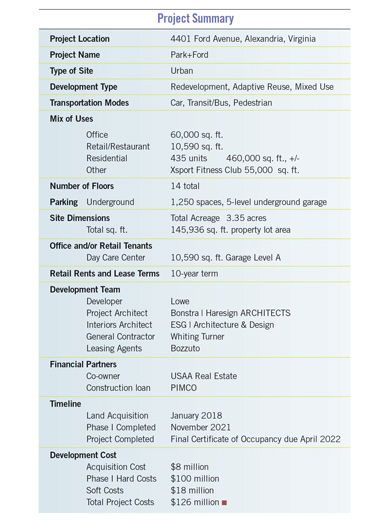 Adaptive reuse inherently has many green features. According to the U.S. Green Building Council, adaptive reuse extends the life cycle of existing building stock, conserves resources, reduces waste and reduces environmental impacts of new buildings related to materials manufacturing and transport. Additionally, the American Institute of Architects notes that adaptive reuse also makes sense from the standpoint of embodied energy as it can take 80 years for a new building to overcome the climate-change impacts of its construction.
Opening the Doors at Park+Ford
In November 2021, Lowe received the initial Certificate of Occupancy for Park+Ford, opened the on-site leasing office and welcomed its first tenants. Leasing appointments were scheduled for COVID safety to reduce the number of people in the office at any one time.
Park+Ford had another unusual leasing experience as the larger units, the one-bedrooms with dens and the two-bedrooms, were rented first, whereas five years ago two-bedroom units were tougher to lease. This validated the original thesis about the prospective tenants and what would be appealing in terms of unit floorplans and amenities. The pandemic also drove demand for larger units as people moved to more work-from-home days.
Monthly rental rates at Park+Ford currently range from $1,700 to $3,700, which compares favorably to the surrounding market.
Since starting Park+Ford, a variety of new technologies emerged, particularly during the pandemic, which Lowe adopted at the property. In addition to the latest proptech that has streamlined property management and reporting, residents have a host of app-driven, on-demand services such as package notification, keyless entry, HVAC controls, super-fast Wi-Fi, and away-from-home care when tenants are traveling.
So far, the adaptive reuse of office for residential appears to be a good model for communities, the environment and Lowe's business.
Mark Rivers is executive vice president with Lowe.
A Trend to Watch
A January article about Park+Ford in the Wall Street Journal cites Yardi Matrix data revealing that 151 commercial properties were converted into apartments in the U.S. in 2021. Additionally, the article notes that CoStar data shows "there are nearly 1,000 relatively new office buildings that developers might view as candidates for residential conversion: properties built since 1980, measuring more than 100,000 square feet and at least 50% vacant."