Sound bites from NAIOP's I.CON East, held June 8-9 in Jersey City, New Jersey.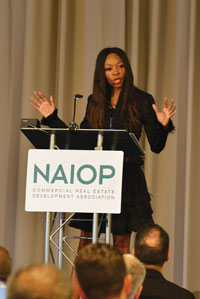 " We can't just live in the world we used to. I think the more that we can recognize that the world is requiring us to do a more integrated method of delivery, we can start to partner, and we can start to be smart relative to early bulk purchases of materials … Let's rethink the process in order to strategically gain advantage." — Scot Murdoch, AIA, partner, KSS Architects
" The key thing is getting the right people who are knowledgeable. There are a lot of unique challenges around electric vehicles, and the right people can help you solve them." — Scott Watkins, vice president of manufacturing, Clayco
" The biggest risk is in Europe — not only an inflation story but a story of supply constraints and a lack of production. And that can still filter over to the U.S. There's a lot of discussion right now in the U.S. about demand easing, which would help lower inflation and help improve the supply chains." — Ed Lerum, head of global logistics real estate, Norges Bank Investment Management
" When we were preparing for this panel, we only had a handful of ships across the coast of Savannah. This morning, we have 25 ships waiting five or six days to get into the port. Now we have all this volume coming in, what do we do with it?" — Tom Wyville, regional manager, Georgia Ports Authority
" It's not just the consumer that's a bigger driver for this space. A Deloitte study said that 53% of total shipping cost getting a product from manufacturer to consumer is gobbled up in the last-mile fulfillment, and it takes up about 41% of total logistics costs, including real estate assets and everything. It's a critical piece of the supply chain." — Keith Lieberman, PE, senior vice president, operations manager, T&M Associates
" Over the past 10 years or so, leases stopped being renewed at this mall. So it was an opportunity for my client — a warehouse and distribution center developer — to redevelop the property ... It's not like you're developing a farm field. They already have sewer, water, electric and gas right there." — James Thaon, associate and branch manager, Bohler
"Today, e-commerce is a $5 trillion market that is projected to soar past $7 trillion by 2025. Of those sales, about one-third — totaling more than $1.25 trillion and expected to reach close to $2 trillion by 2027 — are returned and therefore must go through a return logistics flow." — Geoffrey Kasselman, SIOR, LEED AP, partner and senior vice president, Workplace Strategy, CRG
" The Port of New York and New Jersey is the largest port on the East Coast and third largest in the U.S., with six marine terminals, 3,000 acres of waterfront property and port-wide intermodal rail facilities. The port provides access to 46.3 million consumers within a four-hour drive. In addition, the port has one billion square feet of warehouse and distribution space within 50 miles." — Anne Strauss-Wieder, director, freight planning, North Jersey Transportation Planning Authority
" Multistory warehouse development typically requires a minimum of four acres, and being able to find a site that large in this area [the Bronx] is unusual. The site constraints drove much of the design due to parking needs, grade changes, and the need for flexibility, as the tenants were then unknown." — Ryan Nelson, managing principal, Turnbridge Equities
Trey Barrineau is the managing editor of publications for NAIOP.