This Dallas-based developer, investor and management firm has grown to $3 billion in assets by delivering mixed-use facilities with innovative wellness programs and top amenities.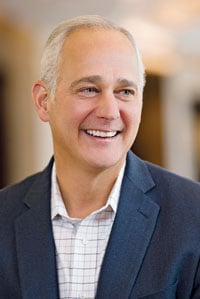 Since its founding in Dallas in 1991, Granite Properties has understood the impact of real estate developments on people and communities. That's why it creates spaces and relationships where people can flourish while supporting local communities.
For its outstanding quality of products and services, financial stability, ability to adapt to market conditions, support of NAIOP and support for the communities where it works, Granite Properties is NAIOP's 2022 Developer of the Year.
"This award is recognition from our peers that not only are we doing good things, but we are doing them in a way that benefits all of our constituencies," said Michael Dardick, CEO of Granite. "What makes it even more special is that it comes from NAIOP, a prestigious industry group."
"At Granite, we have an amazing development team," said Greg Fuller, president and COO of Granite. "That team, however, is supported by accountants, property managers, IT professionals and many others. It takes many people to create our special projects."
Dardick and the Schusterman family, long-time leaders in the oil and gas industry, founded the firm on the heels of one of the worst real estate recessions in the state's history. Despite that, Granite has weathered five downturns and a global pandemic over the past 30 years to emerge as a $3 billion company looking to grow to $5 billion in the next few years. It is now a privately held commercial real estate investment, development and management company with many investors, although the Schusterman family continues to play a major financial role.
Over the years, Granite has completed more than $8 billion in transactions that includes more than 29 million square feet of real estate development and acquisitions. As of 2022, Granite owns 11.5 million square feet of high-quality office space in Dallas, Houston, Atlanta, Denver, Southern California, Boston and Nashville.
Outstanding Quality of Products and Services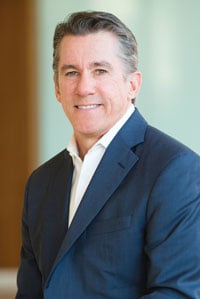 Although Granite's state-of-the-art mixed-use developments are well known, Dardick said the company thinks of itself as a people-oriented business that operates in the real estate industry.
"We focus on how we can help each of our stakeholders flourish at whatever they choose," he said. "When our spaces are fully occupied, we touch around 50,000 people each day for perhaps half of their waking lives. When you look at it that way, we have an unbelievable opportunity and responsibility to improve their work lives."
That 'Aha' Moment
While Granite Properties has stressed the development of outstanding space and amenities since its founding, the development team had an "aha" moment back in 2014, at what they term the beginning of "the amenities arms race."
The team was constructing its fourth building in Dallas' Granite Park, a 90-acre, 2-million-square-foot office project. They met with their architect, who explained how young people were interacting with technology such as smartphones. The architect said young people come home, go up to their rooms, close the door and get on their devices. They come downstairs for meals, and they either go back upstairs or go outside, perhaps to do their homework.
It was the moment when they realized that there was a whole generation of people growing up who would work differently than their parents. In order for Granite to connect with customers (tenants) now and in the future, the company needed to get in front of this trend and rethink how it integrated amenities into its properties.
To draw employees down from their offices, Granite began to place amenities on the first floor of its buildings. It created places for people to collaborate, relax and to enjoy the space. Fitness centers were upgraded, delis in buildings were turned into a fine-dining restaurants and plenty of new outdoor space was added.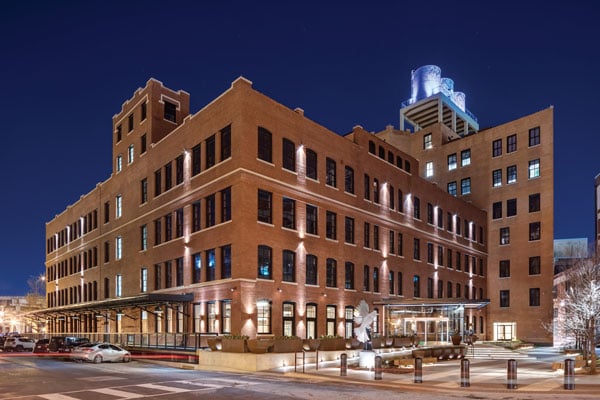 Branding Amenities
Granite took another step with its amenities packages by branding them. Fuller explained that the branded amenities allow its customers to have uniformly top-notch experiences at properties in every market where the company does business.
"Our branded amenities offer collaboration, comfort, connectivity and consistency across our national network of offices," Fuller said. "Since we own so many buildings, we felt branding our amenities might inspire our customers to use all of them from city to city. When our customers go into a Granite property, they know what they are getting."
Granite's branded amenities include MEET conference centers, MOVE fitness centers, THE LOUNGE customer spaces, THE YARD outdoor spaces and EATS on-site cafes.
Wellness and Safety
The health and safety of its buildings is a major focus for Granite, and when COVID-19 struck, the company was prepared.
In May 2020, it invested more than $10 million in capital improvements across its portfolio to maximize safety and wellness. Called Inspire Wellness, the program included the installation of clean air technology, Needlepoint Bipolar Ionization air-filtration systems and the addition of new building cleaning protocols. Granite launched a "hands-free" customer experience in all its buildings where possible, meaning a customer or visitor could enter the building and go into an office or restroom without touching anything with their hands.
Its property management team recognized the importance of people staying connected during the pandemic even as they worked remotely, so it shifted gears and created online events, webinars, concerts and charity outreach programs.
Working Together City to City
With five offices and properties in Dallas, Houston, Atlanta, Denver, Southern California, Boston and Nashville, how does Granite Properties work together to create new projects?
"We have great professionals with diverse skill sets, but we need to work together as a team with respect, trust and accountability," Dardick said. "The second thing that we have long stressed is what we call 'de-silofication.' We don't want silos in our organization. We don't want people talking up and down, we want people talking horizontally."
As an example, the company meets annually to set long- and short-term goals, such as repositioning opportunities or finding raw land for new development.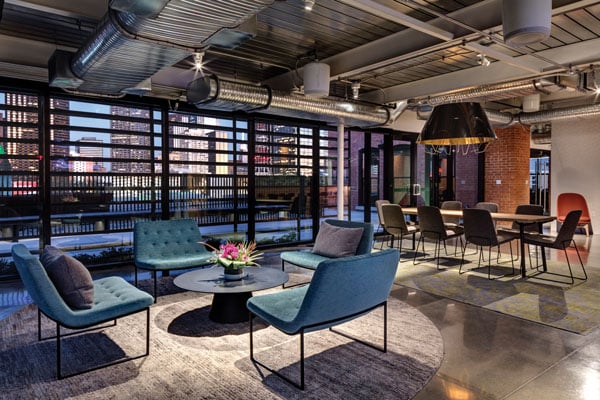 "We don't pinpoint who found the land or the building because it takes a whole team to put the deal together," Fuller said. "If our investment person sees an opportunity, the first thing we need to do is bring in our development team and our leasing team to understand the opportunity at hand."
Financial Consistency and Stability
When the company launched 30 years ago, its strategy was to do all-cash acquisitions and developments. Today, Granite is not averse to debt.
"We've matured to where we are putting debt on properties, but overall, our philosophy is to have low leverage," Dardick said. "That is paramount in the office business, maybe less so in the industrial sector or other sectors of the business. But if you are going to survive the ups and downs of this economy or the office business, low leverage is critical. We use appropriate leverage once assets are stabilized. We are very fortunate to have started with a great capital partner who understood this, and we have added many capital partners since then who also share that sentiment, providing us with flexibility when things don't go exactly as planned."
Fuller added that Granite Properties is an investor, developer and operator and to that end, "We are accountable for making good investments, and we don't think you should use debt to make a deal work," he said. "We think a deal should work or not work, and then debt can be used to enhance yields. Further, we are in this business for the long haul, and we value the flexibility of low debt more than the extra 5% or 10% debt. When you have low debt, it allows you to make operational changes or capitalization changes as necessary because the world changes a lot. We think that flexibility makes us more money than slightly more leverage on the front end."
Dardick said it is important for Granite to have diverse and ample capital available to deliver on its growth plans.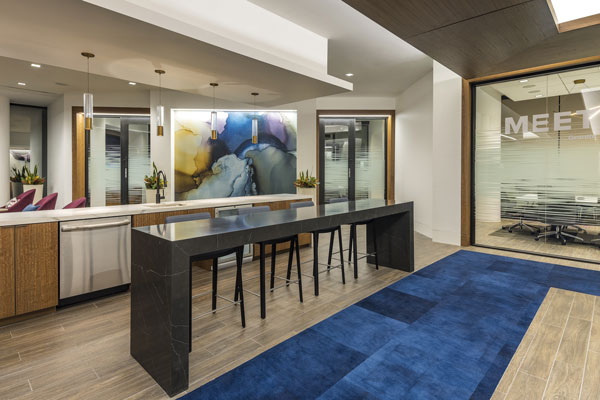 "Over the last few years, we've done $2 billion in investing, and we have had five different equity partners," he said. "We have raised a little under $400 million of equity and $1.2 billion of debt. So we are living in this new world of multiple capital partners, and we think it is great. We have a lot of different people we need to answer to and deliver for, and we like that accountability. It keeps us sharp."
One of Granite's strategies is to buy best-in-class product at a discount — not an easy task in today's competitive commercial real estate industry.
"We try to position ourselves to be a first mover in each market we work in," Fuller said. "We have market experts who have spent the last 20 to 30 years in their specific market, and some have even grown up in these markets — they know everyone and every property. As they say in real estate, you cannot just do it [develop real estate projects] anywhere. You have to know what side of the street to be on and where the sun is coming down. You've got to know the market."
A Focus on Flexibility
There is no better example of how Granite adapts to market conditions than its approach to office leasing. Naturally, the big question right now is: will employees return to the office in large numbers or continue to work remotely?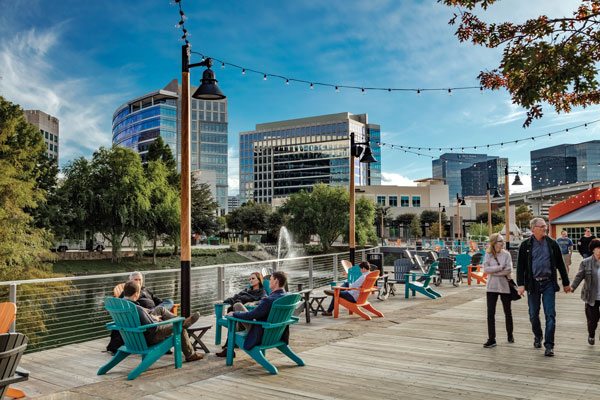 "That story is still unfolding," Fuller said. "But what we focus on are high-quality spaces in top locations with outstanding amenities. It is this type of space that is winning the war for talent. Some customers are expanding and others are contracting, but they are all trying to figure out what's best for their teams and their space. People have to get together in person and collaborate on some level."
Fuller said that Granite wants to offer customers the exact space they need. To do this, it offers evolve®, an innovative, trademarked office leasing program focused on solutions for what Granite terms "evolving business needs."
The evolve program offers the following ways to use space in Granite's buildings:
evolve® Ready Collective. This program offers a full floor of private suites and an exclusive amenity center for small to mid-size companies, bridging coworking and traditional leasing. The space is furnished and tech-enabled with flexible leasing terms.
evolve® Ready Suites and Ready Suites+. The Ready Suites+ suites are built out and fully furnished including tech connectivity for quick, efficient move-ins; Ready Suites are built out and tech-enabled. There are flexible leasing terms from one to five years with full access to building amenities and portfolio-wide offerings across all five core markets.
evolve® On Demand. This program provides customers with additional workspace options. Granite has coworking partnerships with Industrious and Common Desk.
Environmental, Social and Governance Principles (ESG)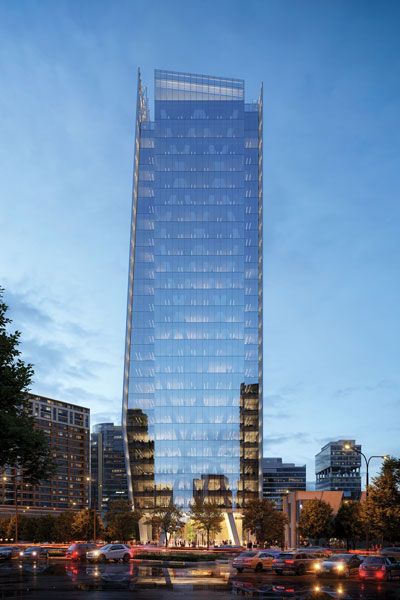 Granite is no newcomer to ESG principles, having adopted them early on. For example, the company began participating in the Energy Star program in its earliest days, and 15 of Granite's 38 properties are LEED certified, with 10 achieving LEED Gold and five LEED Silver. Granite became a Fitwel Champion in 2021 and has earned Fitwel certifications at three properties. The firm has committed to using Fitwel at a portfolio scale and earning certifications at 10 office buildings in 24 months.
"It is important to view the focus on ESG, not as a 'bolt on' activity or to 'check the list,' but rather as an integral way to how we operate in the real estate business," Dardick said. "At Granite, our ESG principles have always been a guiding part of our company's core values. They are ingrained into our culture to build a better world for our communities, customers, partners and team members."
Dardick has also promoted ESG in several articles he's written for D CEO magazine, a real estate publication in the Dallas area.
"We all know that in real estate, people and capital are two key factors," Dardick wrote in June 2021. "It is becoming clear that both people (our internal teams, our customers, and our communities) and capital (our investors) have a heightened focus on how we do business. They are all asking for smarter and bolder approaches to ESG performance."
Community Support
In addition to the $345 million given to various charities by the Schusterman Foundation in 2021, Granite's focus on charitable giving through volunteering and donation is also ingrained in its culture. Its teams believe that they have a responsibility to the communities where its people live and work.
Some of its efforts include:
$150,000 annual budget for employee-selected charity organizations
Up to 40 working hours per year for each employee to volunteer with non-profit organizations
Charitable donation matching
Reimbursement of entry fees for charitable events, such as fundraising walk/run races
Granite Gives community involvement portal on company intranet
Employees can donate charity dollars through Kazoo HR, an online recognition program where employees highlight teammates for a job well done
In 2020, Granite donated a total of $125,000 to food banks in its five local markets and $60,000 to other charities.
At the property level, the trademarked TogetherWeConnect® program develops meaningful connections in the workplace, enhancing the work-life experience for Granite's customers while also giving back to communities. Since 2017, customers and Granite employees have packed 62,340 snack packs for Boys & Girls Clubs in its core markets, and 14,835 care packages have been assembled during the holiday season for local senior facilities.
Support for NAIOP
Since its founding, Granite has been an avid supporter of NAIOP in each of the markets where it has offices, as well as nationally. The company is active with local chapters in Atlanta, Dallas, Denver, Houston and Southern California.
"NAIOP has been a tremendous resource for me," said Fuller, who served as NAIOP's national chair in 2019. "I am a Forum member and a NAIOP Research Foundation Governor. Being on the Executive Committee has been a remarkable experience for me including the contacts, friendships and networking."
Ron Derven is a contributing editor for Development magazine.
---
A Closer Look at Granite Projects
Here's a sample of projects developed by Granite over the years.
Factory Six03: Granite recently developed three adaptive-reuse properties including Factory Six03, an award-winning, LEED-certified, century-old historic warehouse building in the Dallas West End Innovation District.
Gulch Union: The company partnered with Endeavor Real Estate Group to create Gulch Union, a newly completed mixed-use project in Nashville.
Granite Place at Village Center: This office project is in the Greenwood Village submarket of Denver and was developed and completed in 2017 in a partnership with Confluent Development, a Denver-based real estate investment and development firm. The 10-story, 299,568-square-foot Class A building is strategically located near a diverse workforce and is a five-minute walk to one of the most active light rail stops in the Denver region.
Park17: Completed in 2010, the project is a mixed-use, high-density urban tower located in the Uptown submarket in Dallas. Gables Residential was Granite's development partner. Granite and MetLife did a joint equity partnership for the office component. 1717 McKinney is the 369,017-square-foot Class A office tower in the project. The 300-unit Gables apartment tower and 15,000 square feet of street-level retail accompany 1717 McKinney.
In addition to its $3 billion current portfolio, Granite has invested $1.5 billion in five new properties under development in the Dallas, Atlanta and Boston markets. All five projects utilize biophilic design and footprint-reducing methods.
Midtown Union: Located in the Midtown submarket of Atlanta, this mixed-use development offers distinctive architectural designs featuring office, retail, hotel and outdoor amenities with high walkability and proximity to key transportation hubs.
Forty Thorndike: Located in East Cambridge, Massachusetts, this is an adaptive-reuse mixed-use project being developed by partners Leggat McCall Properties, CBRE Investment Management and Granite Properties. The site was previously the Edward J. Sullivan Courthouse and Jail.
23Springs: Granite's most extensive and expensive development to date will be a major presence in the heart of the desirable Uptown district in Dallas. Three Class B low-rise office buildings were demolished during the summer of 2022 to make way for the Class AA office tower.
Granite Park 6: This is a continuation of the company's 2-million-square-foot Granite Park mixed-use campus. It includes six leased office buildings, a Granite-owned full-service Hilton hotel, walking/exercise trails and The Boardwalk, which features a multipurpose pavilion venue surrounded by a lake and eight restaurants.
Granite Place at Southlake Town Square II: In March 2022, Granite announced the development of the second phase of two planned mid-rise office buildings in a suburban Dallas submarket called Southlake.